Salaries For Suicide Bombers: Western States Unwittingly Fund Terrorist Activities In Palestine, Says Report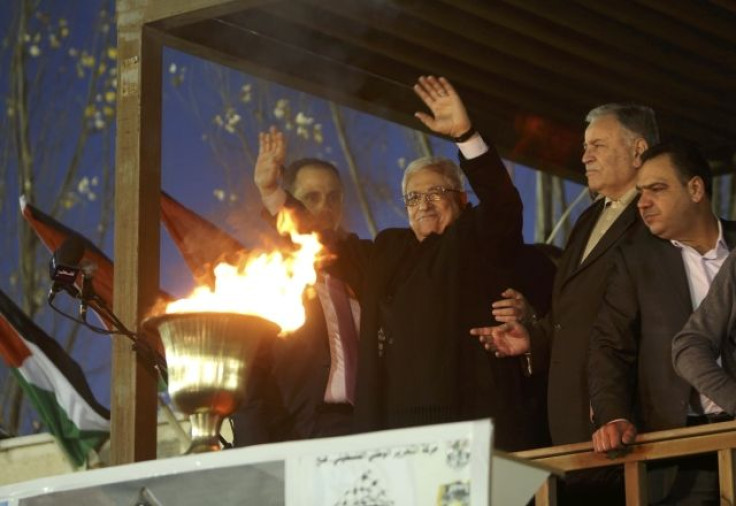 It's no secret that the Palestinian Territories are desperately poor, and that much of the income there comes from foreign aid. The U.S. alone pledged $495.7 million to the Palestinian Authority for the 2012 financial year, and in early February Congress began debating sending over $200 million in aid for 2013 (as of Monday the proposal is currently stalled in Congress).
When Israel chose to withhold tax funds to pay down Palestinian debt to Israel following the Territories' status upgrade at the U.N. in November, it caused a minor international outcry, and Israel eventually released the funds.
Two of the Palestinian Authority's other largest contributors include Britain and Norway, who shelled out more than $93 million and $53 million, respectively, in 2010. Others include the EU, with $211 million; France with $30.6 million; and the World Bank, with $40 million.
The international aid, as State Department spokeswoman Victoria Nuland said on Monday, is meant to encourage the two-state solution peace process.
The funds were intended to be used to bolster the flailing Palestinian economy, for food aid, education, and to encourage the peace process. In a recent press conference, Nuland said of the new financial commitment to the Palestinian Authority, "Our view remains that our assistance to the Palestinian people is an essential part of the U.S. commitment to a negotiated two-state solution for Palestinians and Israelis, promoting a comprehensive peace in the Middle East."
Unfortunately, much of this funding may be used for the promotion of something dramatically different from peace. According to new report out on Thursday from the Israeli-based research institute Palestinian Media Watch, 2.5 percent of the Palestinian Authority's monthly budget is eaten up by salaries for prisoners sitting in Israeli jails, many of whom are convicted of plotting or carrying out terrorist attacks. That 2.5 percent amounts to about $5 million every month that is paid as a salary to these men, not, the report emphasized, as welfare or social assistance to the men's families.
The word used in the original Arabic articles that the report quotes is "ratib" (راتيب), a word defined in the standard Hans Wehr Dictionary of Modern Arabic as "salary, pay, emolument." The Arabic words for welfare, "kheer" (خير), and assistance, "ah'un," (عون) are completely different, unrelated words.
The report quotes excerpts from the Palestinian paper Al-Hayat Al-Jadida that reveal, "The average prisoner salary is 3,129 shekels ($850)" per month, an amount that is much higher than the monthly salary of a Palestinian civil servant (2,882 shekels, $783), and Palestinian military personnel (2,704 shekels, $734).
Every Palestinian prisoner who is still in an Israeli prison is paid a salary depending on how long they will be incarcerated, the report said. Anyone who has been incarcerated under three years gets 1,400 shekels per month. Those who have been there the longest, 30 years or more, receive 12,000 shekels per month.
In addition to the salary, the Palestinian government also provides a "spousal supplement" of 300 shekels a month for any wives in the picture, and a "special supplement for children under 18" of 50 shekels for every child.
The report also said that some 4,000 prisoners continue to receive salaries after they are released from prison, provided they served at least five years.
In an TV Interview on Wattan TV in December 2012, a privately owned Palestinian Channel, the Palestinian Minister for Prisoner's Affairs Issa Karake said that there are currently about 4,000 Palestinian men who continue to collect a monthly salary after they are released, amounting to 17.5 million shekels (about $4.8 million) every month, in addition to "millions of shekels in canteen money."
An English translation of the interview reveals Karake confirming that every prisoner, regardless of age or employability, gets a salary. When asked by the TV host if any of the released prisoners work, Karake said, "Some work…some volunteer and work in different institutions."
High rates of unemployment in the West Bank and low economic growth create a perfect storm of incentives for men and women to attempt acts of terrorism, given the government's guarantee of life-long funding.
In September the U.N. released a report outlining the slow growth and grim outlook for the Palestinian economy: food insecurity was high, and the poverty rate in East Jerusalem alone stood at 78 percent. Their GDP, according to the CIA World Factbook, is $8.02 billion, earning it a rank of 155 out of 229 countries. As of 2010, they are $1.04 billion in debt to foreign creditors. The GDP per capita, usually used to indicate a country's standard of living, is $1,900, or about 7,000 Israeli shekels. By comparison, the U.S.'s GDP per capita is $49,800, and Israel's is $32,200.
In a 2011 study "The Economics of Counterinsurgency in Iraq," the authors tested the idea that high unemployment and lack of government services leads to high rates of terrorist attempts and attacks. Their results supported the hypothesis: "improved service provision reduces insurgent violence." But one of those authors, Eli Berman, a professor at UC San Diego and author of the book "Radical Religious and Violent: The New Economics of Terrorism," said and in email that there is actually "no evidence that improving employment or economic outcomes will reudce rectuing of suicide attackers or terrorists."
"Morever," he wrote, "when interviewed, failed suicide attackers never mention economic factors as their primary motivation. So why support arrested memebrs in jails, or make payments to the families of terrorists killed?
"Apparently the Palestinian Authority has a reputation to uphold for doing right by militants and their families, and they care about reputation.
"An interesting implication is that the legacy costs of running a violent organization are large," Berman continued, "and keep growing the longer they remain active, which would make it difficult to sustain their reputation in the long run without an ever-increasing budget."
Improper use of foreign aid funds is not without precedent, nor should it come as a surprise.
A ProPublica investigation revealed in October 2012, revealed that a $24 million State Department program, pre-Arab Spring, to promote democracy and good government in Egypt produced (you guessed it), zero results. Turns out the money was going to NGOs that weren't "properly registered."
In Africa, the U.S. contributes billions of dollars in aid to countries like Ethiopia, which a 2011 BBC investigation revealed was being used as "a tool for political oppression," and people were being systematically starved for being in the political opposition.
In the case of the Palestinian Territories, it seems both Britain and Norway were aware, at least, that their money was going in part to Palestinian prisoners, but told the Palestinian Media Watch that the claims had been investigated.
The Norwegian Foreign Minister Espen Barth Eide said in an email to Norwegian journalist Tormod Strand that, "We have examined this again and according to the information we have from the Palestinian Authority, this is not salary payments. … [They] are social benefits for Palestinian prisoners… and their families, whose purpose is to compensate for the loss of income."
In a letter from British Member of Parliament Alan Duncan from the Department for International Development to another MP, Mike Freer, Duncan wrote "the PA's law refers to the payments as 'salaries'… the PA has now changed the wording … to unambiguously refer to the payment as assistance – 'la'ana.'"
Duncan further wrote, "We believe it would be wrong to punish innocent children and other dependent family members by denying them access to social support."
About 62 percent of the prisoners are not married, the Media Watch report said. Furthermore, the report said that while the Palestinian Authority did change the language from "ratib" to "la'ana," the word was changed back once Britain and Norway agreed to continue their funding. In a statement to the Chairman of the Prisoners' Club, a watchdog group that tracks Palestinians who are in Israeli jails, the PA government clarified that the law "considers payments made to prisoners 'salaries,' to which no other term applies. … the cosmetic change to 'social assistance' was only a rumor and [the] prisoners receive salaries out of the PA's esteem for them."
The U.S.'s 2013 aid package for the Palestinian Territories is currently stalled in the House of Representatives. Neither Congressman Ed Royce, head of the House Foreign Affairs Committee, nor Congresswoman Kay Granger, head of the House Appropriations Committee, was immediately available for comment. On Tuesday, the State Department said that Granger had approved that transfer of funds, however others "are still reluctant."
Also on Friday, the U.N. Relief and Works Agency for Palesinian refugees (UNRWA) released an "emergency appeal" requesting an additional $300 million for 2013.
Palestinian Media Watch is based in Jerusalem and is funded by private donors, including the Michael Cherney Foundation, a pro-Israel fund that supports victims of terror, mostly in Israel.
Editor's note: This story was updated at 5:30 pm EST to reflect comments added by Professor Eli Berman.
© Copyright IBTimes 2023. All rights reserved.