Samsung Ad Goes On Attack Against Large-Screen iPhone 6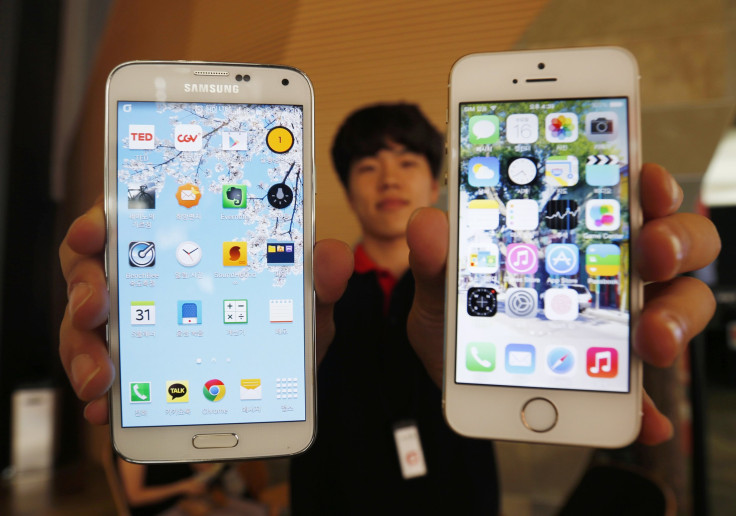 Samsung Electronics Co. (KRX: 005930) is not giving up its reign in the large-screen smartphone sector without a fight, going on offense with a tough new ad that mocks Apple Inc.'s (NASDAQ:APPL) rumored large-screen iPhone 6.
"You know that thing you've been waiting on for like two years?... Well it's been here this whole time, but maybe you just like waiting," the ad says.
Depicting two smartphone users sitting next to each other, one mentions that the coming iPhone might have a bigger screen and the other, a Samsung Galaxy S5 owner, shows off his phone that already has a larger screen.
Though Apple has not yet confirmed that the next iPhone will have a larger screen than previous models, several clues have surfaced in favor of the new design. A Tuesday report from the Wall Street Journal indicates that Apple is having its suppliers produce between 70 million and 80 million units of new iPhones with 4.7-inch and 5.5-inch displays for the device's initial launch, which is projected for mid-September.
The rival smartphone manufacturers have long designed their devices on opposite ends of the spectrum. Apple's iPhone, while compact, favors a premium look with a metal exterior, while Samsung's Galaxy S and Galaxy Note flagships put emphasis on their increasingly large and more powerful screens; the most recent being the 5.1-inch 1920x1080 resolution Full HD display on the Galaxy S5.
Apple's possible entry into the large-screen sector represents a major threat to Samsung, potentially widening the gap between consumers favoring iPhones over Galaxy flagships. According to a recent Counterpoint research survey, the iPhone 5s was the best-selling smartphone in the month of May, followed by three of Samsung's latest devices: the Galaxy S5, Galaxy S4 and Galaxy Note 3.
And as the iPhone 6 release date approaches, prospective consumers are showing an increased interest in the much-anticipated smartphone. About 32.4 percent of Galaxy S3 and Galaxy S4 owners indicated an interest in switching to the iPhone 6, while only 28.2 percent of iPhone users indicated interest in switching to the Galaxy S5 in a poll conducted by data network Qriously between July 10 and July 16. Though there is a lot to be said for brand loyalty, the number of users interested in upgrading to a device of the same brand was relatively stable for both iPhone and Galaxy at about 36 percent.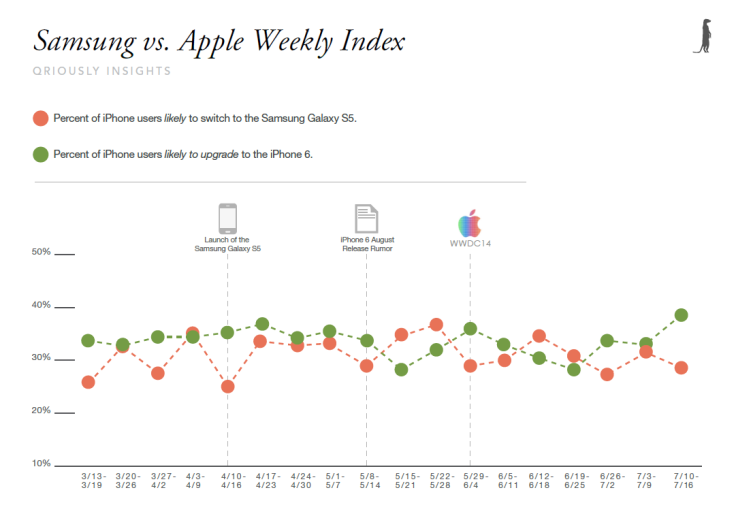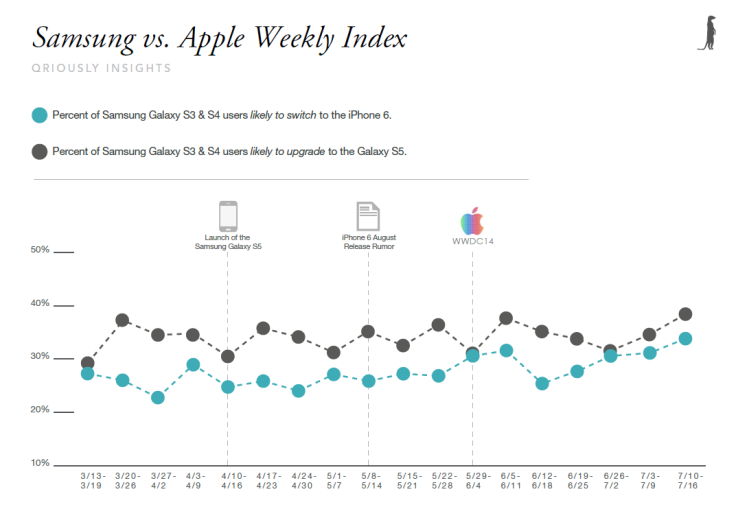 Still, Samsung often relies on converting iPhone users, which is evident according to the index, in that iPhone users' interest in either the new iPhone or the new Galaxy device goes up and down, while Galaxy users' interest in upgrading to the new Galaxy device remains consistently higher in comparison to those interesting in switching. Samsung's slew of new advertisements could be an attempt to grab the attention of those undecided iPhone users.
On July 3, Samsung released an advertisement criticizing the iPhone's battery and calling its users "wall huggers," suggesting iPhone users can often be found near a power outlet waiting for their handsets to charge. During this time rumors suggested that the iPhone 6 would include a larger battery in addition to a larger display. Coincidentally, Qriously's index shows a dip in iPhone users interested in switching to the Galaxy S5 the week prior, following a spike two weeks before that.
Samsung is looking to rebound after reporting in early July that its revenue has dropped 26.5 percent since last year – its worst quarterly earnings report in the last two years; but Samsung officials say they are not in a panic. Samsung also has a new device in the works, the Galaxy Note 4, which will be among the largest smartphones on the market upon its release. Reports indicate that Samsung is planning a 5.7-inch display for the Galaxy Note 4, similar to the previous Galaxy Note 3, which was lauded as a sales success in its "phablet" category.
© Copyright IBTimes 2023. All rights reserved.