Premium Samsung Galaxy Note 4 May Launch With Several Long-Rumored Features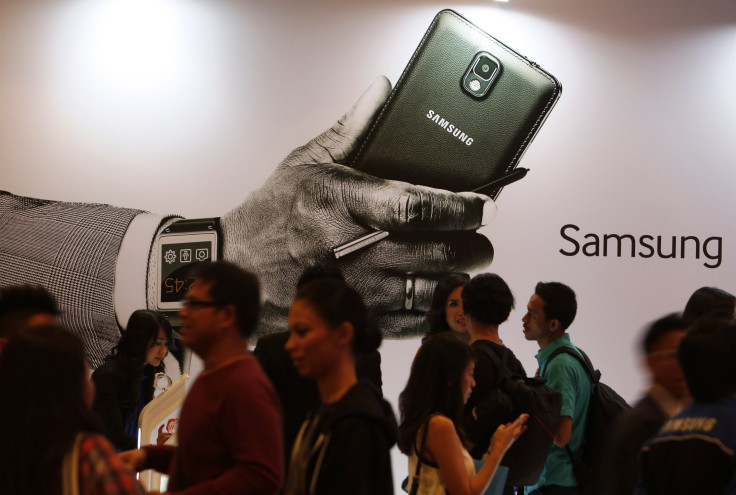 Some of Samsung's longest-rumored features may become reality with the Samsung Galaxy Note 4.
For some time, there has been much speculation about Samsung Electronics Co. (KRX: 005930) releasing devices with metal exteriors, flexible displays and an optical image stabilization feature for mobile cameras. Korean publication ETNews reports that these features may be included on the coming Samsung Galaxy Note 4, though they could be limited to a premium version of the device only available in a few specific markets.
Samsung Galaxy Note 4 Dressed in Metal
As Samsung's flagship device, the Galaxy Note 4 is sure to include a number of new features. Of the specifications rumored for the Galaxy Note 4, the most anticipated is likely to be a metal exterior, and Samsung may use metals like stainless steel, aluminum and magnesium for the Note 4's external design. Samsung has reportedly been planning a metal smartphone in order to compete with Apple Inc.'s (NASDAQ:APPL) iPhone and HTC Corp.'s (TPE: 2498) One flagship phones. At one point, devices like the Galaxy S5, Galaxy Note 3 and Galaxy S4 were all rumored to be made of metal, but they were all ultimately released with polycarbonate exteriors.
Samsung has been heavily criticized for the plastic designs of its high-end devices, which cost upwards of $500. But the company says its use of plastic chassis encourages the quick and efficient manufacturing that enables it to release a new flagship device every year, each one selling better than its predecessor.
Samsung Galaxy Note 4 First Official Flexible Display
Samsung has already begun to experiment with flexible displays, having released the Samsung Galaxy Round in October 2013. However, the Galaxy Round was not a flagship device and it was not available outside of South Korea. If the Galaxy Note 4 includes a flexible display, it would be Samsung's first mainstream smartphone with the feature. Samsung has reportedly increased its production capacity by 50 percent in order to supply enough flexible display components for the Galaxy Note 4.
Samsung originally introduced its flexible display technology, called Youm, at the 2013 Consumer Electronics Show. At the 2014 CES, Samsung showcased a different flexible display prototype made with a plastic material that works well with AMOLED displays. Additionally, Samsung has filed several patents for design prototypes for devices with three-sided or wraparound displays and Samsung executives have spoken to the media about a "new form factor" for future devices.
Samsung Galaxy Note 4 Camera Quality
The Samsung Galaxy S5 released in April with a 16-megapixel rear camera, and reports suggest that Galaxy Note 4 may have the same camera with optical image stabilization feature added. OIS is a camera feature that makes it easier to capture clear images, unaffected by small movements that might occur when handling a camera. This feature has also been rumored for several Samsung smartphone generations; both the Galaxy S5 and Galaxy Note 3 were rumored to include an OIS feature on their cameras.
But there are also reports that Samsung may focus on addressing the complaints from consumers about the picture quality of its mobile cameras by including a 12-megapixel camera with a better-quality lens. Though Samsung spearheaded the trend of higher-megapixel mobile cameras with the 2013 Galaxy S4, which features a 13-megapixel camera, Galaxy owners often list a lack of focus and bad images in low-light areas among their gripes with Samsung's cameras.
Jeff Orr, a senior practice director at ABI Research, told International Business Times in June that that having more megapixels will not necessarily result in a better camera experience and that Samsung's vision for the Galaxy Note 4 may not require a high-megapixel camera but rather one that works well with the device's applications.
Samsung Galaxy Note 4 as a Preview
Though these features could be exclusive to a premium version of the Galaxy Note 4, we could also see them become standard on future Galaxy devices. Samsung often market tests devices in South Korea and Europe before releasing them on a mass scale.
The manufacturer similarly released a premium version of the Samsung Galaxy S5 in June called the Galaxy S5 LTE-A. The device includes a QHD (2560 x 1440 resolution) display, a Qualcomm Snapdragon 805 chipset with broadband LTE-A connectivity and 3GB of RAM. These features are expected to be standard on future Samsung flagships.
The Samsung Galaxy Note 4 is expected to be announced in early September at the IFA Expo in Berlin and to be released in late September.
© Copyright IBTimes 2023. All rights reserved.