Samsung Galaxy S4 Release Coming: Does The First Teaser Trailer Leave Anything To Be Desired? [VIDEO]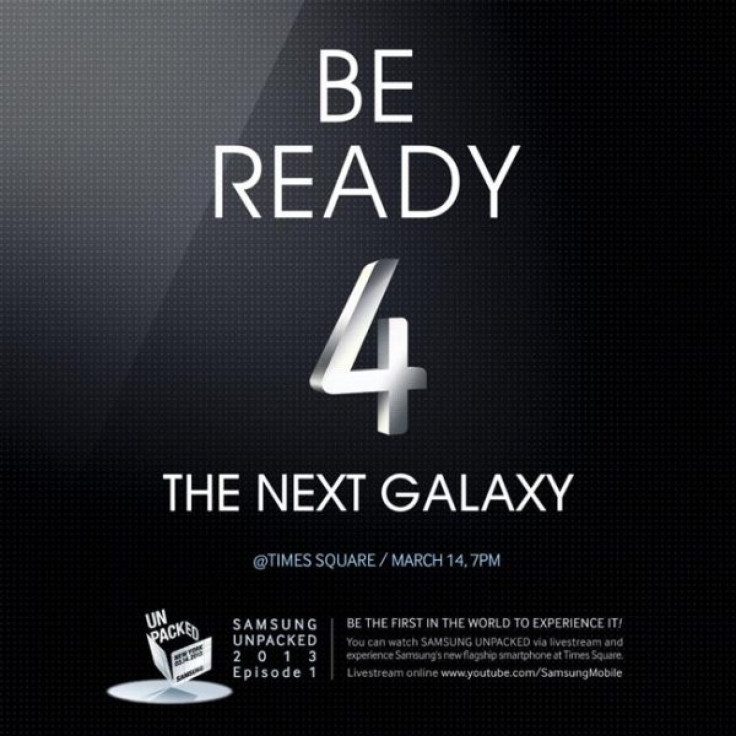 The Samsung Galaxy S4 has garnered a mass following itching with anticipation for any available update on the upcoming Android-based smartphone.
However, the latest tidbit to be released may prove somewhat lackluster in comparison to its drool-worthy spec rumors that include an eight-core processor and eye-controlled maneuvering.
Samsung released its first teaser trailer for the Galaxy S4 on Monday and most have come to the same conclusion: It's really, really bad.
The 80-second ad features a young boy named Jeremy that Samsung has selected as the "secret messenger" for its Unpacked event, which will take place March 14 at Radio City Music Hall in New York City. Jeremy is allowed to look inside the box that undoubtedly holds the new Galaxy S4, which illuminates as it is opened. Jeremy then runs home with the box and holds it up in his bedroom, after which the ad goes to black and says, "To be continued."
We can assume the continuation will be the actual unveiling event, which is just 10 days away. Android Authority notes once the smartphone is revealed, the public will be hard pressed to not see a Galaxy S4 advertisement at every turn. Should they also look forward to a plethora of commercials that are cheesy at best?
Nevertheless, the Galaxy S4 remains the most anticipated phone of 2013, and will likely be Samsung's best-selling phone. Its highly converted specs suggest an eight-core Exynos Octa 5 processor or a Qualcomm Snapdragon 600 processor (depending on which country you live in) -- with each clocking in at about 1.9 GHz -- a 4.99-inch 1920 x 1080 Full HD SoLux high-definition display, 2 GB of RAM, a microSD card slot, a 13-megapixel camera, and storage capacities ranging from 16 GB to 64 GB. The Samsung Galaxy S4 will reportedly be powered by the Android 4.2 Jelly Bean mobile operating system.
Specials specs rumored for the Galaxy S4 include "Eye Pause" technology, which is said to allow users to pause videos by turning their eyes away from their displays, as well as "Eye Scroll" technology, which is said to direct the scrolling of both apps and webpages with eye movements. Galaxy S4 customers may also enjoy wireless charging on their phones -- a first for the Galaxy S line -- and discover floating-touch gesturing capabilities, which would allow users to navigate their interfaces without actually touching their screens.
The phone is expected to be a powerhouse, only adding to the legacy of its predecessors, the Galaxy S3 and Galaxy S2, which were the Android "it-phones" of their day.
Perhaps this first Samsung ad is designed as a diversion to keep the public talking about the Galaxy S4 in any manner -- as they say, any publicity is good publicity. But Android Authority asks, "Who commissioned this to be made?" Only time will tell if this strategy was a marketing downfall or a stroke of genius.
My Take
It makes sense that Samsung would not want to reveal too much about the Galaxy S4 before it's unveiled. But the ad pretty much features nothing about the Galaxy S4 itself, and gives no inclination that consumers should be as excited about this device as they are based on rumors alone. Save for the limo driver hailing the S4 as the next best thing since color TV -- how does he know about the phone and the kid doesn't?
Samsung has done a pretty good job in the past at releasing teasers that really speak to the consumer with concepts that are comical or sentimental, and evoke the consumer's sense of wanting. For example, its 2011 teaser spot for the Galaxy S2 played on secrets, and featured several people using the smartphone in different ways while the phone itself was hidden in a flash of bright light. At the end, viewers got a fuzzy sneak peak of the S2's wide screen and slim outer build.
Samsung's 2012 teaser for the Galaxy S3 played on the idea of a "galaxy" that fits in the palm of your hand, featuring majestic images of outer space while hinting at a wide screen and easy maneuvering for the phone itself. It then ends with a quip, which implied how Apple users are sheep.
But to whom does the current Galaxy S4 ad play? Eight-year-olds that need their mother's signature of consent? While parents may be adept at buying their children smartphones in this age, everyday adults do not exactly want their smartphones with a side of cookies and milk; perhaps a Key Lime Pie update or Jelly Bean for that matter.
The spot also suggests that we likely won't hear anything from Samsung about the phone until its March 14 unveiling, which leaves enthusiasts with nothing but rumors to hold on to. The Korean-based company has been very hush-hush about the details of the Galaxy S4, but one particular mystery surrounding the Unpacked event is the "Episode 1" noted in its print ad and what that means. Rumors suggest the event, which lasts from March 14 to March 17, will see Samsung unveil its 2013 lineup in three episodes over the course of three days. But for now, that suggestion continues to swim in the realm of rumors. The more we learn about the company's plans, the more we are left scratching our heads. Samsung must have a lot of faith in its current "less is more" marketing strategy.
© Copyright IBTimes 2023. All rights reserved.