Samsung Galaxy S5 Release Live Stream: Watch Samsung Unpacked 2014 Here, What Time Will The Event Begin In Your Location? [VIDEO]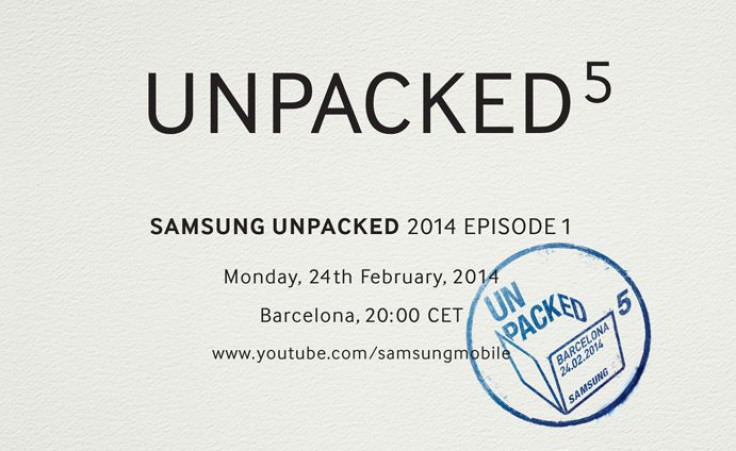 Samsung Unpacked: Episode 1 takes place Monday, and many expect the South Korean electronics giant will unveil its Samsung Galaxy S5 smartphone among other possible devices. Samsung will live-stream its event, and we've embedded the video below.
The official live stream will begin at 8 p.m. CET at its main location at the World Mobile Congress in Barcelona, but you will also find the corresponding times for your area below. Search for more time zones here.
New York: 2 p.m.
San Francisco: 11 a.m.
London: 7 p.m.
Amsterdam: 8 p.m.
Johannesburg: 9 p.m.
Bangkok: 2 a.m. (Tuesday)
Hong Kong: 3 a.m. (Tuesday)
Seoul: 4 a.m. (Tuesday)
Sydney: 6 a.m. (Tuesday)
Live stream will be available on Samsung's official YouTube channel and on the Samsung Tomorrow blog, but you can also watch the action right here.
Meanwhile, check out Samsung's last trailer before the big event.
Several rumors have surrounded the Samsung Galaxy S5, which has made it quite difficult to pinpoint one set of prospective specs for the device. Check our "6 Most Conflicting Specs Rumors" report discussing all of the confusing Samsung Galaxy S5 reports in detail.
Some of the features that Samsung fans are hoping will be featured on the Galaxy S5 include a 5.25-inch QHD (2560×1400) display and next generation processors such as the Qualcomm Snapdragon 805 and the rumored "Exynos Infinity." Fans would especially like to see the Samsung Galaxy S5 feature an updated exterior design (possibly incorporating metal). They also wonder whether the Galaxy S5 will launch with the long-rumored fingerprint scanner. In addition, we would like the Galaxy S5 to feature the higher 3GB mobile RAM and 32GB/64GB internal storage options, which were introduced on the Samsung Galaxy Note 3.
Some rumors propose that the device may release in a "standard" model with last-generation specs, and a "Prime" model with next-generation specs. Rumors also suggest that we may see the Samsung Galaxy S5 release with an updated user interface or even a whole new operating system. Notably, Samsung unveiled its Gear 2 and Gear 2 Neo companion devices featuring the Tizen operating system.
Other device announcements that could take place as Samsung Unpacked may be the Galaxy Gear Fit and the Galaxy Tab 4 series slate tablets. The Galaxy Gear Fit is reportedly a fitness tracking band rumored to feature a flexible display, while the Galaxy Tab 4 tablets are supposedly a new line of mid-range tablets with varying 7-inch, 8-inch and 10-inch displays.
Are you excited to see the Samsung Galaxy S5 unveiled? Watch with us and let us know your take in the comments below.
© Copyright IBTimes 2023. All rights reserved.