Samsung Galaxy S5 Release Date Approaches: 6 Most Conflicting Specs Rumors For The Upcoming Device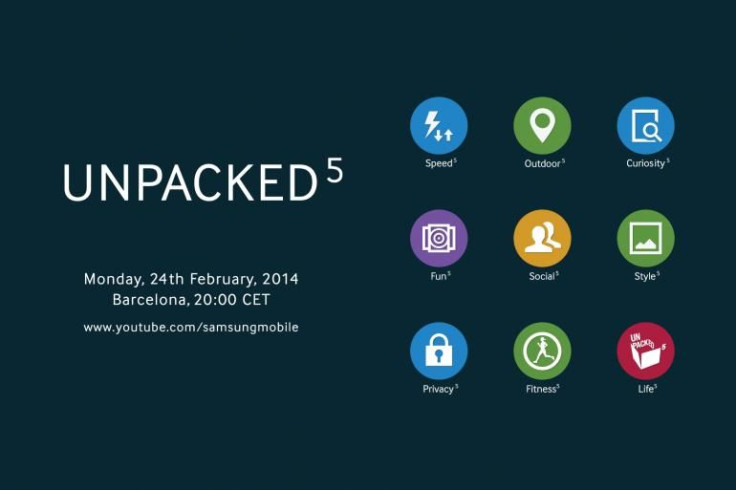 The Samsung Galaxy S5 prerelease season has been unlike any other for Galaxy flagships, in that there hasn't been a widely accepted set of prospective specs for the device. Many of the most talked-about rumors have been conflicting reports, which have made it difficult to zero in on the most-plausible rumors. The Samsung Galaxy S5 will likely be unveiled on Monday at Samsung's "Unpacked 5" event at the Mobile World Congress in Barcelona, Spain. And though there's extensive information circulating for the device, which rumors are real and which are false hasn't been easy to determine. Check out this rundown of the most confusing and conflicting rumors for the Samsung Galaxy S5.
Processor: Snapdragon 800 or Exynos 5422? Or Something else?
Samsung Galaxy flagships usually feature the most current high-end processors on the market at the time of their release, and for several release seasons, consumers have become accustomed to the devices featuring a Qualcomm processor for its LTE variant and an Exynos processor for its 3G variant. Rumors for the Samsung Galaxy S5 have proposed a number of chipsets, including the Qualcomm Snapdragon 800, the Qualcomm Snapdragon 805 and the rumored Samsung Exynos 5422.
There's no telling whether the Galaxy S5 will feature any of these components. Notably, recent benchmarks have tested devices believed to be the Galaxy S5, featuring either the Qualcomm 800 processor or the Exynos 5422. But it's important to note that the Qualcomm 800 is now considered a last-generation component, having been featured in the Samsung Galaxy Note 3 as well as several Pro tablets by Samsung, while the Exynos 5422 has yet to be unveiled.
Days ago, news broke that Samsung may be unveiling a new processor called the "Exynos Infinity" at the World Mobile Congress, which begins Monday. Currently, there's no information on the chipset, other than a teaser image; its accompanying Twitter post has since been deleted. Many wonder if the Exynos Infinity is the long-rumored about 64-bit Samsung CPU. Samsung notably announced in October that it was ready to begin manufacturing 64-bit processors, but there has been little talk about the Korean manufacturer and 64-bit computing since then.
Qualcomm announced in November its Snapdragon 805 "Ultra HD" Processor, which is reportedly able to produce graphic experiences in up to Ultra HD (4K) resolution. Qualcomm's new 2.5 GHz chipset includes the Krait 450 quad-core CPU and Adreno 420 GPU, and hasn't yet been introduced in any devices.
Early rumors had also proposed an Exynos 5430 processor; however, those rumors never got any traction.
Full HD or QHD Display?
If there was any feature that consumers would be most confused about for the Samsung Galaxy S5, it would be whether the device would feature a Full HD 1080p display or a QHD (2560×1400) display.
Early on, rumors favored a QHD display, largely because Samsung is known for putting a considerable amount of development into its displays, notably the most-expensive components on a Galaxy flagship device. Soon, many sources, including the New York Times, indicated that Samsung was opting for a 1080p display for the Galaxy S5. We will further discuss displays for the Samsung Galaxy S5 later, but some rumors also propose that the device may feature both display resolutions.
RAM: 2 GB or 3GB?
Rumors haven't explicitly focused on RAM capacities for the Samsung Galaxy S5. Ever since the Samsung Galaxy Note 3 introduced 3GB mobile RAM in September, most simply assumed that the Galaxy S5 would also feature 3GB mobile RAM. However, there are still murmurs of the Samsung Galaxy S5 featuring 2GB of RAM -- possible proof has surfaced in several benchmarks.
Samsung also unveiled its 4GB mobile RAM modules in October, which the manufacturer says will be implemented into future smartphones; But there has been no major correlation between the next-generation RAM and the next-generation device.
Again, some rumors propose that the Galaxy S5 may feature both RAM options, which will be discussed later.
Design: Metal or Plastic?
Early Galaxy S5 rumors heavily proposed that Samsung was planning a metal exterior for the upcoming device, but reports have focused less on this feature as the S5 unveiling day has grown near.
First inklings of a metal design came from a report suggesting Samsung had a "design 3.0" planned for the Galaxy S5. Many noted how the incorporation of metal into the Samsung Galaxy S4 Active, albeit minimal, was viewed positively by consumers. Samsung reportedly took this into consideration for the design of the Galaxy S5. Later reports indicated that Samsung was shopping for metal suppliers and subsequently selected the Taiwanese company Catcher as its main metal supplier. Sources also divulged that Samsung was having samples of its metal chassis developed in Europe for mass production in Vietnam.
Samsung devices are well known for their polycarbonate casings, which have been featured on several flagship devices despite several metal casing rumors. Later on, reports reintroduced plastic casings for the Galaxy S5, which will also be discussed in more detail later.
Updated TouchWiz Or New Operating system?
There have been several inclinations that the Samsung Galaxy S5 on-screen environment may be different than what consumers are used to in the current TouchWiz user interface. Amid several leaks in favor of a change, many remain uncertain of whether the Galaxy S5 will feature a new UI or a whole new operating system.
The supposed new or updated UI leaks for the Samsung Galaxy S5 have suggested a design similar to the Windows Phone UI, Samsung's Magazine UX for tablets, as well as with Google Now. Meanwhile, many note that the icons on Samsung's Unpacked teasers are similar to those featured on the manufacturer's Tizen OS. This has led to the suggestion that the Samsung Galaxy S5 may feature Tizen and an Android OS with a TouchWiz overlay.
Notably, Samsung unveiled on Sunday its second-generation smart watches, the Samsung Gear 2 and Gear 2 Neo, which run the Tizen OS instead of Android/TouchWiz software. Reports from WMC also indicate that Samsung has conducted a demo of Tizen-powered devices, detailing that the environment featured on these devices is very similar to what is seen on Samsung's Android/TouchWiz devices.
Standard Model or Premium/Prime Model?
Many of the previous conflicting rumors culminate in this final rumor -- that the Samsung Galaxy S5 may come in two variants: one featuring last-generation specs and the other featuring next-generation specs. Initial rumors suggested that the devices would differentiate as standard and premium models. But most recently, reports indicate that the standard model may simply be called the Samsung Galaxy S5 while the premium model may be called the "Samsung Galaxy S5 Prime."
Rumors have connected a number of specs to each variant. Some reports hypothesize that the "Prime" model may feature a metal exterior while the standard model may feature a plastic exterior (other rumors propose that both models will be plastic). Some rumors speculate that one model may include such last-generation features as a 1080p display and 2GB mobile RAM while the other may include such next-generations features as a QHD display and 3GB mobile RAM.
Where rumors have really gotten confusing is in pairing these specs with processors. Notably, KGI Research analyst Ming-Chi Kuo paired the last-gen specs with last-gen Qualcomm Snapdragon 800 processor and the next-gen specs with the proposed Samsung Exynos 5430 for the Galaxy S5. Later, several benchmarks paired the last-gen Qualcomm Snapdragon 800 processor with the last-gen specs and the proposed Samsung Exynos 5422 with the next-gen specs.
Unusually, consumers expect to see next-generation features, especially displays and processors, paired with other next-generation features. This has made the Samsung Galaxy S5 rumors especially difficult to decipher. Notably, Samsung includes in a teaser, a quote by the Danish physicist Niels Bohr: "Prediction is very difficult, especially if it's about the future." The manufacturer may be hinting that it still has a few surprises tricks up its sleeve.
Verdict
Samsung Galaxy S5 rumors have been extremely confusing. Luckily, the device is expected to be unveiled on Monday at Samsung's "Unpacked 5" event at the Mobile World Congress. The live streamed event will begin 8 p.m. CET (2 p.m. EST)
What do you think of all the conflicting Samsung Galaxy S5 rumors? Let us know in the comments below.
© Copyright IBTimes 2023. All rights reserved.
FOLLOW MORE IBT NEWS ON THE BELOW CHANNELS