Samsung Galaxy Tab 4 7.0 Review: Overshadowed By Its Larger Siblings [VIDEO]
The small tablet market is hyper-competitive, with seven and eight-inch entrants from all of the major tech players making an appearance. Samsung has rolled out their new Galaxy Tab 4 line, which contains both seven and eight inch variants, plus a ten inch model. Samsung sent us a seven inch model - the full specs are listed below:
Size and Weight: 4.25" x 7.36" x 0.35," 9.74 oz
Display: 7", 1280 x 800 WXGA TFT
Camera: 3MP rear, 1.3MP front
Platform: Google™ Android™ 4.4 (KitKat)
Performance: 1.2 GHz Quad-Core processor, 1.5GB RAM, 4000 mAh battery
Memory: 8GB storage, expandable via microSD card to 32GB
Connectivity: Wi-Fi, Bluetooth® 4.0
If I didn't know better, I would have sworn this Galaxy Tab 4 was the new Galaxy Mega - the Galaxy line has become so homologous that's it's near impossible to distinguish its models at first glance by anything other than screen size. This Tab 4 7.0 model has - you guessed it, a 7" inch screen.
The display is pretty unimpressive, if I'm honest. Obviously, a device in this price range won't have one of Samsung's fantastic AMOLED displays, but everything on this tablet just looks lifeless. Even my Instagram feed looks glum; I normally don't read much into pixel density and color tone capabilities, but I know how good some of the photographers I follow are. Their work looks subpar on this display.
Since I'm on the subject of photography, it's a perfect time to note that you'll be doing approximately zero of it on the Galaxy Tab 4. I'm not a fan of taking photos with large (10"+) tablets, because you look like a complete dweeb while doing so, but tablets in this size range are close enough to phone dimensions for occasional photography to be viable.
There's a camera in the front and in the back, but they're so terrible that you'll never want to use them. The rear camera is a 3 megapixel unit that captures about as much nuance in a photo as Miley Cyrus does of the English language. The front-facing "selfie camera" is an atrocious 1.3 megapixels. It's not even good enough to double as a mirror, let alone take a photograph worth keeping.
The Galaxy Tab 4, like most of Samsung's product lineup these days, has a plastic "chrome" strip around the rim. I wasn't a fan of it on the Galaxy S5 or the Galaxy Note Pro Tab, and I'm still not a fan - it just looks cheap, like a General Motors car of the mid-2000s. The back's rubberized treatment looks a bit better, but it's not as grippy as you'd expect. The slippery back caused me to drop the Galaxy Tab 4 at least half a dozen times.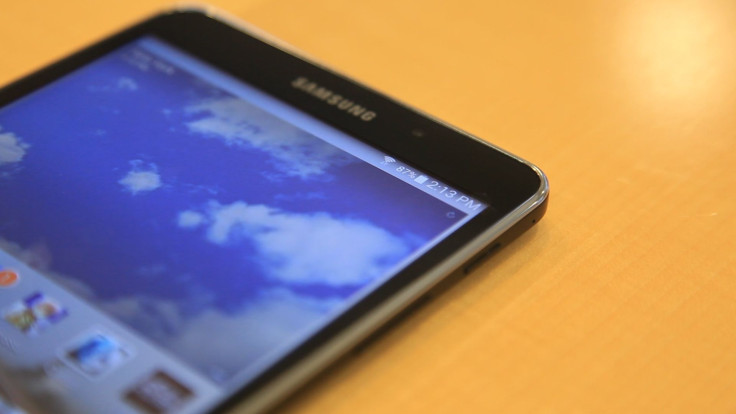 It just doesn't seem like a ton of thought was put into this tablet's design. The back of the tablet isn't completely flat, thanks to that aforementioned abomination of a rear camera. When you lay it on a flat surface, it wobbles because the lens's lip is ever so slightly protruding from the case. Sure, not normally problem considering you'll hold the tablet in your hands often, but applying decent pressure to the Galaxy Tab 4 while it's placed on a flat surface will cause it to rock rather dramatically.
On the upside, the Galaxy Tab 4 is light, weighing in under ten ounces. Yet it's also pretty tough - even after I dropped it (unintentionally) on a wooden floor, the Galaxy Tab 4 looked new. So when - not if, thanks to the slick backplate - you do drop it, it'll probably be just fine.
Samsung's doing well with batteries these days, I must say. The S5 is capable of some ridiculous battery life, and the Galaxy Tab 4 follows suit. It took a full ten hours of usage to deplete the battery with the screen's brightness on high. 4000 mAh isn't a terribly large life source, but since this tablet makes do with a 1200x800 display, it doesn't take that much power to run graphics duty.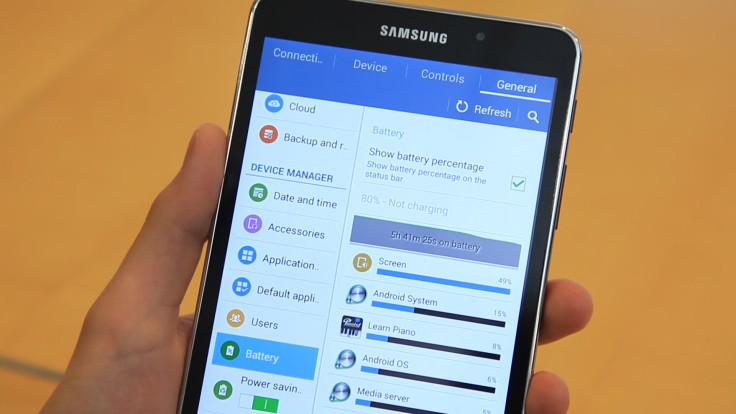 The Galaxy Tab 4 lacks power in general. It's got 1.5GB of RAM, which makes no sense (who uses 512MB RAM sticks?), and as a result it can't really keep up when you push it hard. Sure, social media and streaming stuff will function just fine once you're in it, but the processor takes its sweet time for even the most menial of tasks like opening app folders.
Once you ask it to keep pace with any sort of intensive game, the processor just sorts of looks at you with a raised eyebrow and continues at its current pace anyway. Lag kills any fun you could have with games.
Not that there's much storage space for games - our test model is an 8GB model, which is frankly pathetic. Sure, there's a microSD slot for expanded memory capacity...but Samsung says it's capped at 32GB. 32 GB is still a decent amount of memory, but it's an odd number to cap storage at when there are tablets in the class that offer 64GB of base internal memory.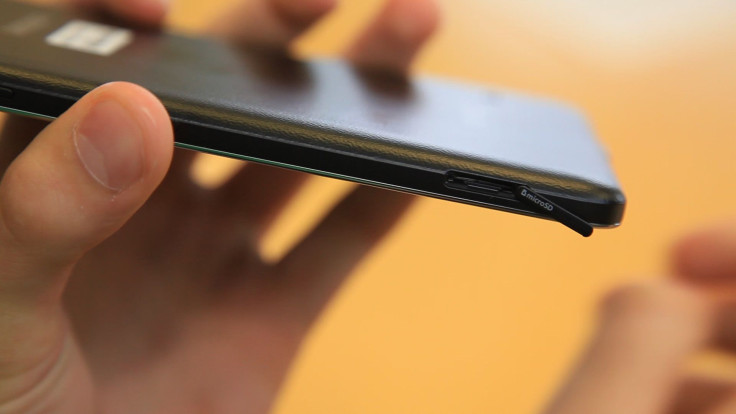 The biggest factor here, however, is the price: the Galaxy Tab 4 7.0 is $199.99. That's pretty competitive, considering its competition in the 7" tablet market. But its biggest competitor comes from within Samsung - the Galaxy Tab 4 … 8.0. You can get the same tablet with the same specs and a larger screen from Samsung, for $40 more.
So, on that bombshell - if you like the Galaxy Tab 4 7.0, buy the Galaxy Tab 4 8.0. Samsung is just confusing me now...
© Copyright IBTimes 2023. All rights reserved.