Samsung Notebook 9 Series Features 13.3/15-Inch Display, Windows 10 And Extra Security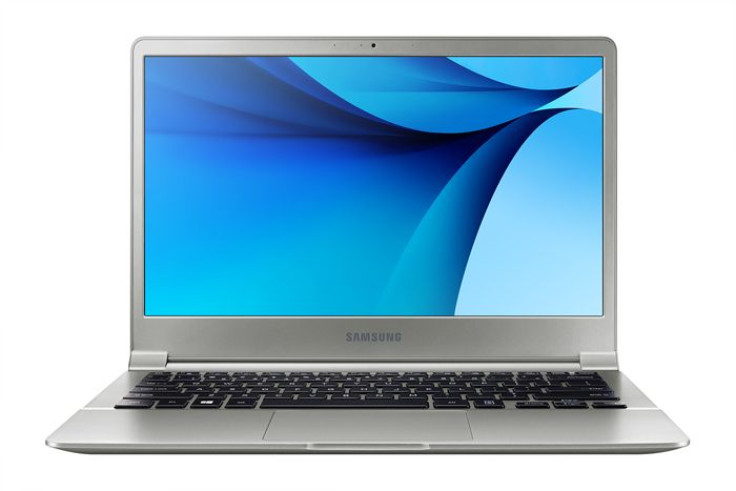 Samsung has officially introduced two laptops under the "9 series" of devices at the CES 2016 press conference. The high-end Notebook 9 series comes with 13.3-inch and 15-inch display choices.
Both the models of Samsung Notebook 9 Series share the same design philosophy and the company will apparently offer these devices in Iron Silver and Modern Pink hues. This new series will be released in "early 2016." However, only selected markets will offer this lineup.
13.3-Inch Samsung Notebook 9
The 13.3-inch display clad laptop comes with 1080p screen resolution. Samsung offers 4 GB or 8 GB RAM choice, along with 128 GB or 256 GB native storage option. It features a 720p webcam at the front and two USB 3.0 ports, along with a micro HDMI, mini Ethernet, mini VGA and a 3-in-1 slot to accommodate SD, SDHC or SDXC cards. To top it all off, a combination of headphone/microphone jack is also part of the device.
The Notebook 9 carries the following dimension: 313.8 x 218.5 x 13.4 mm and it weighs just 1.85 lbs. Under the hood, it comes powered by an Intel Core i7 processor. On the software front, Microsoft Windows 10 runs the laptop. According to Samsung, this device will be able to provide battery life of up to 10 hours after a full-recharge.
15-Inch Samsung Notebook 9
The 15-inch Samsung Notebook 9 features the same display resolution, camera configuration, RAM, processor, software and built-in storage options. But then, the bigger sibling supports USB Type-C connectivity, along with two USB 3.0 ports, HDMI, mini Ethernet, microSD card slot and the same combination of headphone/microphone jack.
This device measures 346.5 x 236.8 x 14.5 mm and weighs 2.84 lbs. Samsung vouches for up to 12 hours of battery life and device owners can also make use of the rapid charging feature, which is capable of charging from 0 percent to 100 percent in 20 minutes.
Common Features
Both 13.3-inch and 15-inch Samsung Notebook 9 series reportedly come with Underwriters Laboratories (UL) certified ergonomic keyboards. The display offers superior brightness with "wide-angle and low-reflective" screen for enhanced viewing experience.
Other than these configurations, the Notebook 9 series also come packed with a new security feature called "Security CAM," which allows users to capture and send photos via an "equipped camera to a pre-registered email in case of theft." To top it all off, the Pattern Log-in, Secret Screen and Record Block options allow device users to secure private files and data.
© Copyright IBTimes 2023. All rights reserved.