Samsung SPH-L300 And LG LS970 ?Eclipse? Image Leaks Hint At A Sprint Launch: Will These Powerhouses Dwarf HTC Evo 4G LTE Sales?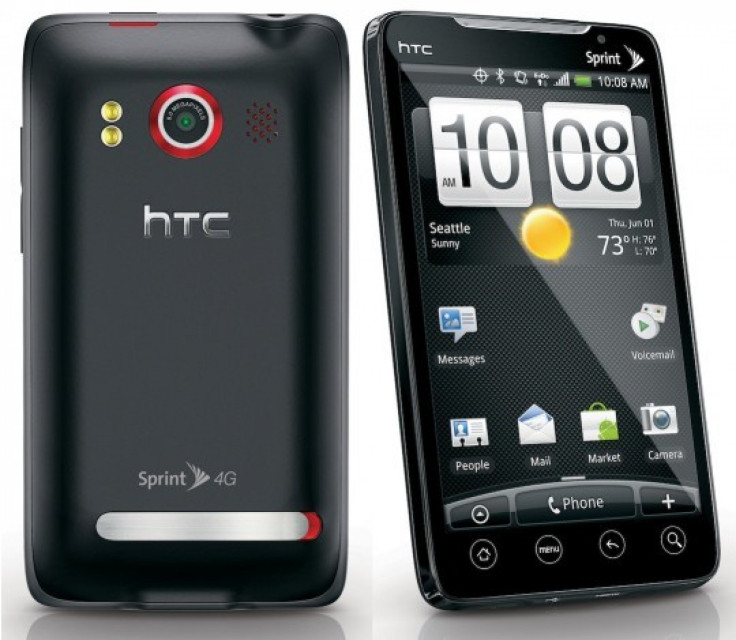 It is goodbye to 3G phones! The new era of 4G LTE phones is all set to establish its presence strongly in the smartphone market. Wireless communication operators are bidding high on these new smartphones by introducing more and more such devices equipped with the breakthrough technology.
Verizon is definitely the best known operator at the moment, for its advanced and widespread 4G LTE network in the US, followed by AT&T. However, Sprint has lately been adding a lot of LTE-integrated smartphones in its basket of offering. Sprint does not provide LTE as of now, but has promised to bring the powerful 4G LTE technology in its product offering by the second half of the year.
Sprint has already introduced Google's flagship Android ICS phone, the Samsung Galaxy Nexus, accompanied by LG Viper. And now, the operator will bring its next LTE phone, the HTC EVO 4G LTE, by May 18.
Recently a few images were leaked into the media, hinting at two powerful LTE-enabled devices that may be coming soon on Sprint by Samsung And LG.
Samsung SPH-L300
The South Korean phone manufacturer is still not over with accepting the compliments for its newly launched Android heavyweight, the Samsung Galaxy S3, and the champion phone maker is once again in the eye of the storm with its upcoming LTE-enabled product offering, the Samsung SPH-L300.
The smartphone came into the spotlight on Wednesday when an image of the device along with some basic specifications was leaked on the Internet, thanks to the folks at BriefMobile. Their reports say that it is very obvious from the model number that it would land on Sprint in the US. However, the release date of the Samsung SPH-L300 is not yet known.
The image also revealed that SPH-L300 will feature a dual-core Snapdragon processor, 1GB of RAM, 4GB of internal storage, a WVGA display, a 5-megapixel camera, 4G LTE with apparently NFC functionality and Bluetooth 4.0 and a design that would be a substantial departure from Samsung's typical styling in a number of ways.
The design of the handset is reasonably interesting and entirely different from the other Samsung models released so far. The handset would measure in dimensions of about 12.19cm x 6.38cm x 1.204cm and it is estimated that the screen size would be somewhat around 4-inch with 800 x 400 pixels of resolution. Further, the look and feel of the handset is very similar to HTC devices (probably Nexus One), with Android buttons and a plastic housing body with a faux-metal border.
Meanwhile, there are no details on the pricing of the handset so far. However, the Samsung SPH-L300 is said to launch with Android 4.0.4 Ice Cream Sandwich. So it can be safely said that it is an LTE phone to look out for.
LG LS970 'Eclipse'
Well, it was only last week when LG Electronics unveiled a new smartphone powered by Android, the LG Optimus LTE2. The device comes with a surprising peg of 2GB RAM and a hefty battery.
However, the handset was announced by the company to be released only in the South Korean market, with no details of its launch in other markets.
Although, on the brighter for the US market, freshest rumors swirling in the media suggest that the Korean tech giant is getting another device ready for an international release. And yes, this device too would have the same storming RAM and mammoth battery.
This rumor was brought out by BriefMobile on Wednesday itself, when they again posted an image of an LTE-enabled device, this time of LG's handset codenamed -- LG LS970. This new device from LG is not going to be some mid-level Android device like the Samsung SPH-L300, instead this heavyweight is going to give stiff competition to hefty Android entrants in the market, including Samsung Galaxy S3 and HTC One X.
Although the manufacturer has not confirmed anything about this handset, reports, however, have claimed that the device will sport a model number of LS9760 and will be named as the G and may be released as the Eclipse 4G LTE.
Reports from BriefMobile also give some hardware specifications of the device from their source, which noted that the smartphone would boast a 1.5 GHz Qualcomm APQ8064 application processor, a knock-down quad-core Snapdragon S4 chip (a Krait design) that will also include the Adreno 320 GPU.
Other rumored specs of this handset reportedly include a large 4.7-inch LCD TFT display capable of delivering a 1280 x 768 pixel of resolution, as well as 16GB of internal storage. And further, the phone could be powered by a 2100 mAh battery.
There are some more eyebrow raising features, evident from the leaked images, such as a big 13-megapixel camera that will most probably come with the support for HD video recording and would be topped by a VGA shooter for making video calls.
The leaked hardware specs also indicate that the device would offer support for 4G LTE band 25, making it fit for the Sprint network (hence the supposition that it could be launched as the LG Eclipse 4G LTE), and with all this, the smartphone would measure at only 8.6mm thickness.
HTC EVO 4G LTE
The HTC EVO 4G LTE is the Sprint's variant of the HTC One X and is anticipated to be a trailblazing handset to enter the market. AT&T's HTC One X has already got rave reviews from tech experts who say that the model is worth every penny spent on it. Hence Sprint customers are expecting the same experience from the HTC EVO 4G LTE, which will be launched as early as May 18 and will be available for as low as $199.99, with a new line of service or eligible upgrade and two-year agreement. However, there is no word on the no-term price yet.
As expected, the EVO 4G LTE is powered by Android 4.0 Ice Cream Sandwich operating system integrated with HTC Sense 4 UI. The phone sets itself apart from previous EVO family products through a number of improvements in camera technology, audio and voice quality. HTC recently shared a new picture album on its social website which shows off the smartphone's 8-megapixel rear camera with autofocus, LED flash and full HD (1080p) video recording performance capabilities and the ImageSense technology. At the same time, Sprint's version of the HTC Evo 4G LTE will feature all the USPs that the smartphone is well known for, like a microSD card slot and a good 2,000 mAh battery.
Moreover, the EVO 4G LTE is Sprint's first device with HTC's Authentic Sound experience integrating Beats Audio, allowing for authentic sound while listening to music. In addition, the smartphone boasts a brilliant 4.7-inch HD (720 x 1280 pixels) display, featuring Corning Gorilla Glass coating.
Further, the phone is powered by Qualcomm's Snapdragon S4 processor clocked at 1.5 GHz, and packs 1 GB of RAM, 16 GB of internal memory and microSD card slot for memory expansion (up to 32GB).
Well, one has to admit, that as compared to HTC EVO 4G LTE, the features of the LG LS970 sure look overwhelming. However, all the same, it takes more than hardware to impress customers, where brand positioning and manufacturing is concerned. But if the rumored specifications turn out to be true and the LG LS970 comes out in the US market in the fourth quarter of this year, then it could get really challenging for the current smartphone brands.
With LG aggressively redefining its smartphone offerings, will you wait for its forthcoming phone or go for the HTC EVO 4G LTE on May 18? Or are you a big Samsung fan and would consider buying the SPH-L300 over the other two? Do let us know in the comments.
© Copyright IBTimes 2023. All rights reserved.