Obama Oval Office San Bernardino Speech Live Stream: Watch Press Conference, Get Updates On President's Latest Gun Control Pleas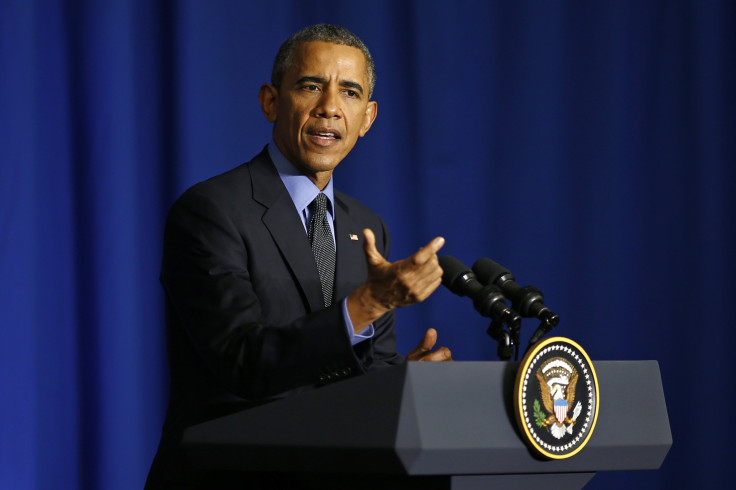 UPDATE: 11:22 a.m. EST -- President Barack Obama, speaking in a rare address from the Oval Office in the White House Thursday, said that the investigation into Wednesday's San Bernardino, California attack had not concluded, and it remained unclear what exactly the motives were behind the shooting.
"It is possible that this was terrorist related, but we don't know," he said. "It's also possible that this was workplace related."
The president said that the two individuals who were shot and killed after the attacks were equipped with weapons and that they had more weapons at home. He also said that it is important for the American people and Congress to think about how to "make sure that when individuals decide that they want to do somebody harm, we make it a little bit harder for them to do it, because right now it's just too easy."
Original story --President Barack Obama was expected to address the country Thursday from the Oval Office after the San Bernardino, California shooting. The president has consistently denounced shootings as they have occurred during his presidency, saying that they occur too often and criticizing Republicans in Congress for failing to pass what he calls "common sense" gun control legislation. You can watch his remarks Thursday below as they happen.
Obama's remarks come just a day after the attacks in which two gunmen wearing masks and body armor entered a social services facility around 11 a.m. local time and opened fire with .223-caliber assault rifles and semi-automatic handguns, killing 14 people and injuring 17 others. The gunmen then fled in a black SUV in which they were later killed in a shootout with police on a residential street.
The shooters have been identified as 28-year-old Syed Rizwan Farook, who was employed by the county health department as an environmental health specialist, and his wife, 27-year-old Tashfeen Malik. Farook was reportedly at the party, which was hosted for the county health department, earlier in the day but had left at some point following a dispute. Co-workers later said that the couple didn't seem radical beforehand: One said it seemed they were "living the American dream," while another said that Farook "never struck me as suspicious."
The motive for the attack was not immediately clear to investigators as they struggled to understand why a man with seemingly positive relationships with his co-workers would open fire on a holiday party. Farook travelled to Saudi Arabia earlier this year, and investigators have said that terrorism has not been ruled out.
The San Bernardino shooting is the deadliest attack since the December 2012 Sandy Hook Elementary School shooting, when 20 school children and six adults were gunned down by 20-year-old Adam Lanza in Connecticut.
© Copyright IBTimes 2023. All rights reserved.