Sandusky to be Sentenced After October 9 Predator Hearing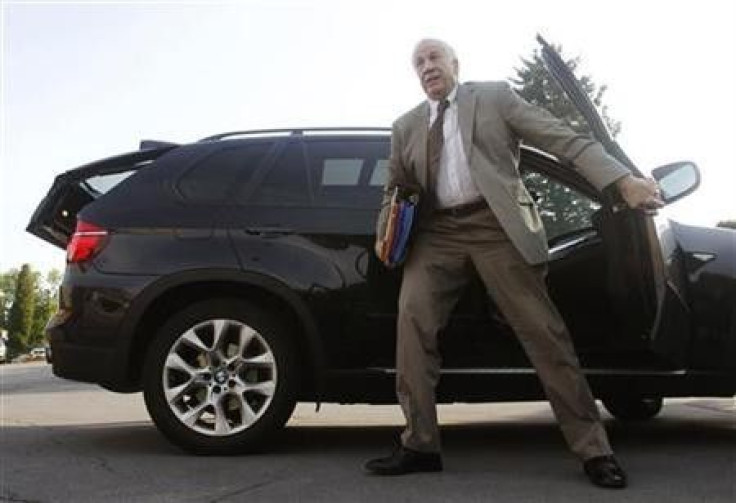 (Reuters) - Convicted child molester Jerry Sandusky will face sentencing immediately after an October 9 hearing to determine if the former Penn State assistant football coach is a sexually violent predator, a judge said on Monday.
The hearing will be held at the Centre County Courthouse in Bellefonte, Pennsylvania, Judge John Cleland said in an order published online. A sentencing conference will be held October 8.
Sandusky, 68, was convicted in June of 45 counts of child molestation as part of a scandal that shook college football and focused national attention on child sex abuse.
He faces up to 373 years in prison for sexually abusing 10 boys over a period of 15 years, including while he was the highly regarded defensive coordinator at powerhouse Pennsylvania State University.
Designating Sandusky a sexually violent predator would put him under stringent reporting requirements if he is put on probation after release from prison.
The court will consider the recommendation of the state Sexual Offenders Assessment Board. Normally a determination hearing takes place the same day as sentencing, but the scale of Sandusky's case could mean sentencing would take place later.
LIFE WITHOUT PAROLE?
Dan Filler, a law professor at Philadelphia's Drexel University, said Cleland had options in sentencing, but the outcome would be the same for Sandusky.
Cleland could have the 45 sentences run one after the other or at the same time. He also could impose the maximum or minimum under sentencing guidelines, and take Sandusky's lack of prior convictions into consideration, Filler said.
In the end, however, judges are very politically sensitive in cases like this. Whatever the guidelines call for, I believe the judge will impose a sentence that is functionally life without hope of parole, he wrote in an email before the hearing date was set.
Sandusky's lawyer Joe Amendola has vowed to appeal the convictions after sentencing, arguing that he was not given enough time to prepare his case.
Sandusky, who retired in 1999, was convicted of abusing the boys after making contact with them through the Second Mile, a charity he founded for at-risk youth.
The abuse ranged from fondling to anal and oral sex, including the rape of a boy in a Penn State football shower in 2001.
Former Athletic Director Tim Curry and former university Vice President Gary Schultz face charges of failing to report suspected abuse and perjury in connection with the 2001 incident. Their trial is scheduled to start on January 7.
At least three of Sandusky's victims are suing the university. Sandusky's lawyers have put the number of potential victims at almost 20.
The charges against Sandusky in November 2011 led to the firing of revered head football coach Joe Paterno and university President Graham Spanier. Paterno died in January of lung cancer at age 85.
(Reporting by Ian Simpson; Editing by David Brunnstrom and Vicki Allen)
© Copyright Thomson Reuters 2023. All rights reserved.