Sarah Palin hits back at critics, lists Obama's gaffes on Facebook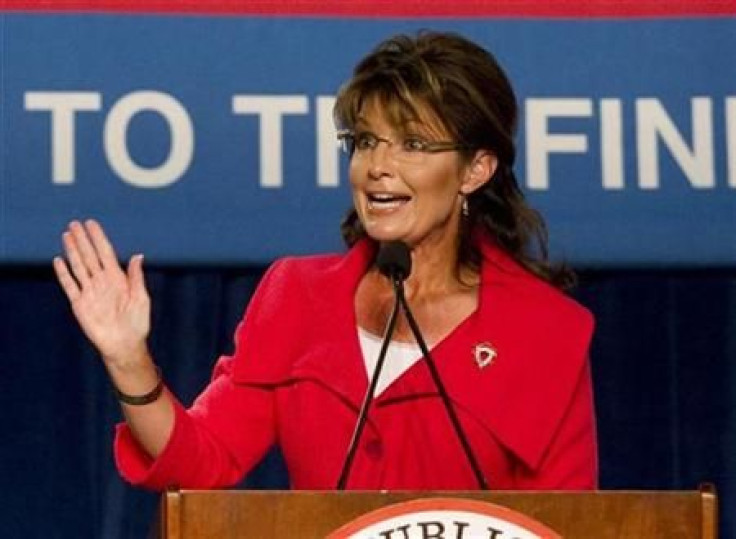 In a rather amusing fashion, Republican Sarah Palin fired back at her critics for highlighting her latest 'North Korea ally' gaffe. In her thanksgiving message to the nation on facebook, she listed out verbal slips of U.S. President Barack Obama.
Visibly upset by the reportage over her slip of tongue, Palin also posted media bloopers from Fox News. Her post published on late Friday attracted close to 21,000 likes and over 5,000 comments by early Saturday.
The 2008 Republican vice presidential candidate was not very keen let criticism go unanswered, as she said, Unfortunately, it seems they (media) couldn't resist the temptation to turn a simple one word slip-of-the-tongue of mine into a major political headline.
Palin had a brief slip of the tongue on the Fox news presenter Glenn Beck's radio show on Wednesday. Responding to the presenter's question on how she would handle the crisis situation in the Korean Peninsula, to which Palin responded, This speaks to a bigger picture here that certainly scares me in terms of our national security policies. But obviously, we've got to stand with our North Korean allies. The presenter had to correct her that it was South Korea that was the ally of U.S.
In her facebook address, Palin listed 10 of Obama verbal slips providing links to video streams. Obama's gaffe included his statements like, 'My fellow Americans in all 57 states,' 'the time has changed for come', 'There is much to celebrate from the FBI's first 100 days', 'The reforms we seek will bring greater inefficiencies to our health care system', and 'We know that countries like Europe'.
A video showed Obama as saying, Everybody knows that it makes no sense that you send a kid to the emergency room for a treatable illness like asthma and they end up taking up a hospital bed. It costs, when, if you, they just gave, you gave them treatment early, and they got some treatment, and ah, a breathalyzer, or an inhalator. I mean, not a breathalyzer, ah, I hadn't much sleep in the past 48 hours.
Other videos with Obama stating that the US was 'resolved to halt the rise of privacy', 'Israel is a strong friend of Israel's' and 'I don't know what the term is in Austrian for that (assuming Austrian was language)' were also linked to the message.
If you can't remember hearing about them, that's because for the most part the media didn't consider them newsworthy. I have no complaint about that. Everybody makes the occasional verbal gaffe even news anchors, Sarah Palin said in her message along with adding a verbal slip of a Fox News presenter.
Quoting the words 'Hope springs eternal', the former governor of Alaska, ended her address maintaining America's free press should be held accountable for responsible and truthful reporting.
© Copyright IBTimes 2023. All rights reserved.