Saudi Arabia King Salman Will Not Attend White House Meeting Or Camp David Summit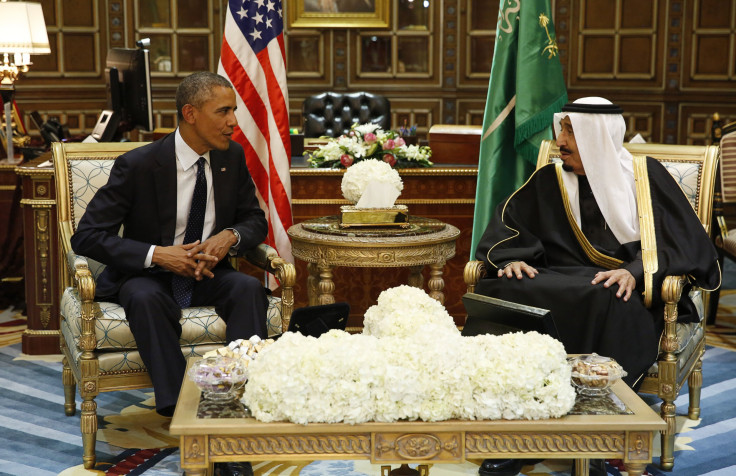 Saudi Arabia's King Salman will not meet with President Obama at the White House or attend a summit at Camp David this week, the Saudi Press Agency reported Sunday. The snub appears to stem from ongoing frustrations with U.S. policy toward Iran, the Saudis' top regional foe.
The monarch, who took over in January after the death of his half brother King Abdullah, had been scheduled to meet with Obama as recently as last Friday, to "resume consultations on a wide range of regional and bilateral issues." Instead, Saudi Arabia will send its interior and defense ministers to the summit, where they will join officials of the United Arab Emirates, Qatar, Kuwait, Bahrain and Oman.
A senior Obama administration official told the New York Times that the king's absence was not intended as a snub, while Jon Alterman, senior vice president at the Center for Strategic and International Studies, disagreed, saying King Salman was sending "an unmistakable signal."
The United States seeks to build Arab support for the nuclear framework agreement with Iran, one of the major topics to be discussed at the summit.
Days before the announcement Sunday, Saudi Arabia and the five other Gulf states had unsuccessfully pressed U.S. Secretary of State John Kerry for a defense treaty pledging American support in the event any among them were attacked, administration officials told the New York Times. But the U.S. balked at the request. Instead, the White House is expected to offer a nonbinding presidential statement to that effect.
Saudi officials have criticized a U.S.-backed international agreement designed to limit Iran's nuclear program in exchange for removing economic sanctions. Amid recent American overtures to Iran, Saudi Arabia has not ruled out the possibility of developing its own nuclear capabilities.
Riyadh also disagrees with Washington on Syria, where it wants the United States to take more aggressive steps to overthrow President Bashar al-Assad.
© Copyright IBTimes 2023. All rights reserved.