Scott Walker Push For Milwaukee Bucks Arena Subsidy Could Benefit His Fundraising Chief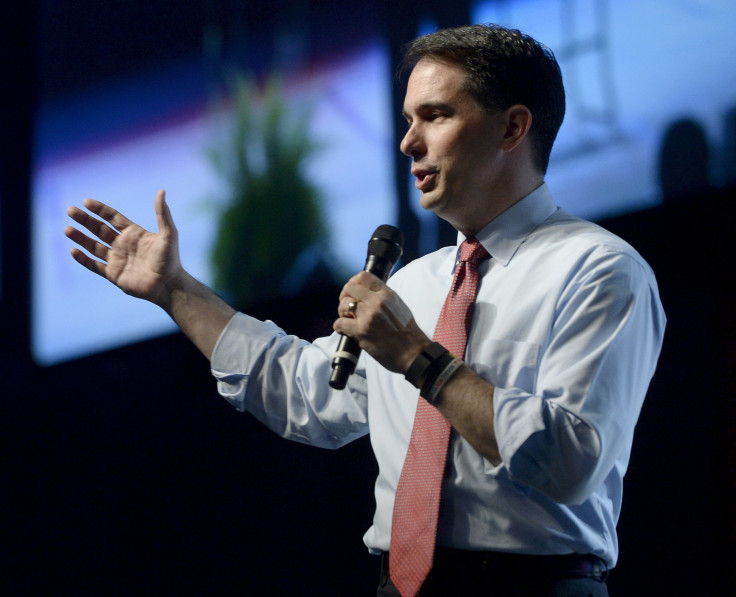 In the year leading up to the announcement of his presidential campaign, Wisconsin Gov. Scott Walker championed a high-profile proposal to spend a quarter of a billion dollars of taxpayer money to help finance a new Milwaukee Bucks arena -- all while pushing to slash roughly the same amount from state funding for higher education. One of those who stands to benefit from the controversial initiative is a longtime Walker donor and Republican financier who has just been appointed by the governor to head his presidential fundraising operation.
Real estate mogul Jon Hammes, who has donated hundreds of thousands of dollars to Republican candidates and causes, is a prominent member of the investor group that owns Milwaukee's NBA team. Last week CNN reported that he also will serve as the Walker campaign's national finance co-chairman. Days after that appointment, Walker's Republican allies in the Wisconsin state Senate backed the governor's proposal to spend public funds on a new arena for the Bucks.
In his speech announcing his presidential candidacy, Walker presented himself as a free-market conservative and derided what he called a "top-down, government-knows-best approach" to economic policymaking. Hammes serves on the board of a conservative think tank called the Wisconsin Policy Research Institute that says "competitive free markets, limited government, private initiative and personal responsibility are essential to our democratic way of life."
But under Walker's proposal, the government would redistribute taxpayer money to a project benefiting Hammes and other Bucks investors.
A representative for Walker defended the proposal, saying in a statement: "Governor Walker's focus is on protecting Wisconsin's taxpayers from the negative financial impact of losing the Bucks, while balancing state and local support."
A Walker campaign aide additionally asserted that it was "a dangerous leap" for International Business Times to ask about the propriety of subsidizing a deal in which Hammes could benefit. "The stadium deal has been in the works much longer than he has been involved with the campaign," the aide said.
However, before Walker proposed the arena deal, Hammes had donated more than $15,000 to his gubernatorial campaigns, according to state campaign finance data. Federal records also show that over the last decade, Hammes has donated almost $280,000 to Republican candidates and third-party groups -- including more than $14,000 to the Wisconsin Republican Party. Hammes Company in 2010 donated $25,000 to the Republican Governors Association, which that year spent heavily in support of Walker's first run for governor. Jon Hammes also contributed $500 to Walker while he was a Milwaukee county executive.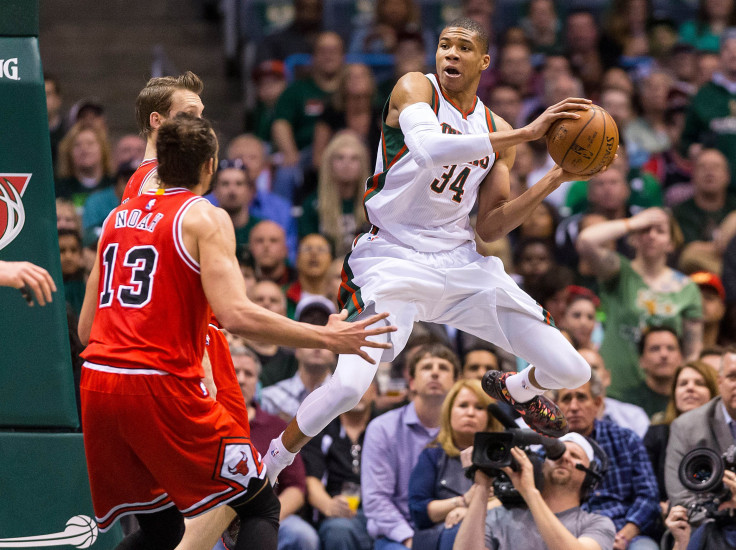 Hammes became one of the part owners of the Bucks in 2014. A little more than three months later, Walker unveiled his proposal to spend a quarter of a billion dollars on a new arena for the team. The team currently plays at BMO Harris Bradley Center in Milwaukee.
A Hammes Company representative declined to say what percentage of the team he owns.
Hammes' financial interest in Walker's arena subsidy package may not be limited to just his stake in the team. According to local news reports, his real estate firm also also bought parcels of downtown land near the location of the proposed new arena. Hammes' firm also was contracted by the local chamber of commerce to evaluate new stadium proposals. The company has expertise in that area, having been involved in the construction of the New York Giants' stadium and the renovation of the Green Bay Packers' home at Lambeau Field in Wisconsin.
Walker's administration has justified the expenditure as a means of safeguarding Wisconsin's economy, which has seen the largest decline of its middle class of any state in the country.
"This plan protects taxpayers from the loss of $299 million if a new stadium is not built and the NBA moves the Milwaukee Bucks to another state," Walker's spokeswoman, Laurel Patrick, told IBTimes.
The Bucks have claimed the new arena would be a boon for Wisconsin, saying in an advertisement that the entire state would feel a "ripple effect."
A widely cited 2008 study by Econ Journal Watch found an "overwhelming preponderance of evidence that no tangible economic benefits are generated by these heavily subsidized professional sports facilities."
While Walker's arena financing proposal passed the state Senate with bipartisan support, some Republican and Democratic legislators decried the initiative.
Democratic Sen. Tim Carpenter of Milwaukee said that "the burden of paying for the construction of the new arena should fall on those who would benefit from its construction." Republican Sen. Rob Cowles said, "I think it is incredibly unfair that my constituents in northeastern Wisconsin are being asked to pay for a sports arena in Milwaukee."
This article was updated on July 18th at 3:15pm.
© Copyright IBTimes 2023. All rights reserved.