Election 2016: Gov Scott Walker Enters President Race With Conservative Credentials And Executive Experience In Tow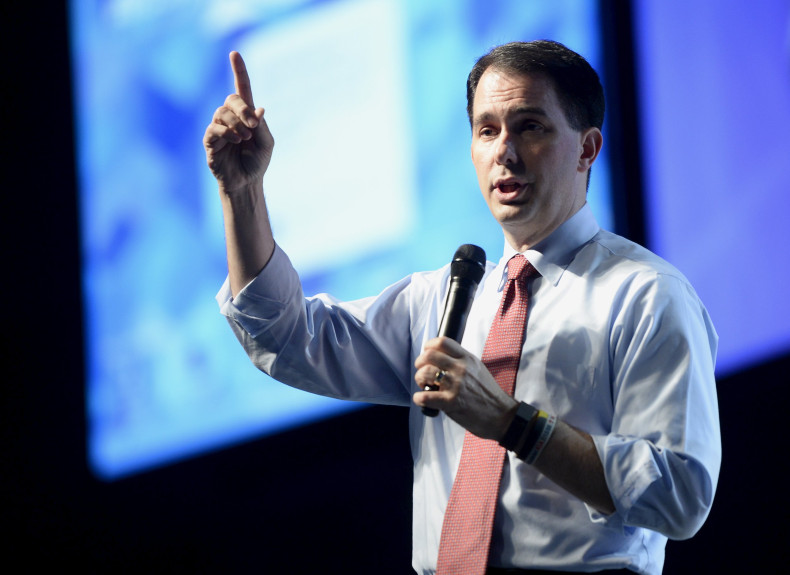 Wisconsin Gov. Scott Walker officially announced his campaign for the White House on Monday, joining a crowded group of Republicans jostling for their party's nomination. His expected announcement isn't much of a surprise, however, and follows just days after Walker's Twitter account seemed to mistakenly declare his candidacy on Friday. The tweet was swiftly removed, but a new Twitter message made it official Monday.
Walker, 47, is one of the last high profile Republicans expected to enter the race, though he is anything but a long shot. He put off announcing his bid until he had finished up his gubernatorial duties and signed a state budget. The budget passed both houses of the state Legislature last week.
Walker's official campaign announcement Monday will be held in Waukesha, Wisconsin, and he will embark on a four day tour of early primary states from there. The Milwaukee Journal Sentinel has referred to Walker as the "first serious declared presidential candidate that Wisconsin has seen in generations."
Walker's rise to prominence was spearheaded by his battle with Wisconsin collective bargaining rights in 2011 that sparked protests in Madison. The controversy later led to a recall election that Walker won with plenty of room to spare over his Democratic challenger. For many Republicans, the drama is all part of Walker's appeal.
Wisconsin regularly leans left in presidential elections, however Walker managed to pull in more than 53 percent of the vote after gutting some collective bargaining rights in the state. He has since done more, including making cuts to the University of Wisconsin school system.
In addition to his higher profile battles with Democrats in his state, Walker has also demonstrated himself to be a reliable social conservative, and is known for his pro-life views.
Walker was first elected to the Wisconsin State Assembly in 1993, after losing his first run for the body three years earlier. He kept his seat in the Assembly until 2002 when he became a Milwaukee County executive. On his 43rd birthday, in 2010, Walker won the governor's office.
Walker grew up in the small town of Plainfield, Iowa, the son of a Baptist. He moved to Wisconsin at the age of ten. He earned his Eagle Scout degree, and went to college at Marquette University, a Jesuit school in Milwaukee, before dropping out his senior year.
He is married to Tonette Walker, and they have two sons in college.
© Copyright IBTimes 2022. All rights reserved.