Sears And Kmart Store Closings: More Locations Closing In March And April [Complete List]
More store closures are set to occur at Sears and Kmart stores located across the U.S. While the retailer, owned by Transformco, announced in November 2019 that it was closing about 96 Sears and Kmart stores, it has reportedly has added to the list of locations that are set to shutdown.
According to local reports, dozens of Sears and Kmart stores will close their doors in March and April with liquidation sales slated to continue through this timeframe. Transformco has not publicly announced the additional store closings since its initial November announcement.
The previous round of store closures is set to wrap up by mid-February, company spokesman Larry Costello told USA Today in January. At the time, Sears and Kmart had 182 stores under its corporate umbrella.
The Sears and Kmart stores that set to close in March and April include (via USA Today):
Sears Store Closings:
Arizona
Tucson Sears: 4570 N Oracle Road. Mid-April.
California
Glendale Sears: 236 N Central Ave. Mid-March.
Hemet Sears: 2200 West Florida Ave. Mid-April.
Richmond Sears: 2300 Hilltop Mall Road. Mid-March.
Delaware
Wilmington Sears: 4737 Concord Pike. Mid-April.
Florida
Coral Springs Sears: 9565 West Atlantic Blvd.
Orange Park Sears: 1910 Wells Road.
Georgia
Augusta Sears: 3450B Wrightsboro Road.
Maine
Brunswick Sears: 8 Gurnet Road. Mid-April.
Maryland
Annapolis Sears: 1040 Annapolis Mall. Mid-April.
Baltimore Sears: 8200 Perry Hall Blvd. Mid-April.
Waldorf Sears: 11170 Mall Circle. Mid-April.
Michigan
Livonia Sears: 29500 West Seven Mile Road.
Missouri
Springfield Sears: 2825 South Glenstone Ave. Mid-April.
New Jersey
Freehold Township Sears: 3710 U.S. 9. Mid-February.
Livingston Sears: 112 Livingston Parkway. Mid-April.
Moorestown Sears: Rt 38 and Lenola Road. Mid-April.
New Brunswick Sears: 51 U.S. 1. Mid-April.
Woodbridge Township Sears: 150 Woodbridge Center Court. Mid-April.
New York
Horseheads Sears: 3300 Chambers Road. Mid-April.
Lake Grove Sears: 4 Smith Haven Mall. April.
Poughkeepsie Sears: 2001 South Road.
North Carolina
Hickory Sears: 1940 U.S. Highway 70 SE.
Jacksonville Sears: 344 Jacksonville Mall.
South Carolina
Greenville Sears: 700 Haywood Road. Mid-April.
Texas
Beaumont Sears: 6155 Eastex Freeway. Mid-February.
Houston Sears (Willowbrook): 7925 Fm 1960 Road W.
Humble Sears: 20131 Highway 59 N.
Virginia
Falls Church Sears: 6211 Leesburg Pike. Mid-April.
Kmart Store closings:
California
Redwood City Kmart: 1155 Veterans Blvd. Mid-April.
Temple City Kmart: 5665 North Rosemead Blvd.
Colorado
Loveland Kmart: 2665 West Eisenhower Blvd.
Illinois
Des Plaines Kmart: 1155 E. Oakton St.
Massachusetts
Holyoke Kmart: 2203 N Hampton St. Mid-April.
New Jersey
West Long Branch Kmart: 108 Monmouth Road. Mid-April.
New Mexico
Farmington Kmart: 3000 East Main St.
Hobbs Kmart: 2220 North Grimes St.
Nevada
Las Vegas Kmart: 5051 East Bonanza Road.
New York
New York Kmart: 250 W 34th St. (Penn Station)
North Carolina
Kill Devil Hills Kmart: 1901 N Croatan Highway. Mid-April.
Raleigh Kmart: 8701 Six Forks Road. Mid-February.
Pennsylvania
Wind Gap Kmart: 801 Male Road. Mid-March.
Texas
McAllen Kmart: 1801 South 10th St.
Washington
Burlington Kmart: 1550 S Burlington Blvd. Mid-April.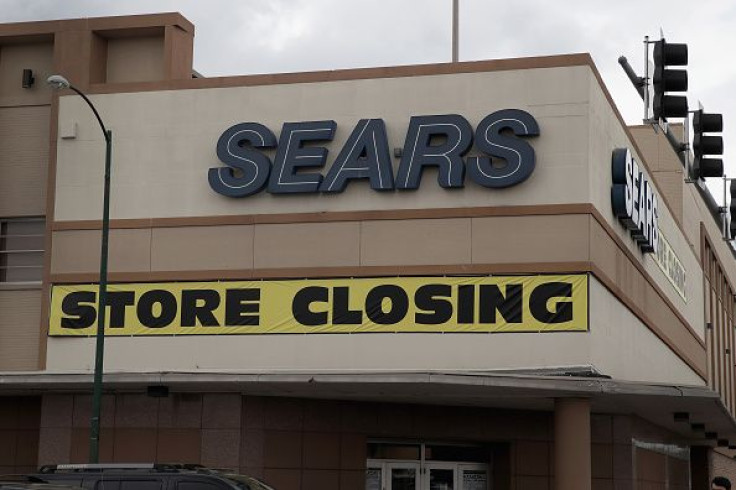 © Copyright IBTimes 2023. All rights reserved.
FOLLOW MORE IBT NEWS ON THE BELOW CHANNELS