Seattle May Day March Turns Violent, At Least 3 Police Officers Injured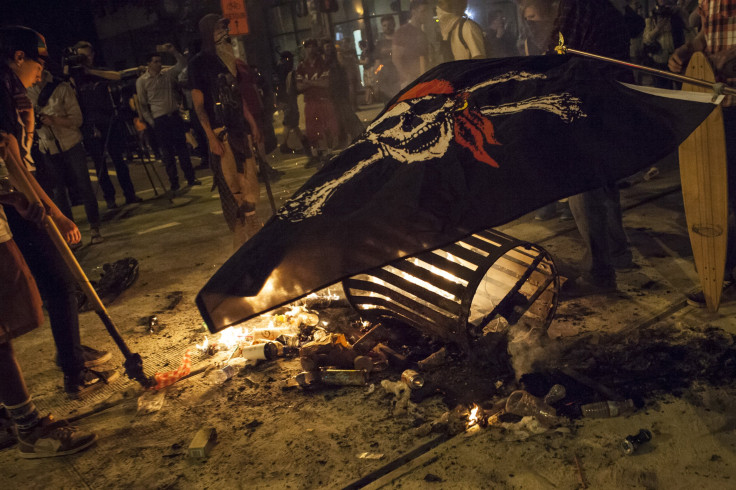 A peaceful Friday evening May Day march in Seattle for workers' rights turned violent after anti-capitalist protesters threw wrenches and rocks at police, injuring at least three officers.
According to the Seattle Police Department, two of the three injured officers were taken to a hospital with serious injuries, while authorities responded to the violent mob with "flashbangs" and pepper balls, and arrested 15 protesters Friday evening. Police also reportedly spotted an unidentified drone flying over Seattle Central Plaza.
Several videos of the protests uploaded on Twitter on Friday evening showed a chaotic scene as a row of police officers on bicycles threw the concussive devices into the crowd, who were seen smashing store windows and setting fires.
"This is no longer demonstration management, this has turned into a riot," Seattle Police Captain Chris Fowler said in a statement.
Seattle police said that demonstrators had damaged at least 25 vehicles and lit garbage on fire. Police also seized equipment seemingly aimed at causing destruction from one of the detained protesters.
Meanwhile, Seattle Mayor Ed Murray has urged residents in the Capital Hill neighborhood, where much of the violence took place, to take precautions.
"As we continue to witness acts of violence from protesters, we urge folks on Capitol Hill to exercise caution," Murray said in a statement. "Seattle Police are advising that businesses on Broadway and other Capitol Hill streets should take reasonable precautions to protect their employees and customers. Police will continue to work to protect people and property in the area, and will make arrests when necessary."
Police had reopened Broadway Avenue to traffic by Friday night, the department said in a tweet.
© Copyright IBTimes 2023. All rights reserved.