Secretary Of Defense Chuck Hagel Reiterates Support For Ukraine As Obama Rules Out US Military Action In Crimea Against Russia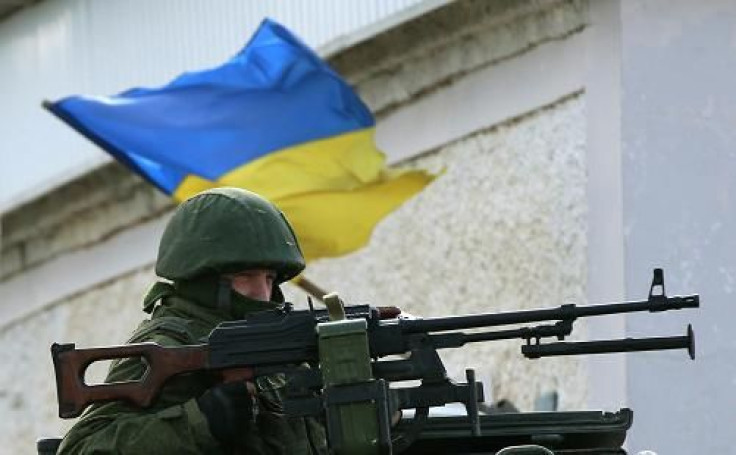 After the first casualty of the stand-off between Ukraine and Russia shook Crimea and threatened to ignite a potentially bloody war between the two neighboring countries, Chuck Hagel spoke with the Ukrainian minister of defense on Wednesday, according to a Pentagon press release.
Pentagon Press Secretary Rear Adm. John Kirby said that the conversation provided an update to what the secretary of defense has previously said about the current situation in Crimea.
"Secretary Hagel reiterated that he appreciated the restraint exhibited by Ukrainian Armed Forces and expressed his condolences for the death of the Ukrainian soldier yesterday," Kirby said. "He stressed again to Minister Tenyukh that the United States stands by the people of Ukraine, condemns the use of force by the Russian Federation and continues to call for the removal of Russian forces."
However, it has still not been confirmed where the armed and masked militiamen are from, although most reports assume that they are either Russian military without insignia or volunteers backed by the Russian military.
And while the United States and Europe call for the withdrawal of alleged Russian forces, it was also reported on Wednesday that Ukrainian military was instead leaving the region, presumably to avoid an armed conflict and more deaths. Russian forces now occupy the vacated Ukrainian bases.
"Secretary Hagel assured Minister Tenyukh that he continues to monitor the situation closely, and that it is important for the two leaders to remain in touch with one another," Kirby said.
President Barack Obama has ruled out military action in Ukraine, saying that to take on Russia militarily would "not be appropriate." The president again called for strong sanctions against Russia and continued diplomatic pressure.
© Copyright IBTimes 2023. All rights reserved.