Self-Driving Truck: Daimler Tests 'Highway Pilot' System On German Autobahn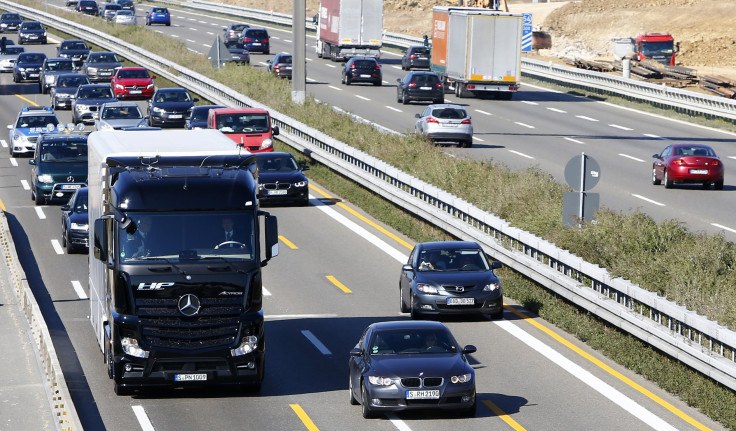 German automaker Daimler conducted the first-ever test of its self-driving truck Friday in Germany. A top Daimler official sat in the front seat while a Mercedes-Benz Actros truck, equipped with the company's "Highway Pilot" technology, drove 9 miles on the German highway system.
"Today's premiere is a further important step towards the market maturity of autonomously driving trucks -- and towards the safe, sustainable road freight transport of the future," Daimler board member Wolfgang Bernhard said in a press release, according to Agence France-Presse. "Safe testing in real traffic is absolutely decisive for the development of this technology to market maturity. We are now able to proceed with this."
Since unveiling self-driving truck technology in May 2015, Daimler has extensively tested the system on closed tracks in Germany and the United States, AFP noted. But Friday's test marked the first time "Highway Pilot" was tested in real-world conditions.
Daimler's "Highway Pilot" system uses cameras, radar, speed controls and other features to auto-navigate a vehicle on a roadway. At present, the technology isn't completely autonomous. A driver must be on hand to take control of the truck when obstacles appear, such as roadwork or inclement weather. Daimler notes the driver "retains full responsibility, needs to monitor the traffic at all times and must be able to intervene at any time."
Daimler officials have touted the self-driving system's eco-friendly output. Automated acceleration control and gear-shifting reduces the vehicle's carbon dioxide output by at least 5 percent, the company said, according to the Daily Mail.
The automated system isn't subject to drowsiness or driver error, significantly reducing the risk of car accidents, according to its proponents. "It is alert, concentrated and relaxed," Mercedes said in a statement, according to Digital Trends. "Without exception, round the clock, seven days a week."
Dailmer isn't the only company in pursuit of self-driving technology. Chinese firm Yutong conducted a similar test of a self-driving bus last month.
© Copyright IBTimes 2023. All rights reserved.
FOLLOW MORE IBT NEWS ON THE BELOW CHANNELS