As Senate Moves To Renew Violence Against Women Act, McCain Slams 'Imaginary' War On Women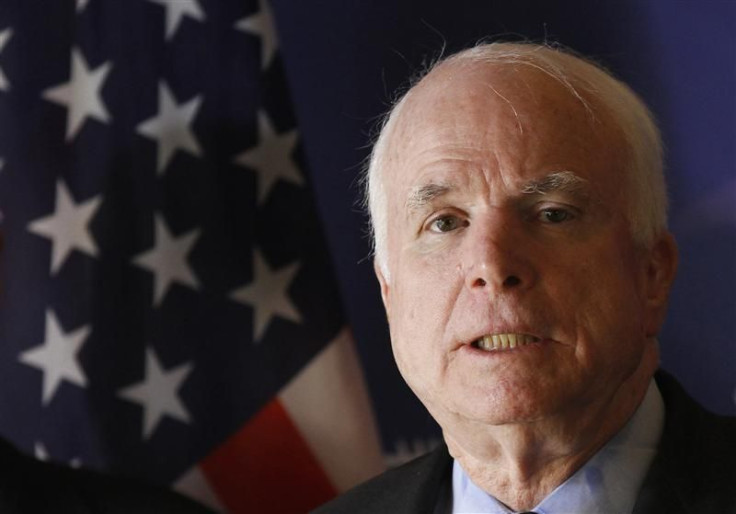 Sharpening the edges of an election-year fight, U.S. Sen. John McCain, R-Ari., denounced as imaginary claims that Republicans are conducting a war on women.
The Republican senator from Arizona offered his criticism as the Senate moved to renew the Violence Against Women Act, a broadly popular piece of legislation that has become embroiled in a partisan battle over additional provisions, championed by Democrats, that would extend more protections to undocumented immigrants and and gay men and lesbians.
After emphasizing that there a bipartisan consensus that the Violence Against Women Act is a vital safeguard -- since being enacted in 1994, the bill has been reauthorized twice without controversy -- McCain suggested that efforts by Democrats to depict Republicans as anti-women were little more than political theater.
My friends, this supposed 'War on Women' or the use of similarly outlandish rhetoric by partisan operatives has two purposes, and both are purely political in their purpose and effect: The first is to distract citizens from real issues that really matter and the second is to give talking heads something to sputter about when they appear on cable television, McCain said, according to prepared remarks. Neither purpose does anything to advance the well being of any American.
Senate Republicans appeared ready to approve the legislation despite reservations that it was being used as a vehicle for unrelated Democratic priorities. Multiple senators told the Hill they expected the bill to pass the Senate, and a Romney spokesperson said the act should be renewed without being transformed into a political football.
The dispute could now be transferred to the House of Representatives, where a group of Republican lawmakers have introduced an alternate version, modeled on a substitute bill originally submitted by Republican senators, that strips out the expanded measures related to immigrants and gay and lesbians. An anonymous Senate Democratic aide told the Hill they were prepared to exploit the perception that Republicans were dragging their feet on domestic violence.
We will be happy to point out as long as it takes the inability of the House to act on the Violence Against Women Act, the aide said. We won't let a day go by where we don't put pressure on the House to move forward.
Democrats have been quick to tie Republican opposition to the new Violence Against Women Act to a narrative portraying Republicans as out of touch with women. Vice President Joe Biden questioned the fact that the bill did not sail through the Senate, saying that we shouldn't be having this debate, and female Democratic senators exerted public pressure on Republicans.
Republicans are returning to the playbook of obstruction, U.S. Sen. Patty Murray of Washington said in a recent press conference. Women in America cannot afford political theater on this issue. Not on this issue. Their lives depend on it.
The renewed focus on women's issues originated with a dispute over a provision in the new health care law requiring all employers, including Roman Catholic institutions, to provide health insurance that covers contraception. That prompted furious and often acrimonious debate in Congress and led President Obama to personally call a young Georgetown Law student who was disparaged by the popular conservative talk radio host Rush Limbaugh for testifying about the need for birth control coverage.
Polls have shown President Obama to have a substantial lead over Mitt Romney among female voters in swing states, suggesting that Obama could again have a key advantage among a constituency that overwhelmingly chose him in 2008.
--
© Copyright IBTimes 2023. All rights reserved.
FOLLOW MORE IBT NEWS ON THE BELOW CHANNELS