As Senate Readies Keystone XL Pipeline Vote, Debate On Existing Gulf Coast Section Simmers In Oklahoma And Texas
The U.S. Senate is expected to vote Tuesday on a bill that would force approval of the Canada-to-U.S. Keystone XL crude oil pipeline. Yet as the fight intensifies in Washington, a quieter debate is simmering in Oklahoma and Texas, the two states where the pipeline's southern leg is already operating.
At issue is a 487-mile section called the Gulf Coast Pipeline. Alberta-based TransCanada Corp. completed the $2.3 billion segment in December 2013 and started pumping oil through it in January.
Proponents say the project has been an economic success story for the state and local governments, creating jobs and generating tax revenue in rural and low-income communities. But critics, including landowner activists and environmentalists, argue that those benefits are overstated, and they say they're worried that earlier safety issues during the pipeline's construction could cause leaks and harm important aquifers and farmlands.
The southern section makes up over a quarter of the Keystone XL's total length. It connects major oil storage facilities in Cushing, Oklahoma, to refineries in Nederland, Texas. (A 48-mile extension will soon run to Houston.) The longer, northern segment under dispute in Washington would run 1,200 miles from western Canada's oil sands region to Steele City, Nebraska, and then on to Cushing.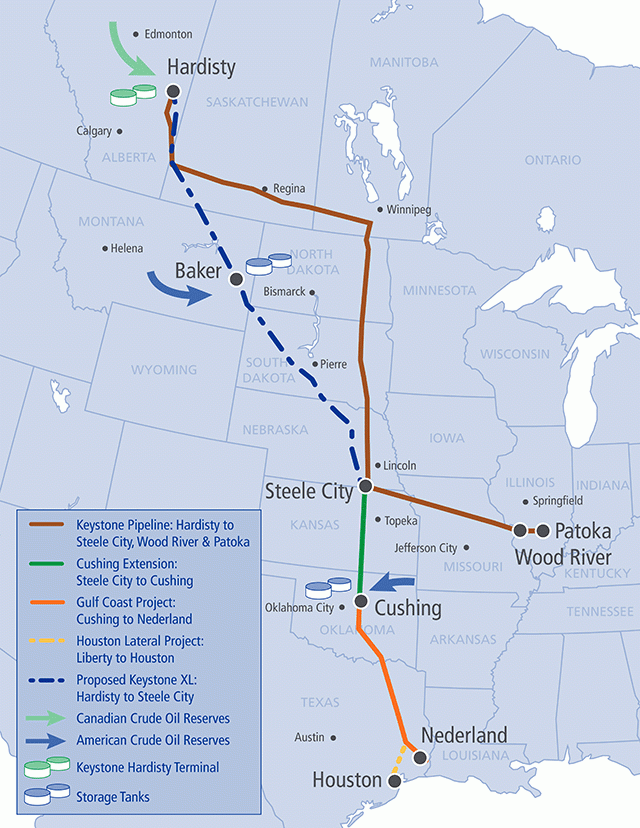 Since the Gulf Coast section is entirely situated in the U.S., TransCanada didn't need President Barack Obama to approve the pipeline, and construction began in August 2012. The $8 billion northern portion, however, requires the president's signature, and the Obama administration has been mulling a decision for more than six years.
Supporters of the Oklahoma-to-Texas stretch say it offers proof that building the rest of the pipeline will create jobs and boost tax revenues.
A May report found that, during 18 months of construction, the Gulf Coast project generated $2.1 billion and $3.6 billion in economic activity in Oklahoma and Texas, respectively, a total that includes labor income, direct spending on local businesses and indirect spending throughout two dozen counties.
"It clearly had some positive benefits, and there will be some recurring benefits as well," Bernard Weinstein, the report's lead author and the associate director of Southern Methodist University's Maguire Energy Institute in Dallas, said by phone.
TransCanada supplied data for the study, which was commissioned by the Consumer Energy Alliance, an oil-and-gas industry group. Its members include Royal Dutch Shell PLC and Exxon Mobil Corp., two energy giants with large interests in Canadian oil sands development. The study's backers "wanted to use our analysis to help make the case that there will be comparable economic, employment and fiscal benefits to Nebraska and the other states where the main pipeline will travel through," Weinstein said.
But David Swenson, an economist at Iowa State University, questions the report's conclusions. He accuses the study of "tremendously inflating" the economic impact estimates, in part by using "person-years" to count employment benefits, which tallies the hours of work per year completed by an individual on a specific job. For instance, the report calculated direct and indirect benefits based on 42,800 person-years of employment, though it says 4,800 workers were hired to build the project.
"Nothing is going to get a politician's approval more rapidly than saying 'jobs, jobs, jobs,'" Swenson said.
He added that the study's estimates for construction tax revenues are still just "a drop in the bucket" compared to the state's overall tax income. According to the analysis, Oklahoma and Texas took in about $72.3 million and $145 million in business taxes during the project's construction, respectively, or less than 1 percent of each state's total tax income for the fiscal year 2012.
Weinstein rejected criticism of the research and said that, "if anything, we underestimated. Our methodology was very conservative, in terms of the benefits that we calculated."
Michael Webber, deputy director of the University of Texas's Energy Institute in Austin, said he doesn't dispute the economic impact study. But he argues that any economic assessment that doesn't include potential environmental effects -- including pollution risks and greenhouse gas emissions -- is "short-sighted."
"It's about jobs, it's not about the environment. It left out a major piece of the story," he said about the analysis. "And the environmental story could have negative economic impacts. That's where all the debate should be economically, and perhaps politically."
Environmental groups have argued that the Gulf Coast and larger Keystone XL projects will dramatically increase global greenhouse gas emissions by enabling Canadian producers to extract from oil sands more of the heavy crude oil, which is known as bitumen. The process generates more carbon dioxide than conventional methods because it requires greater energy to extract and refine the bitumen. Scientific evidence shows that climate change is causing rising sea levels, extreme weather patterns, droughts, wildfires and other impacts that threaten economies and human health.
In Texas and Oklahoma, local activists and landowners say they are worried about not only these effects, but also leaks and spills in their backyards. Heavy Canadian crude is harder to clean up from waterways than typical light oil blends and is potentially more toxic when released.
"We are putting our aquifers and agricultural lands at risk, and hence American livelihoods and land values and future water supplies are at risk," Rita Beving, a Dallas activist with the advocacy group Clean Water Action, said. "What can you do once your water or your land is destroyed?"
No accidents have been reported so far during the pipeline's initial 11 months of operations, and TransCanada CEO Russ Girling has touted the 700,000-barrel-a-day project as "the safest pipeline ever built," thanks in part to its advanced piping and coating materials.
The Gulf Coast line raised safety concerns last year after federal pipeline regulators reported that nearly 75 percent of the pipeline's welds required redoing. In a Sept. 26, 2013, letter, the U.S. Pipeline and Hazardous Materials Safety Administration said TransCanada had "failed to use properly qualified welders" on certain portions of the line and suggested the company had violated federal pipeline safety regulations.
TransCanada said it has since ensured "100 percent weld integrity" on the line." The issue had a significant impact on cost and schedule, but you can't put a price on safety," Corey Goulet, vice president of Keystone projects, said in an earlier statement. "The standards we adopted for the Gulf Coast Project have set a new bar for safety and the design for modern oil pipelines."
A November 2013 report by Public Citizen, a consumer advocacy group for which Beving once consulted, tallied over 100 instances of potential defects during the pipeline's construction, including dents, unintentionally sagging pipes, improper backfilling and poor soil management. In June, TransCanada temporarily shut down the Gulf Coast project for "routine work," raising suspicions of continued repairs.
Beving said that she and other Texas landowners will continue to closely monitor the pipeline for any leaks or environmental damage. But with the project already in the ground, many activists and industry proponents are turning their attention to the remaining Canada-to-Nebraska segment now under fire on Capitol Hill.
© Copyright IBTimes 2023. All rights reserved.
FOLLOW MORE IBT NEWS ON THE BELOW CHANNELS