Silvio Berlusconi Trial: Court Hears Of 'Stripper Nuns' At Bunga Bunga Parties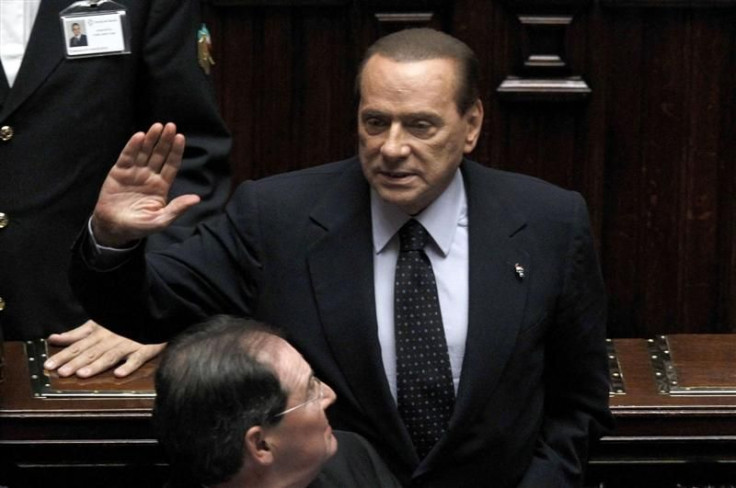 Silvio Berlusconi's infamous bunga bunga parties had showgirls doing striptease in nun costumes, the Milan court learnt on Monday.
Imane Fadil, a 27-year-old model of Moroccon descent, revealed to the court that she was paid 2,000 euros (around $2,600) by the former Italian prime minister to attend one of his notorious gatherings at his residence. On her first visit to the party in February 2010, Fadil testified that she saw two women performing a 'Sister Act' striptease dance for Berlusconi. One of the women, she alleged, was a model turned regional councillor Nicole Minetti, while the other woman was Barbara Fagioli.
We were standing and having a drink at the bar, when Fagioli began performing in the 'bunga bunga' room. After 10 minutes she disappeared with Minetti. Then they presented themselves in black nun's tunics with a crucifix on their breast and a white veil and did a performance that I never expected, Fadil said in a statement, according to the Telegraph.
Minetti is currently on trial for organizing the parties and hiring prostitutes for Berlusconi.
She also recalled a separate occasion where Iris Berardi, a Brazilian showgirl, stripped down to almost nothing from her football shirt and mask, the publication said.
Fadil was one of the several women asked to testify in the trial where Berlusconi is facing charges involving having sexual relations with then 17-year-old dancer Karima el-Mahroug. The ex-prime minister is also accused of using his influence to clear Mahroug's charges of theft. Berlusconi, 75, has rejected all charges with Mahroug, denying any adulterous liaison with her.
Fadil told the court that Mahroug may have obtained several photos and videos of the parties and that she may use them to seek revenge against Berlusconi, the report said.
According to News Sky, Fadil began attending the parties as she was promised a job as a presenter on one of Berlusconi's TV channels. However, she claimed to be completely unaware of Berlusconi's exploits at the gatherings.
BBC reported that the billionaire tycoon may have tried to buy his way out of the trial by paying three witnesses a total sum of 127,000 euros (around $167,000) in 2011. His lawyer Niccolo Ghedini denied allegations and said the transaction was on behalf of Berlusconi's usual generosity.
Berlusconi was ousted from his position in November last year following concerns over the Bunga Bunga scandal and Italy's debt-ridden economy.
© Copyright IBTimes 2023. All rights reserved.