Sinai Plane Crash: Emirates, European Airlines Halt Flights Over Peninsula As Crash Investigation Begins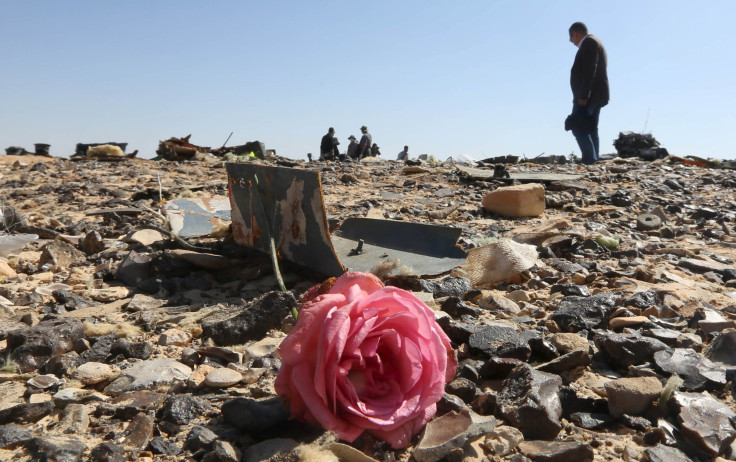 UPDATE: 10:33 a.m. EST -- The Metrojet A321-200 passenger jet that crashed Saturday in the Sinai Peninsula "broke apart" in the air, according to a senior official with Russia's Aviation Committee. "The disintegration happened in the air and the fragments are strewn over a large area," committee chief Viktor Sorochenko was quoted as saying in Cairo, where he is part of an international panel of experts from Russia, Egypt, France and Ireland. Sorochenko went on to say that it's too soon to draw conclusions about what exactly downed the jet.
UPDATE: 6:55 a.m. EST -- Rostransnadzor, a Russia air safety regulator, has ordered Metrojet to ground its fleet of Airbus A321 aircraft pending an official probe, the Associated Press (AP) reported Sunday.
A Metrojet A321-200 airplane carrying 224 people crashed in a mountainous region in Egypt's Sinai Peninsula Saturday, killing everyone on board.
A decision on whether the airline would be allowed to resume flights is likely to be made Monday, AP reported. Meanwhile, more than 100 Russian emergency workers have been sent to the crash site to examine the debris and search for bodies.
So far, 163 bodies have been recovered.
Original story:
Emirates, the Dubai-based airline, has joined a list of international air carriers that have temporarily stopped flying over Egypt's Sinai Peninsula. The announcement comes a day after a Russian passenger plane went down in the area, killing all 224 people onboard.
"Emirates is currently avoiding flying over the Sinai peninsula until more information is available," an Emirates representative reportedly said Sunday. "We are currently monitoring the situation."
An Egyptian ground service official, speaking on the condition of anonymity, told the Associated Press Sunday that the plane -- an Airbus A321 operated by Russian company Kogalymavia -- appeared to be in good condition when it was examined prior to takeoff.
Earlier, on Saturday, two major European airlines -- Germany's Lufthansa and Air France -- also said they will stop flying over the Sinai Peninsula until further notice, and sought clarification over what caused the crash. However, British Airways reportedly said it did not plan to change its flying route in the region. In order to determine the exact cause of the crash, a team led by the Russian transport minister arrived in Cairo Sunday.
The plane, which took off from the Red Sea resort of Sharm el-Sheikh and was bound for the Russian city of St. Petersburg, was flying at a cruising altitude of about 30,000 feet when it lost radar contact. A statement by the Sinai Province -- a local militant group affiliated to the Islamic State group -- in which it claimed to have shot down the plane "in response to Russian airstrikes that killed hundreds of Muslims on Syrian land" -- was promptly refuted by both Egyptian and Russian officials.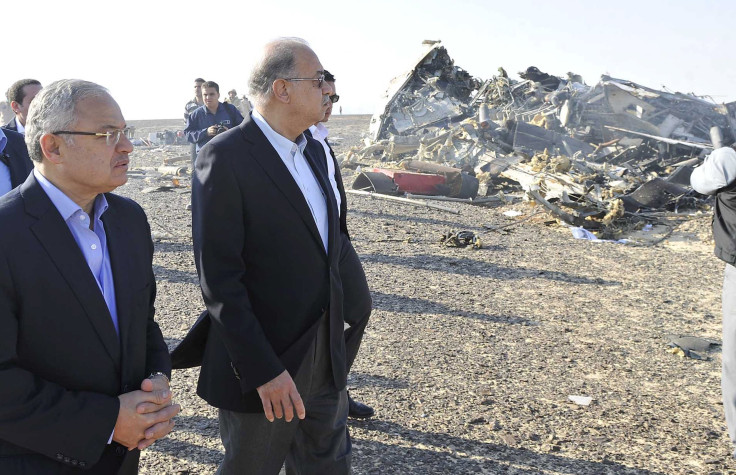 "Now in various media there is assorted information that the Russian passenger (plane)... was supposedly shot down by an anti-aircraft missile, fired by terrorists," Russia's Minister of Transport Maxim Sokolov told the Interfax news agency Saturday. "This information can't be considered accurate."
Russia's Investigative Committee has also launched a criminal probe into any possible violation of air safety rules -- a standard procedure when a crash involving Russian planes takes place.
At least 163 bodies and both black boxes have now been recovered, according to media reports. The Russian government declared a day of mourning Sunday, when flags will fly at half mast on official buildings and entertainment television programs will be cancelled.
"The Government of the Russian Federation, along with the state authorities of the Russian Federation, are taking the necessary steps to assist the families of the victims," the Kremlin said, in a statement released Saturday.
© Copyright IBTimes 2022. All rights reserved.
FOLLOW MORE IBT NEWS ON THE BELOW CHANNELS