Sinai Plane Crash Update: Bodies Of 144 Victims Land In Russia's St. Petersburg, To Be Taken For Identification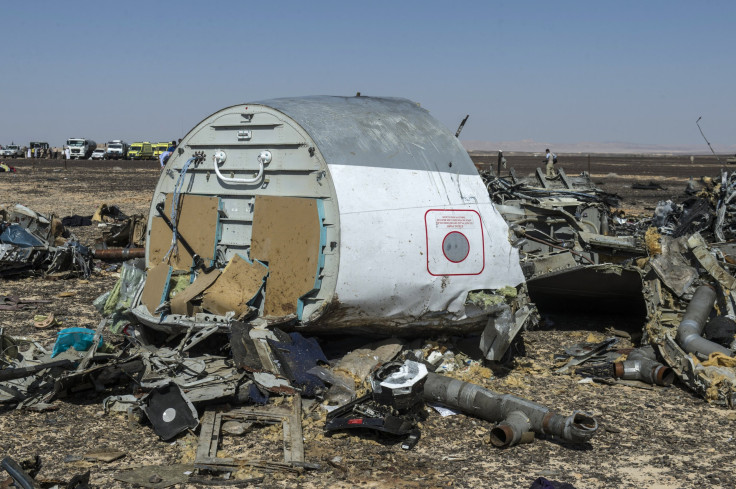 The bodies of 144 victims of Saturday's plane crash in Egypt were flown to St. Petersburg, Russia, from the Sinai Peninsula, as Russia observed a day of mourning. The Airbus A321, operated by Russian airline Kogalymavia under the brand Metrojet, came down with 224 people on board, all of whom died in the crash.
The bodies of the victims arrived at the Pulkovo airport in St. Petersburg at 03:00 a.m. GMT (10 p.m. EST Sunday), Agence France-Presse (AFP) reported. The remains will now be taken in a motorcade to a crematorium in the city to be identified Monday, AFP reported, citing Russia's emergency ministry. Egyptian officials had earlier said they would transfer the bodies of 162 victims found so far.
A crisis center has been set up near the airport and family members have been giving blood samples for identification purposes. The AFP report added that most of the victims were on holiday to the resort of Sharm el-Sheikh in Egypt from the Russian city of St. Petersburg and that they were due to reach home midday Saturday.
The cause of the accident is currently being investigated by officials, but a group affiliated to the Islamic State in Egypt claimed Saturday that it shot down flight 7K9268 "in response to Russian airstrikes that killed hundreds of Muslims on Syrian land."
Their claims, however, were refuted by Egyptian Prime Minister Sharif Ismail, who, according to the BBC, cited experts saying that the plane could not have been downed at an altitude of 31,000 feet by weapons that the group currently has.
Viktor Sorochenko, director of the Intergovernmental Aviation Committee, said Sunday that the 18-year-old plane broke up mid-air and that it was too early to draw conclusions. "The destruction happened in the air, and fragments were scattered over a large area of around 20 square kilometers," Sorochenko said, according to reports, adding: "It's too early to talk about conclusions."
Former chairman of the United States National Transportation Safety Board Mark Rosenker said, according to the New York Times, that the crash could have been an accident rather than a terrorist attack, as the plane had been damaged in 2001 when its tail struck the runway while landing in Cairo. At the time, the aircraft was being operated by Lebanese carrier Middle East Airlines.
Two black box recorders were retrieved from the crash site and Egyptian analysts examining the boxes said the process could take days.
© Copyright IBTimes 2022. All rights reserved.
FOLLOW MORE IBT NEWS ON THE BELOW CHANNELS