Skechers Pays $40 Million Settlement In Lawsuit Against Kim Kardashian Endorsed Shape-Ups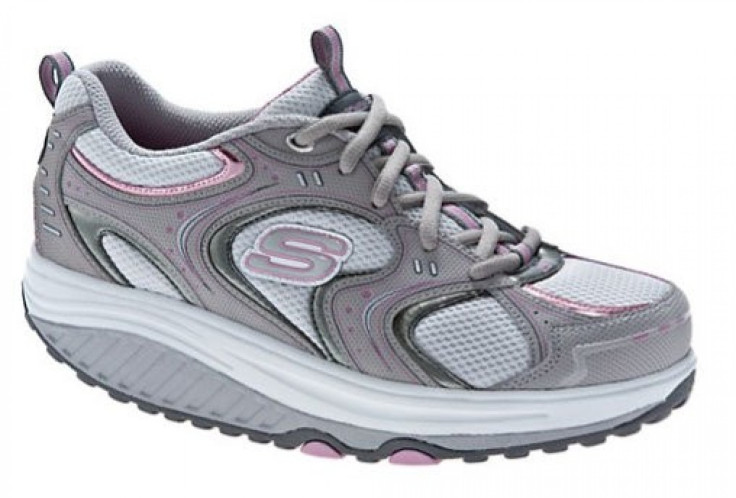 Kim Kardashian will no longer be endorsing Skechers' Shape-ups fitness shoes.
A lawsuit against the company has resulted in a $40 million settlement along with the company no longer being able to make health-related claims about their Shape-Ups, Tone-Ups, and the Skechers Resistance Runner athletic shoes.
The shoes, which featured Kim Kardashian and Brooke Burke in their ads, were ruled as not able to help consumers lose weight, tone muscles or fight heart disease without even going to the gym - a fact that Sketcher's claimed to be true.
The FTC's message, for Skechers and other national advertisers, is to shape up your substantiation or tone down your claims, FTC consumer protection bureau director David Vladeck said in a statement.
On May 16, the Federal Trade Commission announced that they had determined Sketchers lied about about clinical studies which claimed their Shape-Ups help people lose weight and strengthen muscles in the butt, legs and stomach - claims in which they used Kardashian to advertise.
In the ensuing events, Sketchers agreed to pay $40 million in settlement costs. Those who purchased Sketcher's Resistance Runner, Toners and Tone-ups are eligible for a refund. The Manhattan Beach, Calif. based company also owes $5 million in class action attorneys' fees.
While the company opted to settle in the lawsuit, they are denying that they made any false allegations.
While we vigorously deny the allegations made in these legal proceedings and looked forward to vindicating these claims in court, Skechers could not ignore the exorbitant cost and endless distraction of several years spent defending multiple lawsuits in multiple courts across the country, David Weinberg, the Company's Chief Financial Officer said in a statement.
This settlement will dispose once and for all of the regulatory and class action proceedings. While we believe we could have prevailed in each of these cases, to do so would have imposed an unreasonable burden on the Company regardless of the outcome, he added.
Sketcher's cites the findings of researchers from around the world who have seen benefits from various models of toning shoes, which feature curved soles rather than flat-bottomed footwear.
The Company fully stands behind its toning shoe products and technology and is permitted under the settlement to continue to advertise that wearing rocker-bottom shoes like Shape-ups can lead to increased leg muscle activation, increased calorie burn, improved posture and reduced back pain, Michael Greenberg, President of Skechers said in a statement.
The Company has received overwhelmingly enthusiastic feedback from literally thousands of customers who have tried our toning shoes for themselves and have written unsolicited testimonials about their positive experiencesnot just with our products' exercise benefits, but also with their well known comfort and style.
Kim Kardashian has yet to comment on the lawsuit. She appeared in a commercial where she ditched a personal trainer in favor of wearing Sketchers.
© Copyright IBTimes 2022. All rights reserved.
FOLLOW MORE IBT NEWS ON THE BELOW CHANNELS