Smart Solutions: 6 Essential Portable Home Equipment For Modern Living
* This is a contributed article and this content does not necessarily represent the views of IBTimes.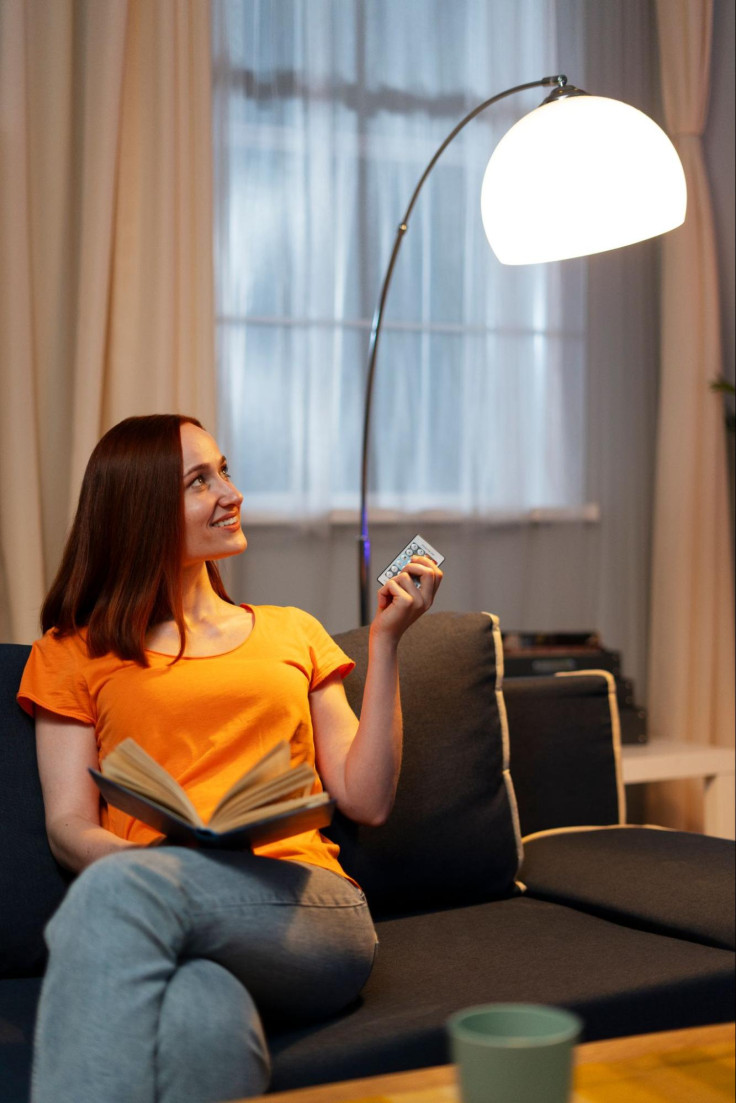 Modern living is all about convenience and efficiency. We want our homes to be equipped with the latest technology that can make our lives easier, such as portable home equipment. This includes things like smart appliances like voice-activated assistants and home automation systems that can improve the way we live every day.
We have gathered six essential pieces of portable home equipment that are at the forefront of modern living, revolutionizing the way we interact with our living spaces and making our lives more comfortable, efficient and connected than ever before. Read on!
For a highly efficient and versatile cooling and heating solution for your indoor comfort needs, check out the 12000 BTU 20 SEER2 115V Ductless Mini Split Air Conditioner. With its powerful compressor and built-in heat pump, this unit provides quick and efficient temperature control, ensuring a comfortable environment year-round. The temperature adjustment range of 60~90 degrees Fahrenheit makes it suitable for use in both hot summers and cold winters, delivering exceptional performance in various weather conditions.
One standout feature is its use of eco-friendly refrigerant, which not only reduces environmental pollution but also helps save on energy costs. Additionally, this mini split air conditioner offers a wide range of operating modes and fan speeds, allowing you to tailor its performance to your specific preferences. Whether you need dehumidification, fan mode, turbo function or energy-saving Eco mode, this unit has you covered.
The innovative DC inverter technology ensures precise temperature control without frequent compressor cycling, leading to quieter operation (less than 42 decibels) and an extended equipment lifespan. Safety and reliability are further assured by AHRI Certification and ETL Intertek Approval, and the included eight-year warranty provides peace of mind. However, it's essential to note that professional installation is recommended for proper setup and operation.
Here's Sharp 24 in. Slide-In Stainless Steel Dishwasher with impressive innovative features and efficient performance. One standout feature is its soil sensors, which automatically adjust washing cycles to optimize cleaning, ensuring that even the toughest stains are effortlessly removed. This intelligent technology takes the guesswork out of dishwashing, making it a breeze for users who value convenience and effectiveness in their kitchen appliances.
The heated dry option is a significant improvement over condensation drying methods. It not only dries dishes faster but also does so more efficiently, ensuring that your dishes come out perfectly dry and ready to use. This is particularly useful for busy households or those who frequently host gatherings, as it allows for quick turnaround between dishwasher cycles.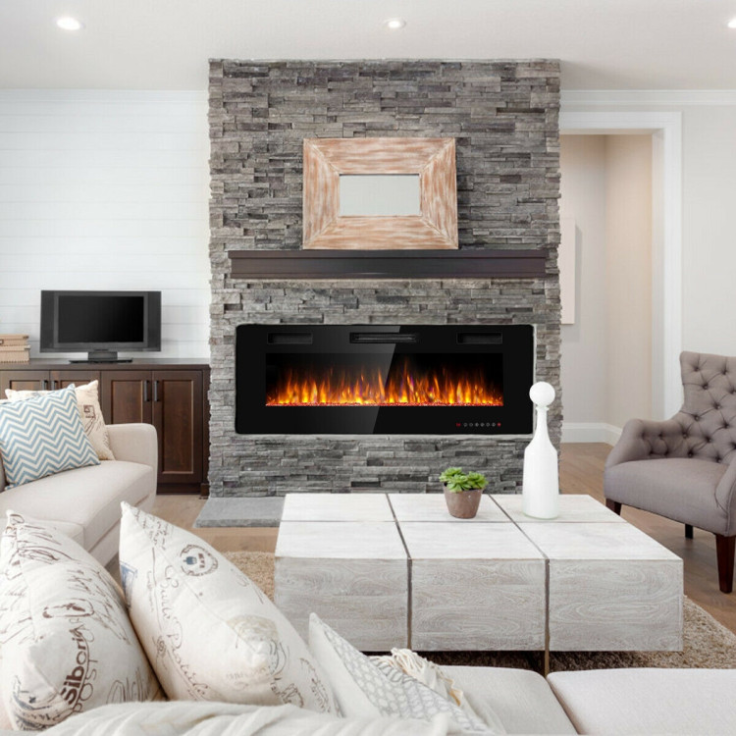 The 50-inch Recessed Ultra Thin Electric Fireplace with Timer offers a blend of functionality, convenience and aesthetics that makes it a compelling addition to any living space. One of its standout features is its slim profile, measuring just 3.86 inches in thickness, ensuring it doesn't dominate your wall while providing efficient heating. The improved switch placement and air inlets in front of the fireplace enhance user convenience and maintain optimal heating performance.
With two heat settings (750 watts and 1,500 watts), this electric fireplace caters to both warmth and energy efficiency, effectively heating areas up to 400 square feet. Its 12 flame colors and 12-bed colors provide a customizable ambiance that elevates the visual appeal of any room. Plus, the crystal glass elements enhance the realism of the flame effects, creating a captivating visual experience. It also offers a range of operating modes, including flame speed and brightness adjustments, as well as a timer control and sleep mode for automated comfort.
Safety is a paramount concern, and the electric fireplace is ETL certified, featuring an overheat protection safety cut-off device. The infrared heating element not only efficiently warms the room but also maintains natural humidity levels, preventing the air from becoming overly dry. The fireplace's versatile installation options, including wall insertion or hanging, make it adaptable to various room layouts, adding an element of elegance and sophistication to your living room, bedroom, or office.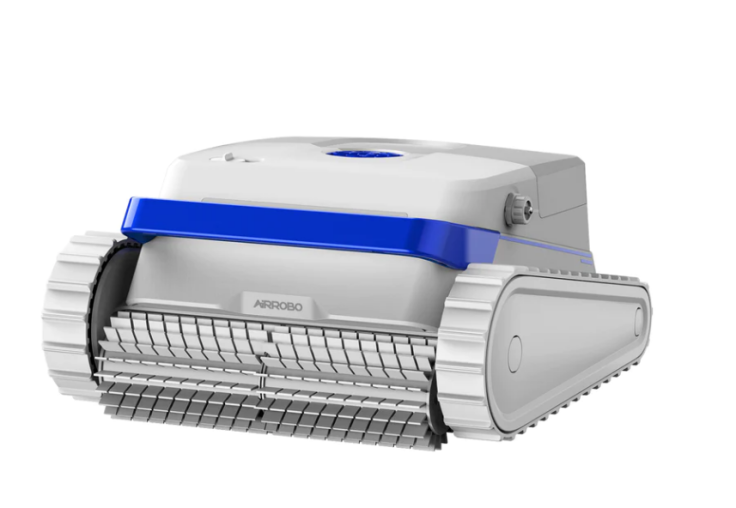 If you have a pool in your home, this cordless robotic pool cleaner is here to simplify and enhance pool maintenance. It combines advanced features and AI technology to efficiently clean the pool floor, walls and waterline, setting a new standard for smart home appliances. Equipped with three brushless drive motors, motion sensors and NaviCleanTM Technology, it offers precise and intelligent cleaning, outperforming traditional pool cleaning equipment by tenfold. Its cordless design eliminates the need for tangled wires, ensuring a hassle-free and safe cleaning experience.
One of the standout features of the AIRROBO PC100 is its powerful suction performance, capable of capturing leaves, debris, algae and sand, thanks to a robust 188-watt independent water pump motor. The large 4-liter filter basket reduces the frequency of emptying, and its long-lasting battery provides up to 120 minutes of cleaning time. The user-friendly interface and intuitive indicator lights make it easy to operate and monitor the device's status.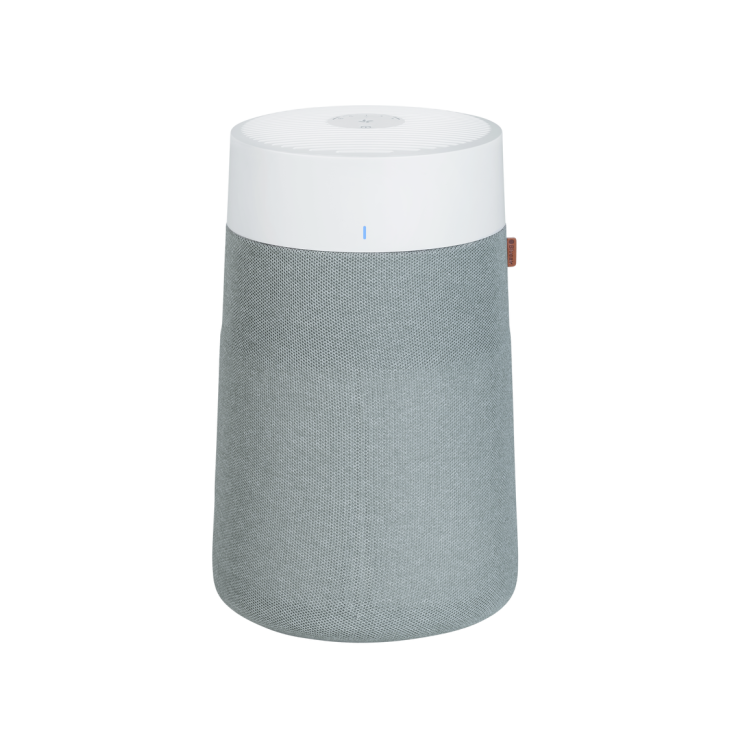 The Blueair Blue Pure Max offers an effective solution for improving indoor air quality with its three-stage filtration system. This air purifier efficiently tackles a wide range of airborne contaminants, including particles, odors and allergens such as dust, pet dander, pollen and mold spores.
One of its standout features is its ability to swiftly clean the air in large spaces, covering rooms up to 1,524 square feet. This makes it suitable for various areas in your home, including the living room, bedroom or home office, providing a breath of fresh air throughout.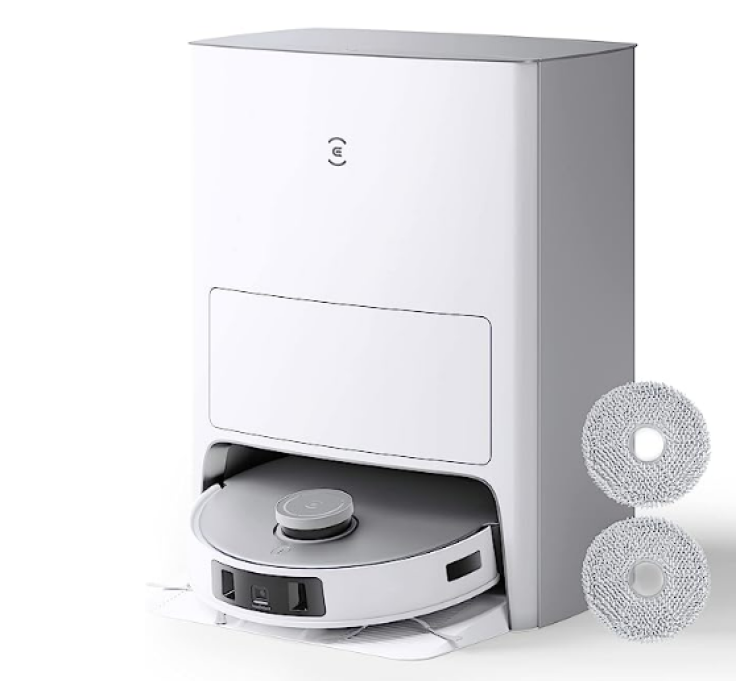 This Robot Vacuum and Mop may be the groundbreaking solution for busy households and pet owners seeking efficient cleaning without compromising their daily routines. This innovative robot vacuum is the industry's first to feature hot water mop washing and drying capabilities. With a temperature of 131 degrees Fahrenheit, it effectively dissolves oil and dirt, while its hot air drying prevents the formation of bacteria and unpleasant odors, ensuring a superior level of cleanliness through the power of heat.
The DEEBOT T20 OMNI offers an enhanced mopping experience with its auto-lift mopping system, designed to detect carpets and automatically raise the mopping plates, keeping rugs and carpets dry. The OZMO Turbo 2.0 pressurized spinning mop delivers exceptional scrubbing power, reaching edges and corners for a thorough clean. Additionally, this robot vacuum boasts a maximum suction power of 6,000 Pascals and an upgraded tangle-free rubber brush, making it capable of tackling tough dirt and dust in floor crevices and carpets. The OMNI station adds to the convenience by automatically emptying the robot, eliminating the need for frequent manual emptying. This intelligent and efficient cleaning solution represents a new era in cleaning technology.
We have highlighted a range of innovative and practical devices designed to enhance the convenience and functionality of modern homes. From smart thermostats that optimize energy efficiency to portable air purifiers that ensure cleaner indoor air quality, these portable home equipment options offer solutions to common challenges faced by homeowners today.
By embracing these smart solutions, individuals can create more comfortable, efficient and connected living spaces while also contributing to a more sustainable and technology-driven future.
© Copyright IBTimes 2023. All rights reserved.