Social Network WeAre8 Wants To Make You Money, But Will It Pay Up?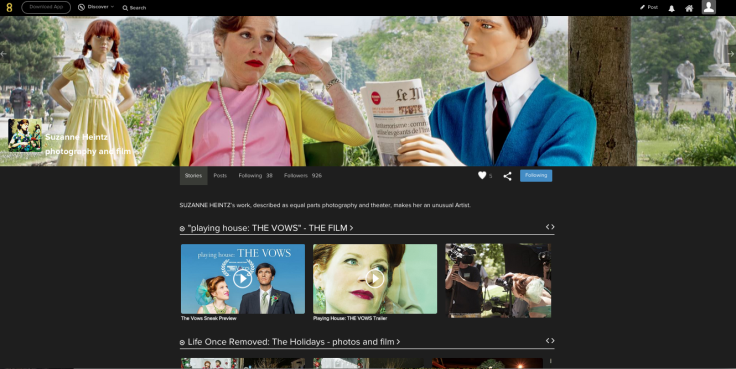 Photographer and filmmaker Suzanne Heintz became a viral hit when her photo series "Life Once Removed" -- satirical portraits of one women with a family of mannequins -- gained media popularity in 2014. But the very tools that were making her famous -- Facebook, YouTube and many others -- were also making her uncomfortable by cluttering her work with banner and pre-roll ads that didn't pay her a dime.
"I don't want my viewers to be distracted by 1,000 different ads and trying to click them away, and I don't want other people controlling who I can and cannot reach based on clicks," Heintz said in an interview.
Enter WeAre8, which is pitching celebrities and artists -- including Heintz -- on a new social network that puts them in control of the advertising and hands over 80 percent of the revenue. The startup, with $4.5 million in funding and support from celebrities like Usher, Jamie Oliver and Shepard Fairey, launched an invite-only beta March 12. Since the Wall Street Journal reported the debut, the site has been building its content with a mix of 250 celebrities and advertisers publishing stories.
It is akin to Tidal, Jay Z's music streaming service, in that both are attempting a reset in the way content creators are compensated. WeAre8 plans to release the site out of beta this month and have its advertising system launch in May.
"We're giving you a beautiful storytelling frame and helping you drive and build an audience. We will help you make money with everything you're doing," WeAre8 co-founder Sue Fennessy said.
Heintz said she is abandoning YouTube, where partners make about 55 percent of revenue and have limited control over advertisers. "What I like about 8 is it seems to be fair and equitable," Heintz said. "It hasn't been proven so I don't know how much I can make yet, but it's certainly in my favor to be able to connect visually as well as vocally."
In addition to creating content profiles, users on WeAre8 will build advertising profiles where they describe interests and can blacklist any brands. A peer-to-peer method will connect companies and creators, and provide an online method to negotiate deals, similar to AngelList for investors and startups. If creators wish to play a less active role, they can choose for WeAre8 to negotiate.
"When people accept ads from brands or artists on this platform, they are effectively becoming ambassadors in an authentic way. The relationship becomes real and respectful," said Shepard Fairey, famed graphic designer and WeAre8 launch partner.
This bolstered relationship between the advertiser and the creator attracted Boris Jordan, president and CEO of the Sputnik Group, to lead the company's seed round. While the peer-to-peer model can require more effort on the advertiser than simply buying into Google or Facebook ad space, Jordan said he sees great benefits in WeAre8 such as the site's analytics.
Fennessy also runs Standard Media Index, which provides a backend data system for many top media companies, and is using that to power WeAre8. Along with Fennessy's 20 years of advertising experience, co-founder Beth Haggerty brings knowledge in building and growing a social network. Launched in 2008, Haggerty's Ology gained attention for conversations on shared interests, namely cult television shows, and reached 30 million users before it was sold to an unnamed California company.
A version of Fennessy's and Haggerty's fair revenue sharing model has been tried. Tsu, a social network promoted by rapper 50 Cent, launched with a similar mission in October, attracting a million users in five weeks. The site is still active, though some have declared it just hype.
"Tsu is dead. It only blew up because everybody was like, 'Whoa, we're all going to make money,'" said Ted Rubin, a social media strategist and author of "Return on Relationship." "Tsu is an absolute hustle in my humble opinion. It's faulty level market."
The site was killed, in part, by recycled photos people put up in hope of generating clicks. "When you incentivize people with money then for a lot of people it becomes a race to post the most click-worthy content," said Mark Traphagen, senior director of online marketing at Stone Temple Consulting.
But while Tsu initially targeted general users away from Facebook, luring Facebook users to WeAre8 is not the focus, nor a goal, of the site. Rather, WeAre8 is more akin to YouTube and artist pages like MySpace. The site has embeddable videos and enables quickly sharing content on Facebook, Twitter and Google+.
While Tsu launched and rode the wave of owning and profiting from your content, that is only one part of WeAre8's main message. Fennessy said the site is dedicated to encouraging storytelling and enabling positive change. For example, WeAre8 users can choose to take revenue from their site or "pay it forward" to charity partners, such as charity: water, a nonprofit dedicated to providing clean water in developing countries.
WeAre8 has attracted the attention of high-profile Global Citizen -- an online movement for ending world poverty by 2030 with an upcoming festival on the National Mall in Washington. The April 18 concert is headlined by Usher, a launch partner who also has a small stake in the company. That event will expose the network to about 200,000 attendees in addition to a live-streaming audience worldwide.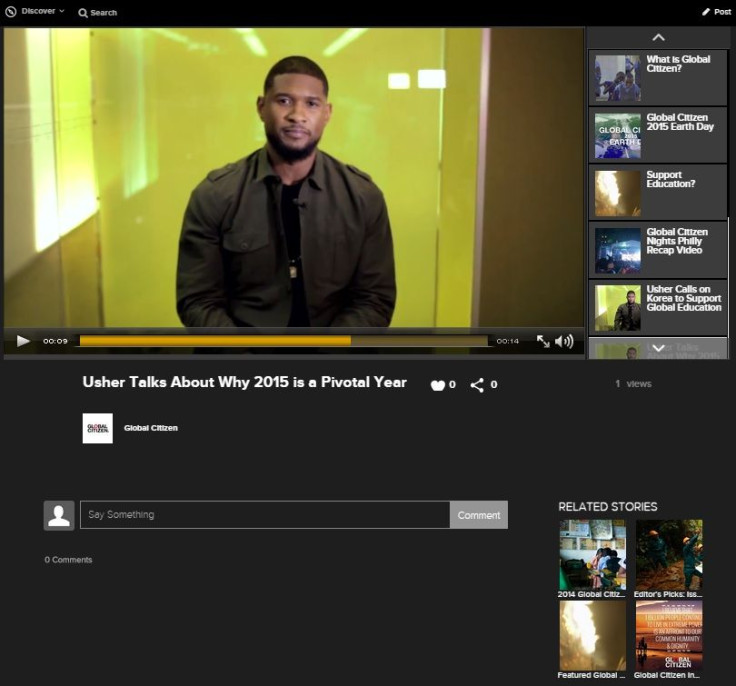 But even with this global exposure, the question becomes whether WeAre8 can sustain a following and make the advertising model lucrative. "You can't just rely on celebrities. Lady Gaga could make more money spending 40 minutes filming a commercial than having to maintain another social platform," Traphagen said.
Other than celebrity endorsements, Fennessy said she sees universities being a huge driver of growth and continued support from the charity partners.
"8 is the idea that anyone can create a following. Anyone can create a movement," Fennessy said.
© Copyright IBTimes 2023. All rights reserved.