Some Americans already protesting U.S. military involvement in Libya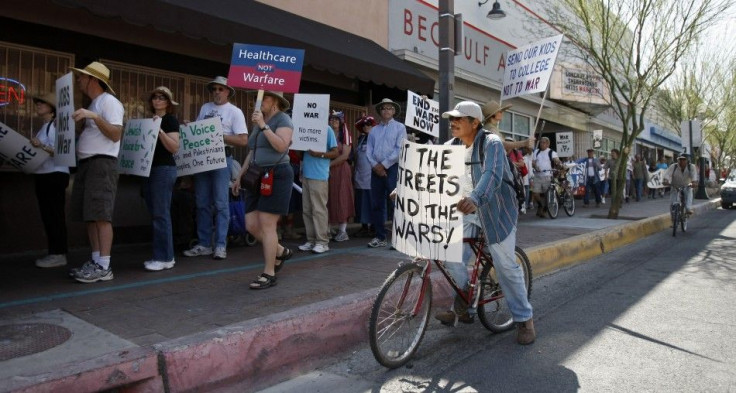 Americans who are opposed to the U.S. participating in air strikes against Libya have held small (and thus far peaceful) demonstrations across the country, although there doesn't appear to be a large national movement against the action yet.
That could change if the Libyan campaign continues to drag on into a stalemate; and especially if it is proven that military assaults have led to civilian deaths.
Some protesters are simultaneous protesting the U.S. involvement in Iraq, which is now entering its eighth anniversary.
In the San Francisco area, some local Democratic politicians are incensed by U.S. involvement in Libya and claim that President Barack Obama violated the law and the Constitution by participating in air strikes.
The president has violated the War Powers Resolution, said Rep. Zoe Lofgren, D-San Jose, according to The San Francisco Chronicle.
Lofgren pointed out that the president can authorize military force in only three specific cases: a declaration of war; specific statutory authorization; or a national emergency created by attack upon the United States, its territories or possessions, or its armed forces.
Have any of those things happened? Lofgren pondered.
Rep. Mike Honda, D-San Jose, accused the Obama administration of sending a message to the world that American democracy is deeply dysfunctional.
Rep. Barbara Lee, a Democrat from Oakland, asked What is our responsibility and commitment there? Where do we draw the line for military intervention considering unrest and violence [in nations such as Congo, Ivory Coast and Yemen]?"
Rep. Lynn Woolsey, D-Petaluma, added: The idea that we could be stepping into a third war ... just makes me sick to my stomach to tell you the honest truth.
However, at least one prominent Bay Area Democrat has defended the President.
House Minority Leader Nancy Pelosi, D-San Francisco, praised Obama for his leadership and prudence on how our nation will proceed in regards to Libya and work in concert with European and Arab allies to address the crisis.
Meanwhile, The White House sent a letter to U.S. Congress explaining Obama is acting in the national security and foreign policy interests of the United States.
Democrats who oppose intervention in Libya even have the support of some Republicans.
Sen. Richard Lugar of Indiana, the ranking Republican on the Senate Foreign Relations Committee, has called for full congressional debate on the objectives and costs of the military strikes in Libya and demanded that Congress formally declares of war before US forces get more heavily involved.
The plan is simply not there; the objectives, the end game, is not apparent, Lugar said.
"So here comes an open-ended military action with no-end game.
Still, another prominent Republican Congressman Peter King of New York, supports the Libya strike.
I think we have to push Gaddafi to be out. It's not enough to just stop the military activity there is a possibility of chaos -- al-Qaeda or al-Qaeda supporters coming in, King told New York media.
In the Midwest, some students at the University of Iowa in Iowa City protested U.S. involvement in Libya. One rally attendee held up a sign that read "Obama No 'Change' From Bush.".
"If anyone has disagreements with wars in general, this is a trigger point," said Dustin Krutsinger, the organizer of the protest, according to The Daily Iowan.
"We're against the cruelty of wars."
Another UI student declared "anytime the government gets involved in anything as costly as launching missiles, or contributing forces and humanitarian aid, it affects people all over the United States."
About 75 protesters gathered outside the Federal Building in Minneapolis to demand the U.S. cease its activities in Libya.
Meredith Aby, of the Anti-War Committee told the protesters: "Why is the U.S. attacking Libya? Oil. The U.S. and Europe are happy with the Saudi and Bahrainian royalty and their oil supply so they choose to look the other way when their militaries kill innocent people. The Libyan government controls the largest reserves of oil in Africa and the imperialist powers are using the revolutions throughout the Arab world as an excuse to grab Libyan oil for themselves and to reassert their dominance in a region struggling for freedom."
She added: "On Saturday the U.S. military shot 110 Tomahawk cruise missiles at a cost of $2 million each at Libya. Who will pay for this war? Not wealthiest in our society. It will come at the expense of the poor, programs for children, etc. The accounts of civilian deaths are piling up. We must raise our voices loudly and demand: Not one more death, not one more dollar - Hands off Libya!"
However, most protests appear to have been quite modest and sparsely attended.
"I think it's very important that people come together and stand up for peace," said Minnesota anti-war rally organizer Sarah Martin.
In the deep south, at a rally in Memphis, Dave Lindstrom, held up a sign which read Instead of War Invest in People, according to the Memphis Commercial Appeal.
One of the problems is that we're no longer a democracy -- we're a corporate oligarchy, he said. Corporations are interested in supporting the military for the money.
Another Memphis protester said We're here to let folks in Memphis know their tax dollars are at work elsewhere in the form of bombs, not helping at home."
Finally, Times Square in New York City, the epicenter of many anti-war rallies in the past, again saw a demonstration over the weekend against the action in Libya.
Protesters chanted, End the war now! Peace now! according to WABC TV news.
The U.S. military is currently spread so thin it can simply not afford to fight another war, " one protester in New York said. "We cannot possibly. There are people in this country who don't have enough food to eat."
Another demonstrator said, Even though the president is claiming saving civilian lives, if Afghanistan, Vietnam and Iraq are any indication, we would probably create more civilian casualties than save them.
© Copyright IBTimes 2023. All rights reserved.