Some Amtrak Passengers Loyal After Derailment, While Others Take The Bus Instead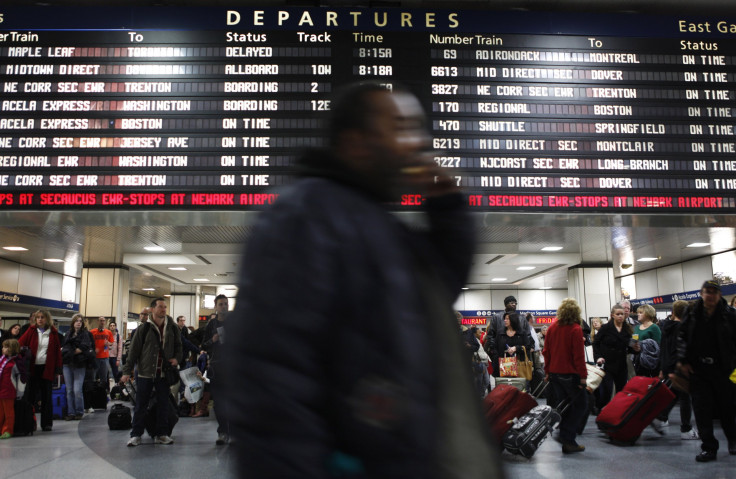 Jason Marcotte sat still on the hard floor of New York's Penn Station, legs crossed, waiting for his Amtrak train to Hudson, New York. The 33-year-old yoga teacher and Hindu priest quietly read the Bhagavad Gita. He makes the trip to Hudson about once per month, and had booked his trip after Amtrak's shocking derailment in Philadelphia that killed eight people Tuesday night. "I was feeling for [the victims] for sure," Marcotte said, but he wasn't worried about his own trip. Whatever might happen was out of his control, he said.
Busy lines of people weaved through Penn Station's Amtrak section Thursday, less than 48 hours after the tragic crash. Many passengers said the accident wouldn't stop them from traveling, while just a few blocks away, some would-be Amtrak passengers lined up to ride buses instead.
In Penn Station, it was impossible to ignore the derailment. A frequent message would clink over the PA system -- interrupting the usual benign elevator music -- to alert passengers that a derailment in Philadelphia had canceled service to the city. The recorded message played incessantly, sometimes as closely as two minutes apart.
***
Brian Zotto, a 41-year-old salesman from Boston, rode his first-ever Amtrak train earlier this week down to New York City for work. His company's New York office at One Penn Plaza sits right across the street from Penn Station, home to Amtrak's major hub for the Northeast Corridor. He said he had no plans of using any transportation but the train -- it's just too convenient to his office -- for his new once-a-week commute to New York.
Amtrak Train 188 was moving more than 100 miles per hour in a 50 mph zone when it crashed en route from Washington to New York Tuesday night. The investigation into the causes of the crash -- including the questioning of engineer Brandon Bostian -- continues.
"It's concerning, but still the best option," Zotto said. "You don't think about it until bad things happen."
Zotto was out and about all Tuesday and missed the news of the derailment, but his wife contacted him to tell him about it. "Funny, I always thought it'd be more safe to take the train," his wife said to him, Zotto said.
Jahmillah Collier, a 40-year-old freelance hairstylist, travels frequently and prefers Amtrak -- and will keep using it -- despite some hesitations. "Since the derailment I do get a little nervous," Collier said. "You kind of just have to pray you have a safe trip."
Kate Chaffee, 31, said she would probably nap through most of her ride to Northampton, Massachusetts. "I'm a little nervous," she said. "But I'm hoping they've got it together."
Kwasi Obeng, 18, was headed to New Haven, Connecticut. He travels with Amtrak about once a week to commute to college in there. "There's always the fear of something happening," Obeng said. "It's something you think about, you don't worry about it."
When his mother heard of the derailment, he said, she checked in right away Tuesday night to make sure the frequent traveler wasn't on that train.
***
A short walk from Penn Station, long lines of luggage-toting travelers lined the curb waiting for Bolt and Greyhound busses Thursday.
Bret Parker, 47, had planned to take the train from New York to Philadelphia for a 25th anniversary class reunion at his alma mater, the University of Pennsylvania. When the trip was canceled, he got a refund and booked a Bolt Bus ticket instead.
Cheryle Cagle, 71, was supposed to take an Amtrak train to Washington to see her daughter but changed her plans after the derailment. "I was a little reluctant to ride the train," she said. Cagle did receive a ride credit from Amtrak, and said she would take the train in the future.
Other bus passengers were less open to the idea of embracing the rails. Rob Thomas, 27, said he exclusively takes a bus because it's "cost-efficient."
Askia Burgess, 20, said he never takes Amtrak at all. "I mean, I've never done it," he said. "I felt like it wasn't safe to me. When [the crash] happened, I was like, 'Oh, I was right."
© Copyright IBTimes 2023. All rights reserved.