Sony Xperia Z2 Tablet Review: Featherweight Powerhouse [VIDEO]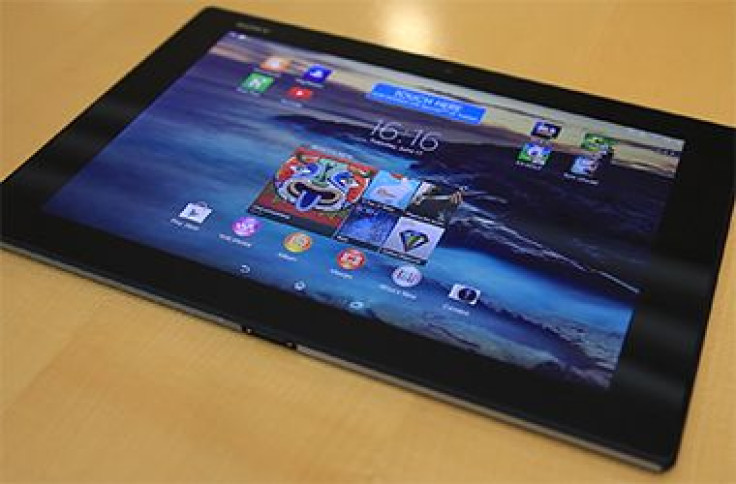 The problem with large tablets is that they're usually heavy and cumbersome. When manufacturers try to make them super-light, that often results in a dainty product. But Sony Corp. (NYSE:SNE) thinks its newest creation, the Xperia Z2 tablet, captures the best of both worlds.
Here are the full specs of the Z2:
Size and Weight: 10.47 x 6.77 x 0.25 in., 15.49 oz
Display: 10.1'', 1920 x 1200 TRILUMINOS Display with Live Color LED,
X-Reality for mobile, IPS
Camera: 8 MP, Full HD video, 2 MP Full HD chat camera
Xperia Camera Apps: AR effect for video, Timeshift burst, Background defocus and
more Xperia apps available for download
Entertainment: PlayMemories Online™, PlayStation® Certified, Sony
Entertainment Network4
Platform: Google™ Android™ 4.4 (KitKat)
Performance: 6000mAh battery, Battery STAMINA Mode, up to 10 hrs of
multimedia usage
Memory: 16GB Black and white, 32GB White only, microSD card slot for
expandable memory up to 128GB
Connectivity: Wi-Fi®, aGPS™, Bluetooth® 4.0 wireless technology, DLNA
Certified®, NFC, Wi-Fi Miracast™
Waterproof: IP55/58 rated
Straight away, it's hard to ignore how slim the Z2 is. It's a quarter of an inch, which puts even Sony's Xperia phone to shame. As with any large, skinny tablet, though, there's a tiny bit of flex in the body … but it still feels sturdy. All of the materials are really satisfying to touch, and the rubberized plastic backing is a nice touch to help keep the tablet from sliding out of your hands.
All of gaps are tight, which is a necessity, actually - the Xperia Z2 is waterproof (to a point: 5ft of freshwater for up to a half hour). Naturally, we had to see if Sony was telling the truth.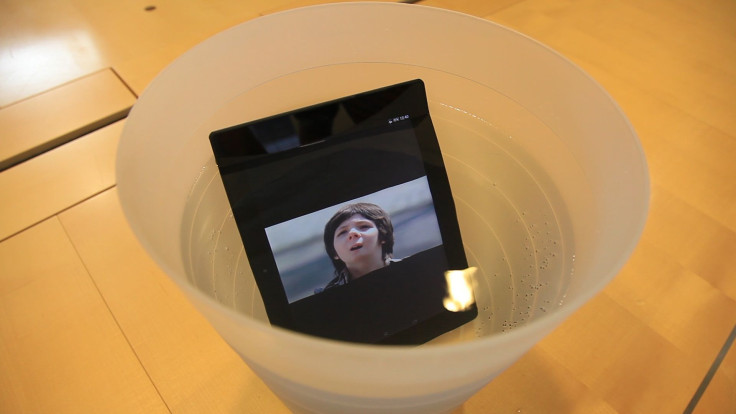 They were. The Xperia Z2 functioned just fine after I pulled it out of the water, and the water slid off the surface like well-waxed car paint.
Let's focus on the looks of the Xperia Z2. Black on black, as is the common theme these days. That's not a problem, since it still looks good … and the classics never really go out of style.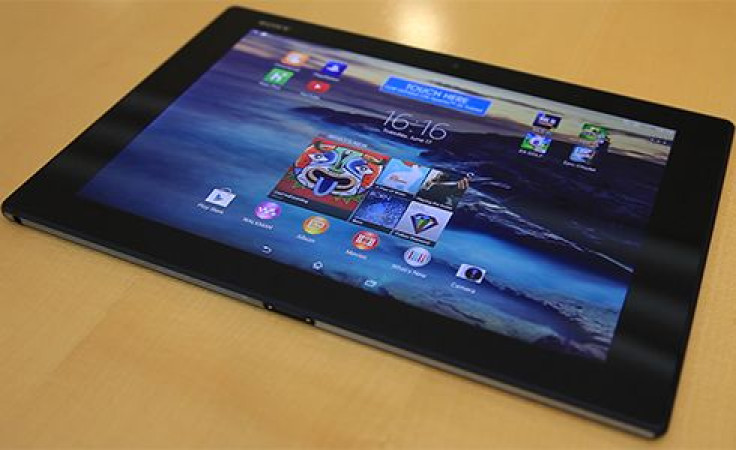 I do take issue with the huge bezel, though -- it makes the Xperia's screen look small. Maybe Sony did this so your thumbs wouldn't smudge the screen while you hold the tablet, but it just seems like a lot of negative space. I'd be more forgiving if the Xperia had capacitative buttons on the bottom bar like a lot of other Android devices ... but everything is done on the screen. Why waste good real estate?
And a knobby power button is placed in the middle of the left side for some reason. Possibly to make you accidentally lock the screen while you're watching a movie.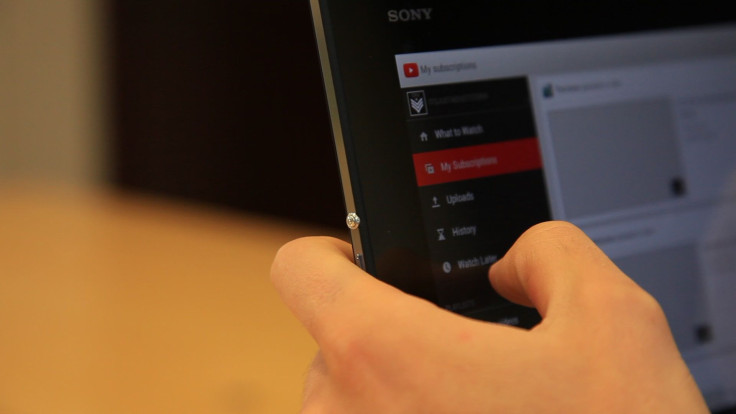 That's where the bad news ends, though. Once you get some content playing on screen, you're treated to HD goodness from the 1920x1200 Triluminous display -- that's Sony's technology to complete with things like Samsung's Super AMOLED -- now, isn't that better?
Well … not really. It's pretty good, but my completely unscientific eye still prefers the AMOLED. Will it really matter when you're watching YouTube or playing FIFA? Probably not. It's still a nice display.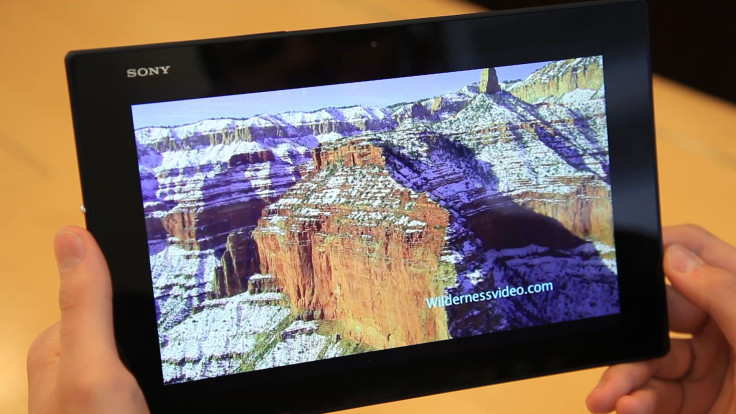 The processor's not half bad, either. It's a Snapdragon, which is always a good thing -- Sony claims that the processor is the fastest one shoved into a tablet -- the Xperia Z2's processor is clocked at 2.3 GHz and the tablet comes with 3GB of RAM. It's nippy, but the whole line about "fastest processor" dives into murky territory on what's technically a tablet (the Surface 2's last Intel i5 was capable of 2.5 GHz).
The Z2 doesn't want for power, though I can't help but think it's not going to be used to its full potential. The Z2 is primarily a media consumption device, and let's face it, you don't need a monster setup to stream Netflix or Crunchyroll.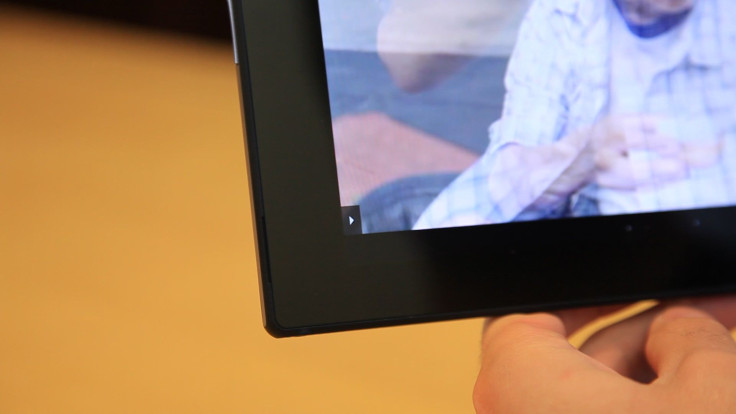 Where Sony really succeeds is the audio setup. First off, the speakers are on the front of the tablet, facing you, the user. That's just the right way to do it -- the sound is projected right at you, instead of out the sides or at your knees. It's the simple things.
Battery life is impressive -- I streamed videos on WiFi for an entire afternoon and evening, yet I still had around 40 percent of the battery left. I've heard other reviewers complaining about the battery life, but I can't say I was able to replicate their problems during my time with the Z2.
I have to hand it to Sony -- this is, by far, the nicest Android tablet I've ever used. At $500, the 16 gig model I was loaned is expensive, but the Z2 is nice enough to command the price tag. When it comes down to it, you're paying a premium price for a premium product.
© Copyright IBTimes 2023. All rights reserved.