SOPA Supporters: Companies and Groups that Support the Controversial Bill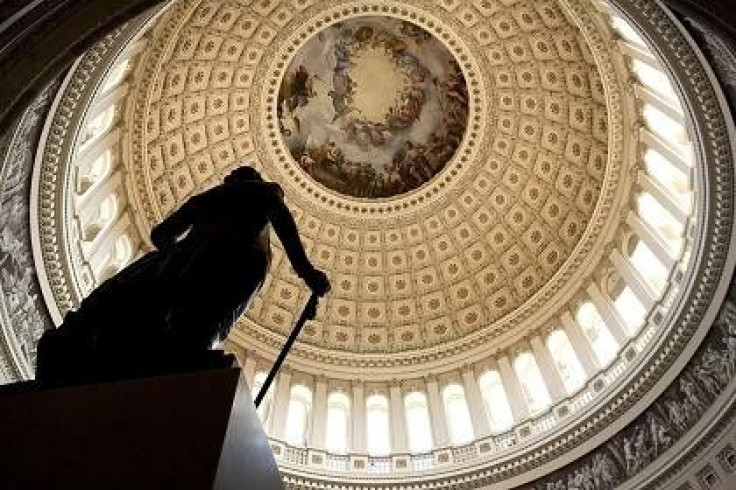 SOPA is one of the most controversial bills to come before the U.S. Congress in years.
Known as H.R. 3261, the Stop Online Piracy Act (and its sister bill, the Protect IP Act or PIPA) has come under fire from internet freedom groups, the American Civil Liberties Union (ACLU), web giants including Google, Facebook and Wikipedia and more.
As such, there has been a major outcry against companies that have come out in support of the bill, so much so that some-including Godaddy.com- have switched from supporting to opposing it.
The House Judiciary Committee recently released a list of the companies that are in favor of SOPA.
The list below is a compilation of the companies the Judiciary Committee says support SOPA:
60 Plus Association
ABC
Alliance for Safe Online Pharmacies (ASOP)
American Bankers Association (ABA)
American Federation of Musicians (AFM)
American Federation of Television and Radio Artists (AFTRA)
American Society of Composers, Authors and Publishers (ASCAP)
Americans for Tax Reform Artists and Allied Crafts of the United States
Association of American Publishers (AAP)
Association of State Criminal Investigative Agencies
Association of Talent Agents (ATA)
Beachbody, LLC
BMI
BMG Chrysalis
Building and Construction Trades Department
Capitol Records Nashville
CBS
Cengage Learning Center for Individual Freedom (CFIF)
Christian Music Trade Association
Church Music Publishers' Association
Coalition Against Online Video Piracy (CAOVP)
Comcast/NBCUniversal
Concerned Women for America (CWA)
Congressional Fire Services Institute
Copyhype
Copyright Alliance
Coty, Inc.
Council of Better Business Bureaus (CBBB)
Council of State Governments
Country Music Association
Country Music Television
Creative America
Deluxe
Directors Guild of America (DGA)
Disney Publishing Worldwide, Inc.
Elsevier
EMI Christian Music Group
EMI Music Publishing
Entertainment Software Association (ESA)
ESPN
Estée Lauder Companies
Fraternal Order of Police (FOP)
Gospel Music Association
Graphic Artists
Guild Hachette Book Group
HarperCollins Publishers Worldwide, Inc.
Hyperion
Independent Film & Television Alliance (IFTA)
International Alliance of Theatrical and Stage Employees (IATSE)
International AntiCounterfeiting Coalition (IACC)
International Brotherhood of Electrical Workers (IBEW)
International Brotherhood of Teamsters (IBT)
International Trademark Association (INTA)
International Union of Police Associations
L'Oreal
Let Freedom Ring
Lost Highway Records
Macmillan
Major County Sheriffs
Major League Baseball
Majority City Chiefs
Marvel Entertainment, LLC
MasterCard Worldwide
MCA Records
McGraw-Hill Education
Mercury Nashville
Minor League Baseball (MiLB)
Minority Media & Telecom Council (MMTC)
Motion Picture Association of America (MPAA)
Moving Picture Technicians
MPA - The Association of Magazine Media
National Association of Manufacturers (NAM)
National Association of Prosecutor Coordinators
National Association of State Chief Information Officers
National Cable & Telecommunications Association (NCTA)
National Center for Victims of Crime
National Crime Justice Association
National District Attorneys Association
National Domestic Preparedness Coalition
National Football League
National Governors Association, Economic Development and Commerce Committee
National Narcotics Offers' Associations' Coalition
National Sheriffs' Association (NSA)
National Songwriters Association
National Troopers Coalition
News Corporation
Pearson Education
Penguin Group (USA), Inc.
Pharmaceutical Research and Manufacturers of America (PhRMA)
Pfizer, Inc.
Provident Music Group
Random House
Raulet Property Partners
Republic Nashville
Revlon Scholastic, Inc.
Screen Actors Guild (SAG)
Showdog Universal Music
Sony/ATV Music Publishing
Sony Music Entertainment
Sony Music Nashville
State International Development Organization (SIDO)
The National Association of Theatre Owners (NATO)
The Perseus Books Groups
The United States Conference of Mayors
Tiffany & Co.
Time Warner
True Religion Brand Jeans
Ultimate Fighting Championship (UFC)
UMG Publishing Group Nashville
United States Chamber of Commerce
United States Olympic Committee
United States Tennis Association
Universal Music
Universal Music Publishing Group
Viacom
Visa Inc.
W.W. Norton & Company
Wallace Bajjali Development Partners, L.P.
Warner Music Group
Warner Music Nashville
Wolters Kluewer Health
Word Entertainment
© Copyright IBTimes 2023. All rights reserved.