South African Finance Minister Replaced After 4 Days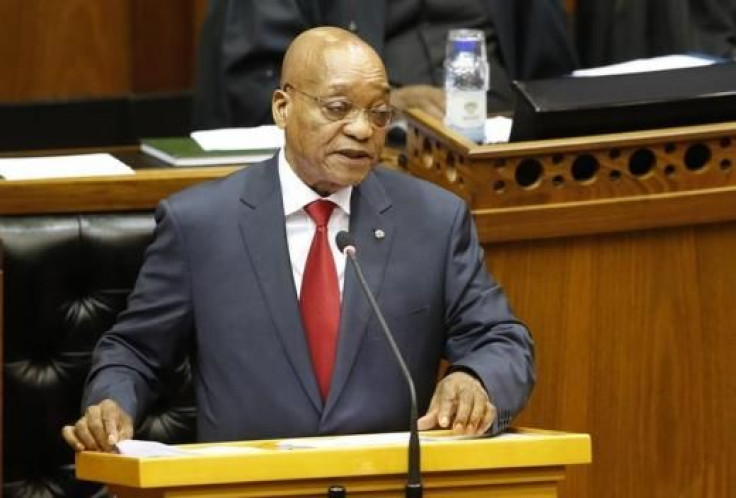 JOHANNESBURG (Reuters) — President Jacob Zuma appointed Pravin Gordhan as finance minister Sunday, in a dramatic U-turn that gave South Africa its third finance chief in a week after a selling frenzy in the markets. The shock announcement restoring Gordhan to the post, which he left last year, sent the rand surging nearly 5 percent on Sunday evening, but failed to quell a tide of criticism of the president.
"This is reckless by President Zuma. He is playing Russian roulette with the South African economy," opposition Democratic Alliance leader Mmusi Maimane said.
Zuma sacked Nhlanhla Nene from the ministry late Wednesday, sparking a wave of criticism and financial turmoil, and replaced him with the relatively unknown lawmaker David van Rooyen.
The removal of Nene, who was keen to rein in government spending in Africa's most industrialized economy, sent the rand currency to record lows, sparked a selloff in bank stocks and sent yields in both local and dollar-denominated debt soaring.
The JSE All-share index lost 169.6 billion rand ($10.68 billion) between Thursday and Friday.
"Critics would say having a finance minister serving only two days doesn't bode well for the reputation of South Africa," said Mohammed Nalla, head of research at Nedbank Capital.
"International investors are probably thinking: Why didn't the president make a much more considered decision in the first place?"
Many economists had questioned van Rooyen's ability to steady an economy hammered by falling prices for commodity exports that range from coal to gold.
Nene's reluctance to rubber-stamp an ambitious plan to build a number of nuclear power stations to ease severe electricity shortages, a project that might cost as much as $100 billion, is also seen as contributing to his downfall.
"On the 9th of December 2015, I announced the appointment of a new minister of finance, Mr. David van Rooyen," Sunday's statement from the presidency said. "I have received many representations to reconsider my decision. As a democratic government, we emphasize the importance of listening to the people and to respond to their views."
Credit agency Fitch downgraded South Africa on Dec. 4, leaving the continent's most sophisticated economy just one notch above "junk" status, and said on Thursday Nene's firing "raised more negative than positive questions."
A Reuters poll on Wednesday showed analysts expect the economy to grow just 1.4 percent this year and 1.6 percent next, 0.1 percentage point lower than last month's forecasts.
The presidency's statement said Gordhan's role would include "promoting and strengthening the fiscal discipline and prudence" and "working with the financial sector so that its stability is preserved."
It called for "adherence to the set expenditure ceiling while maintaining a stable trajectory of our debt portfolio, as set out in the February 2015 budget."
The statement also called for "more inclusive growth and accelerated job creation while continuing the work of ensuring that our debt is stabilized over the medium term."
"I'm not in the job yet. Not until I'm sworn in tomorrow morning at 10 a.m." local time, Gordhan told Reuters. He said a news conference was scheduled for Monday morning after his swearing-in.
Gordhan held the post of finance minister from 2009 to 2014, when he was replaced with Nene and moved to the post of minister for cooperative governance and traditional affairs. The Sunday presidency statement said van Rooyen would become the new minister of cooperative governance and traditional affairs.
Zuma on Saturday denied rumors he had an affair with the chairwoman of state-owned airline South African Airways amid media speculation that the relationship lay behind Nene's sacking. The minister had rebuked Dudu Myeni, the airline's chairwoman and a close ally of Zuma, for mismanaging a 1 billion rand ($62.98 million) deal with Airbus.
Zuma's office also criticized as a "malicious fabrication" reports that Nene was removed because Myeni was not happy with instructions from the respected former finance minister.
Social media was abuzz on Sunday with calls for anti-Zuma marches. Under the hashtag #ZumaMustFall, individuals on Twitter said they would march in key cities on Wednesday, a public holiday in South Africa and the same day when the Federal Reserve, the U.S. central bank, is expected to raise interest rates — a move likely to put emerging markets like South Africa under strain.
Even some supporters of the African National Congress, Nelson Mandela's erstwhile liberation movement that has ruled since the end of apartheid in 1994, expressed dismay about Wednesday's appointment of a Zuma loyalist to the crucial post.
Former health minister and leading anti-apartheid activist Barbara Hogan on Friday called on Zuma to quit. Hogan, the highest-profile member of the ANC to come out against the sacking of Nene, said Zuma had crossed a line and needed to be held to account.
South Africa is gearing up for important local elections next year where the ANC is expected to face stiff competition from the Democratic Alliance in urban areas, including the economic hub of Johannesburg. The countryside remains an ANC stronghold.
Significant erosion of ANC control in metropolitan powerbases could strengthen Zuma's opponents, especially if South Africans blame him for the floundering economy.
Analyst Razia Khan of Standard Chartered Bank said the week's turmoil was "perhaps the first instance since 2007 that Zuma has come under severe pressure within the party."
© Copyright Thomson Reuters 2023. All rights reserved.