South China Sea Buildup: A Second Chinese Carrier Group Wraps Up War Drills
KEY POINTS
The move shows PLA can now deploy the warships more often.
PLA Navy sources said it will continue to organize similar exercises.
Shandong is PLA's first aircraft carrier to be domestically produced
China continues to flex its military muscles as its second aircraft carrier Shandong and its naval support group conclude war drills in the disputed South China Sea.
Analysts say the move hints that both PLA aircraft carriers, Shandong and Liaoning, are "actively training for combat preparedness."
Gao Xiucheng, a spokesman for the Chinese navy, said Sunday the exercises were "legitimate and can enhance Chinese capabilities to protect national sovereignty, security, and development interests," reports South China Morning Post.
"We hope the outside world can view [the Shandong's exercise] objectively and rationally. The PLA Navy will continue to organize similar exercises according to the plan regularly in the future," Gao said.
The military exercises by the Shandong carrier group come immediately after the country's first carrier, the Liaoning, left the region. Chinese state-backed Global Times quoted analysts who said the Shandong is "gaining furtherly enhanced combat capability."
The recent drills by the warships show that they are training to deal with any potential threat China is facing. Having two aircraft carriers mean that the PLA Navy can deploy the warships more often and when one undergoes maintenance, the other can take its place, the report read.
The Shandong is China's first aircraft carrier to be domestically produced. Though it is similar in size to the first carrier, the Liaoning, the Shandong has some notable enhancements. It features the advanced Type 346 S-band AESA radar system. Its airwing is slightly larger than that of the Liaoning and can feature around eight additional aircraft. It may also have an internal arrangement that is better optimized than that of the Liaoning.
The first-known exercise of Shandong in the disputed South China Sea comes amid the escalating tensions in the disputed waterway. The region has been on the boil for some time after the Philippines reported the presence of Chinese boats, manned by militia, near the disputed Whitsun Reef.
Though China had insisted they were fishing vessels "sheltering from the wind," the US Navy sent an aircraft carrier strike group led by USS Theodore Roosevelt into the region, to counter Chinese aggression.
Meanwhile, after conducting routine drills and training in waters around Taiwan in the South China Sea, Beijing had recently sent the Liaoning aircraft carrier task group to the East China Sea. The warship reportedly crossed the Miyako Strait last week and sent an aircraft near the Senkaku Island, as a warning to Japan. China and Japan have disputes over the Senkaku Island, an uninhabited chain of islands on the East China Sea.
Beijing has also been enhancing its military capabilities and last month saw PLA commissioning three advanced new ships, a Type 09IV ballistic missile submarine, a Type 055 stealth destroyer, and its first Type 075 amphibious assault ship.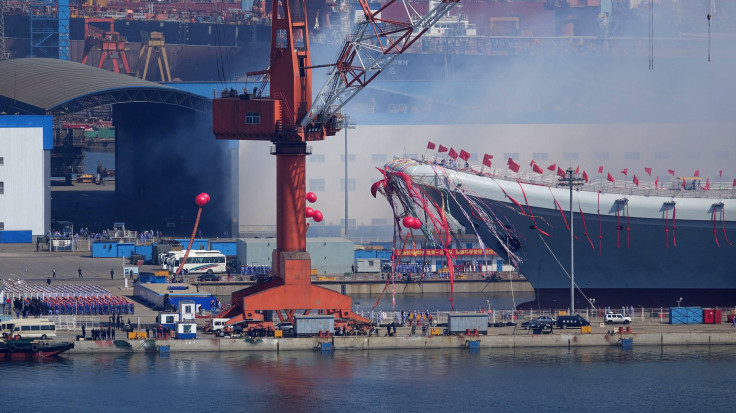 © Copyright IBTimes 2022. All rights reserved.
FOLLOW MORE IBT NEWS ON THE BELOW CHANNELS