South China Sea Conflict: Beijing To Complete Assembly Of First Domestically Made Aircraft Carrier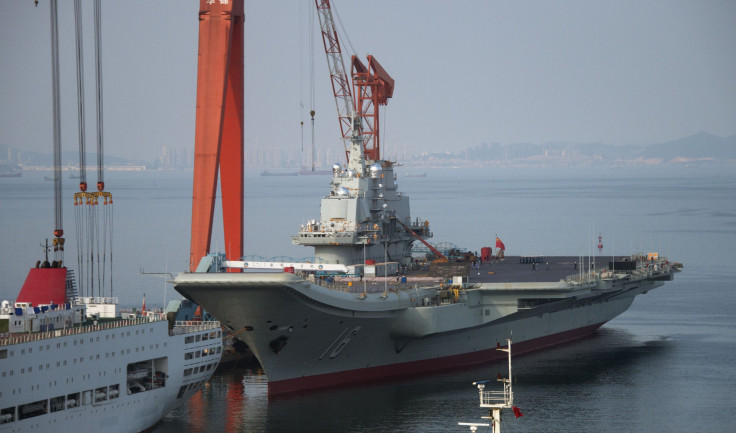 With the assembly of the hull, China's first domestically built aircraft carrier is almost complete, the country's Ministry of National Defense said Thursday. As of now, the Soviet-built "Liaoning" is Beijing's only aircraft carrier.
"The aircraft carrier is being built as planned. Most of its major construction and design work has been completed. Its hull has already been assembled in a shipyard. The ship will soon be equipped with aviation, radar and other facilities," spokesman for the Chinese Defense Ministry Wu Qian said, according to state news agency CCTV.
Amid tensions in the South China Sea, the development of the aircraft carrier, categorized as Type 001A in the Chinese development program, will be a major boost to the Asian giant's naval prowess in the region. Chinese military experts have attributed the need for a second aircraft carrier to the escalating uneasiness in the South China Sea. Earlier this year, Chinese navy official Rear Admiral Yin Zhuo told state-owned media that aircraft carrier battle groups are important to "defend China's sovereignty on the islands and reefs, maritime rights and overseas interests."
The new 50,000-tonne aircraft carrier — which was confirmed by Chinese officials late last year — is designed to be a base for fighter jets and helicopters. It is being built in Dalian but no information has been released about a specific date for the vessel's entry into service.
Unlike Liaoning, the new vessel will have a conventional power plant and accommodate the Chinese-made J-15 fighter jets. As opposed to the catapult system used on U.S. aircraft carriers, Chinese technology will use a ski-jump ramp for jet take-off. The new carrier will be equipped with the country's latest phased-array radar, anti-aircraft missiles and cannons.
The world's second-biggest economy is aiming to build two more carriers with the help of its largest carrier-based pilot team that was out together reportedly after over three years of intensive training. This will considerably strengthen the country's stronghold in the disputed regions of the South China Sea that have caused friction between China and the U.S., as well as with a number of neighboring countries.
© Copyright IBTimes 2022. All rights reserved.
FOLLOW MORE IBT NEWS ON THE BELOW CHANNELS