South China Sea War: Beijing Defends Construction, US Sends Navy Ship To Defend Waterway And Fighter Jets Arrive Near Japan As Tensions Mount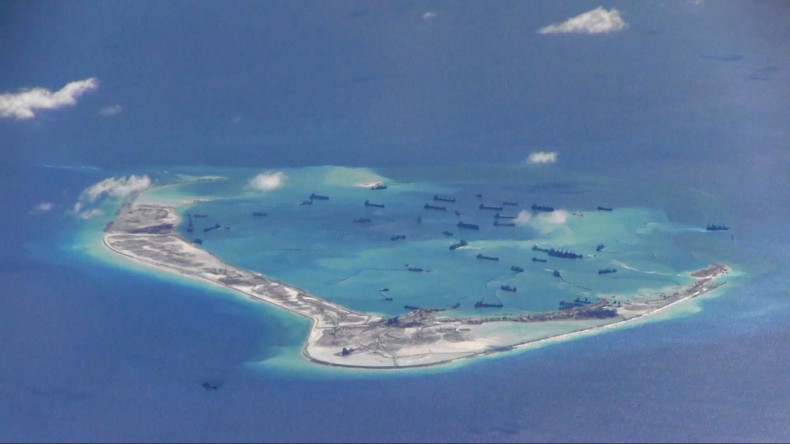 Chinese officials sent the world notice this week that Beijing would defend its claim over the South China Sea. As Beijing sent 13 fighter jets, heavy bombers and early-warning aircraft Thursday through the Miyako Strait near Japan as part of a navy exercise, a senior Chinese lawmaker said China would not stop building facilities on artificial islands in the South China Sea.
Wang Guoqing, spokesman for the country's top political advisory body, said criticism from the U.S., Japan and other nations over its construction in the coveted waterway was "much ado about nothing." "Though peace reigns over the land, the stupid people create trouble for themselves," Wang said before the opening of the ­annual session of the Chinese People's Political Consultative Conference. "As the world's largest trader and the country with the most coastline along the South China Sea, we care about the safety and freedom of navigation more than any other country."
He said the structure China built in the South China Sea were crucial for defense. Meanwhile, the U.S. is stepping up its patrols in the South China Sea to protect open travel in the waterway by sending the carrier USS Carl Vinson in for patrols.
Rear Adm. James Kilby told the San Diego Tribune, "the Third Fleet Forward concept is working really well." Sailor morale is "upbeat" and "positive,"Kilby said, adding, "I can't be more proud of the sailors in this strike group and what they're doing."
"We continue to deploy here and try to send a message to our friends and allies that we're here…we're providing security. We're providing presence. We want to work with them in exercises and we're certainly doing that on our deployment," Kilby said.
Growing tensions between China and the U.S. could result in conflict, experts have warned. Teng Jianqun, from the China Institute of International Studies, said China and the U.S. were in a "dilemma" over the South China Sea.
"I don't think the U.S. will compromise on freedom of navigation in the South China Sea, while China is trying to become a maritime power," he said.
© Copyright IBTimes 2022. All rights reserved.