South Korean Court Rules Apple, Samsung Infringed Patents, Bans Gadgets Of Both Companies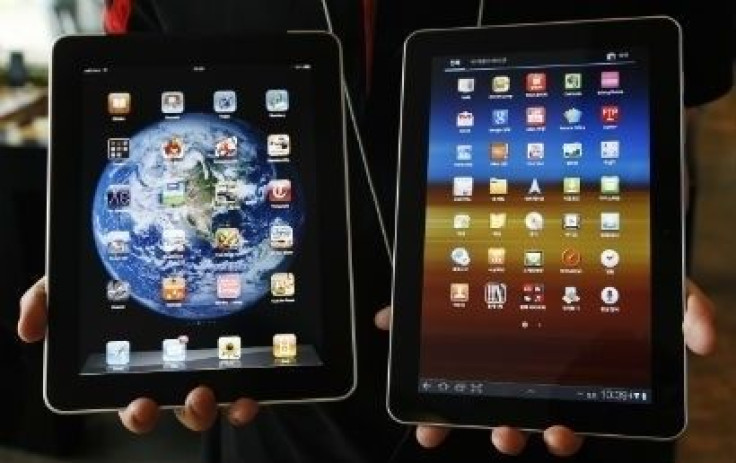 As technology industry eagerly waits to hear the verdict of the U.S. Federal District Court in Apple (AAPL) and Samsung (005930) patent tussle, a South Korean Court ruled Friday that both the firms were guilty of patent infringement and banned sales of Apple and Samsung smartphones and tablets.
The ruling comes as a slap on the wrist, and it can be seen as a sign of things to come in the high stakes U.S. federal case, AppleInsider has reported.
The news was first reported in the Wall Street Journal, which stated that Apple infringed two Samsung technology patents while Samsung violated one Apple patent. Further, the panel urged the technology giants to halt the sales of the patent infringing products in South Korea.
The banned products do not encompass the latest models of Samsung and Apple devices as the verdict urged Samsung to halt sales of Samsung Galaxy S, Galaxy SII, and Galaxy Nexus smartphones and Galaxy Tab and Galaxy Tab 10.1 tablets. Apple was ordered to halt the sales of iPhone 4 and iPad 2 as they infringed on two of Samsung's wireless technology patents, AppleInsider has added.
The Korean electronics giant sued Apple in its home country following Apple's April 2011 suit that claimed Samsung copied the look and feel of iPhone and iPad.
While Apple was ordered to pay $17,650 for each patent violation amounting to $35,300, Samsung was ordered to $22,000 for its infringement by the Seoul court.
The U.S. trial is in the deliberations stage after closing arguments were made Tuesday and a verdict may be announced later Friday.
Mark Newman, an analyst at Sanford Bernstein, told Marketwatch: "Any kind of ban in the U.S. is a much bigger deal for both companies." He said there was likely to be little impact on the share prices of either Samsung or Apple arising from Seoul verdict.
"Longer-term, this whole war is to come to nothing... The only outcome is in huge legal fees and in hurting each other's brand."
The patent tussle is being monitored with keen interest as Apple is expected to unveil its next-generation iPhone, iPhone 5, in a much-awaited event scheduled for September 12.
Apple shares seemed to face a small blip in their stock rally as they closed Thursday at $662.63 down 0.93% from the previous close.
© Copyright IBTimes 2023. All rights reserved.