'Spin The Bottle': Dating App Puts Twist On Classic Party Game To Help Singles Meet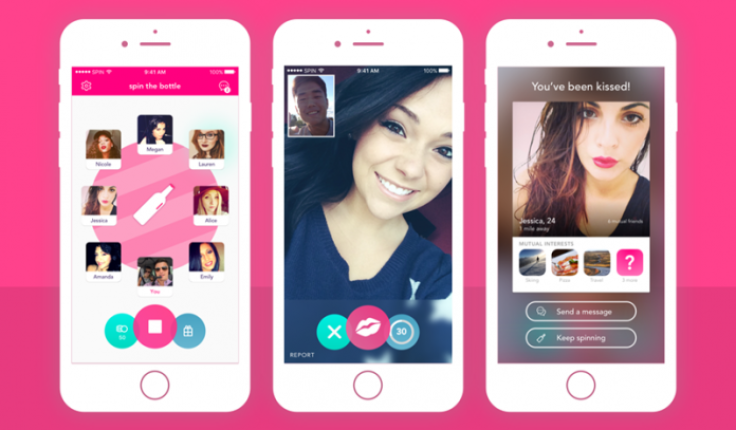 Dating apps like Tinder make it easy to meet new people - but many profiles on Tinder can be misleading.
Spin the Bottle, a new video dating app, wants to take people away from misleading profile pictures and go straight to face time.
"Looking into someone's eyes and having a conversation, even a 30 second one, can be much more revealing than reading a list of interests and seeing a gallery of heavily edited, perfectly filtered selfies," Matthew Cohen, CEO of Spin the Bottle, told IBTimes.
Spin the Bottle dating app is played just like the classic party game, only it's with people from your area that are looking to meet.
"I immediately thought of developing a dating app because most dating apps are photo-based, which doesn't give you much insight into personality or chemistry," Cohen said. "We believe that the dating app industry is ready for an evolution to the next logical step in online dating, which is video. Video and face-to-face interactions allow for a more authentic assessment of who the person really is, which will lead to better connections and better dates."
It's pretty easy to play Spin the Bottle. With a swipe of a finger, you'll give the bottle a spin and watch as the bottle rotates past potential matches. When the bottle stops, you'll enter into a 30 second video date where you can chat with your match. If you're feeling a connection, you can give your date a kiss by tapping the kiss icon. If they return the affection, it's a match.
If it's a match, Spin the bottle gives users the ability to send free voice calls, video calls and text messaging in the app. Users can also up their spin game with bonus features including Flick, Freeze and Direct Hit. "Flick" lets you drag players off your circle so you never see them again. "Freeze" lets you extend your data for 30 bonus seconds. "Both players can freeze the clock, meaning the dates can be anywhere from 30 to 90 seconds long," said Cohen. "Direct Hit" allows players to choose where the bottle lands.
Some users might worry if their video date will get interrupted by unwanted "junk," but the app uses advanced face detection technology to keep all conversations face-to-face.
"If the camera isn't on you or your date's face, the image is automatically blurred out," Cohen said. "This feature is really important to us because we want to make sure that our users feel safe and that they don't experience any inappropriate content."
Spin the Bottle launched in November, but it was only available in NYC. However, Spin the Bottle for iOS is now available in the U.S. and Canada. To sign up for the upcoming Android beta you can go here.
​
© Copyright IBTimes 2023. All rights reserved.