Spotlight on Berlin: Festival of Lights 2011
Beams of bright colors and all shapes illuminate monuments and installations throughout Berlin as part of the seventh annual Festival of Lights.
Every fall, for twelve days famous landmarks are transformed into shining works of art. The year's festival lasts from Oct. 12 to 23. The longer autumn nights are the best time to put the city in the spotlight. The open-air gallery will start every night at 7 p.m. and last until midnight.
The main stage for this year's festival will be located at the public square, Quartier Potsdamer Platz. As dusk falls in the center, more than 20 impressive illuminations will be seen within the inner-city.
All attention, however, will be on the last remaining piece of the Berlin Wall. It remains as a memorial to those that died during the Wall's 28-year duration. Ben Wagin, a Berlin based artist, created a piece called the Parliament of Trees, which will illuminate the Wall to continue to honor those who have passed. The piece will include projected trees, memorial stones, and images of the original wall. Politicians, artist, and writers have also added to the project by contributing paintings or text, which will be on display.
The festival will also celebrate the 125th anniversary of Kurfürstendamm, Berlin's most famous boulevard. The boulevard is the perfect place for a nightly stroll, as shop windows and buildings are lit with unique projections to create a gallery of lights.
There are over 10 different light-seeing tours offered throughout Berlin. The city offers everything from rides on the public double-decker buses, stylish Lightlimo, or a heart-pounding Lightrun.
Tourists and Berlin locals alike can take in different light-related events each night from LightCocktails at the LightBar (everything is transformed into light-something) to an illuminated jazz concert at the Minster Gardens. The dazzling display drew over a million visitors last year.
Check out the official Festival of Lights Web site for more information on tours and a map of where to see the lights of Berlin.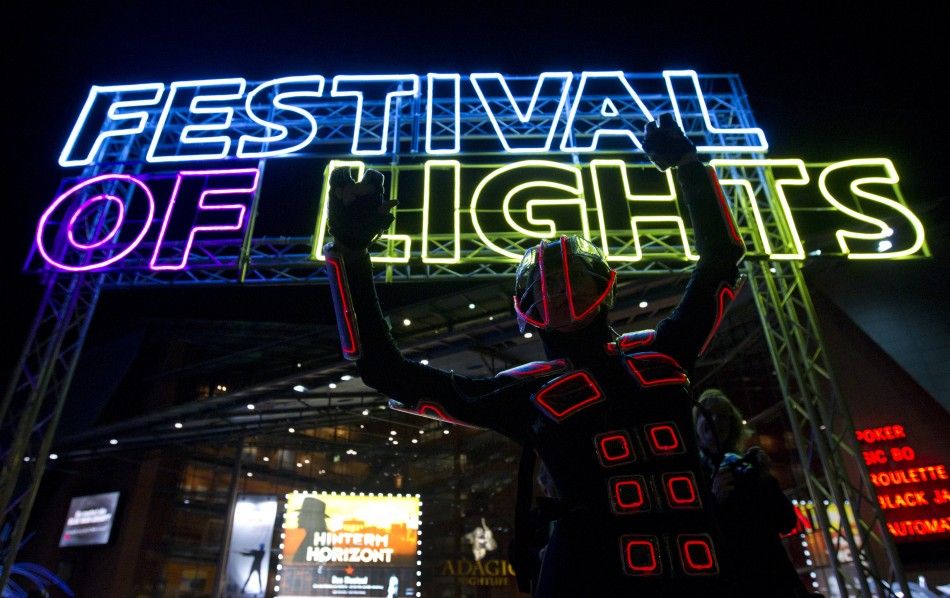 © Copyright IBTimes 2023. All rights reserved.