Starbucks Corporation (SBUX) Q1 2016 Earnings Preview: China Could Be The Next Growth Story, Slowdown Or Not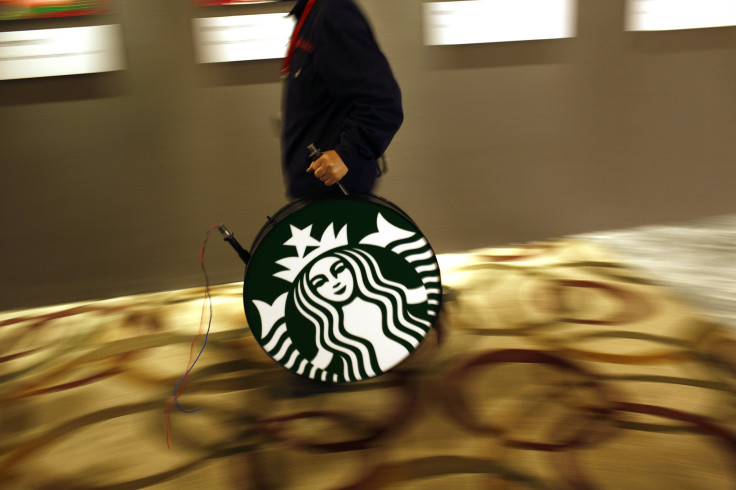 Starbucks Corp. has rolled out a series of efforts over the past year to keep its business booming, including an evening wine-and-cheese menu, a delivery service and most recently, a partnership with music-streaming service Spotify designed to foster the company's customer loyalty program. Starbucks' food sales continue to grow, pummeling competing brands Dunkin' Donuts and McDonald's McCafé in U.S. grocery store coffee-and-tea aisles.
While the U.S. continues to be the company's most important market, it's hard to see how Starbucks can expand further in the United States where its green siren logo adorns practically every commercial nook in the country. It's why 2016 will see the company push more aggressively eastward, despite signs the world's second largest economy, China, is seeing the slowest pace of economic growth since 1990.
"We do acknowledge that despite share gains, [Starbucks'] U.S. growth could be slowing … but view the international opportunity as an offset, with growth prospects in China and beyond likely to be a key contributor to the long-term potential for the business," Keith Siegner, UBS Global Research equities analyst, wrote in a Jan. 5 research note.
Starbucks Corporation (SBUX) | FindTheCompany
The world's largest coffee roaster will report its fiscal first quarter earnings after markets close in New York on Thursday amid mounting concern that a global recession is in the works.
Excluding one-time charges, analysts polled by Thomson Reuters expect Starbucks to report net income of 45 cents per share in the three months ending December, up from 40 cents in the same period last year, when adjusted for a stock split last April. Quarterly revenue is expected to grow to $5.39 billion, from $4.80 billion in the year-ago period, a 12.3 percent rise.
Starbucks is starting its 2016 fiscal year having emerged from what CEO Howard Schultz called a "stunning" same-store sales performance. Global sales of stores open for at least 12 months jumped 8 percent globally in the fiscal fourth quarter that ended last September. The first three months of the current fiscal year, which includes the 2015 holiday shopping season, may offer the first glimpse of whether Starbucks can maintain its momentum.
Starbucks Corporation's Social Media Analytics | FindTheCompany
"After stronger-than-expected FY15 results, we think management's FY16 guidance underscores further runway for continued organic growth," Tuna Amobi, equities analysts at S&P Capital IQ, said in a Jan. 9 research note. "Potential catalysts include ramp-up in mobile penetration, accelerating international expansion (including China, India and Russia) and a burgeoning customer loyalty program."
Starbucks' next earnings report comes a week after it announced plans to open 2,500 more stores in China by the end of the decade, up from the current 1,800. Schultz and other company leaders have dismissed concerns about China's slowdown.
And there's reason to believe them. When China released its annual growth figures on Tuesday, it affirmed what everyone had already expected.
But one bright spot in the economy suggests some resilience: China's retail sales grew 11.1 percent in December compared to the same month the previous year, only slightly lower than the 11.2 percent reading in November. The data suggest the services industry may be absorbing some of the job losses in manufacturing, as China tries to shift its economy away from industrial growth and toward consumer consumption.
According to Euromonitor International, Chinese appetite for coffee is growing at an annual pace of 18 percent. Starbucks is betting that slowdown or not, China is where the bulk of its future growth lies. So while it tinkers with new ways to draw American consumers to its stores, its trusted model for growth — stores that sell an array of hot beverages and baked items — is just starting to take hold in China.
© Copyright IBTimes 2023. All rights reserved.