Steady Rain Of Rockets From Gaza Fails To Overwhelm Israel's Iron Dome System
The last two days have been terrible in Israel as rockets have continued to rain down from Gaza after Islamic Jihad leader Bahu Abu al-Ata was killed in an airstrike. Ata, who was responsible for multiple attacks on Israel, particularly the southern region, was killed along with his wife as they slept in their home.
Since his death, one rocket every 7 minutes has been fired from Gaza into Israel, but the Iron Dome missile system employed by Israel in the area has kept casualties to an absolute minimum. There have been no deaths on the Israeli side, only minor injuries. A ceasefire, mediated by Egypt, took hold on Thursday morning.
Raphael Advanced Defense Systems and Israel Aerospace Industries along with several U.S. entities developed the system that shoots down rockets and artillery mid-flight. This is very similar to the Trophy system, which has also been deployed on the Israeli front. Very little is known about the system, but it is quite obvious that it works well.
A source told the International Business Times that as a direct result of the Iron Dome missile system, there have been no deaths on the Israeli side. Only a few homes have suffered direct hits. There was a near-miss on a major highway where a rocket crashed and detonated. A vehicle suffered minimal damage and its occupants are expected to be just fine.
The Iron Dome system can intercept and destroy short-range rockets, artillery shells and mortars fired from distances of up to 45 miles. Each system costs about $100 million, and each of its missiles $50,000. But the system has more than justified its steep price tag, by keeping Israeli casualties to the bare minimum despite the rain of rockets it had to contend with. The Israeli ministry claims the system has an accuracy of 85 percent.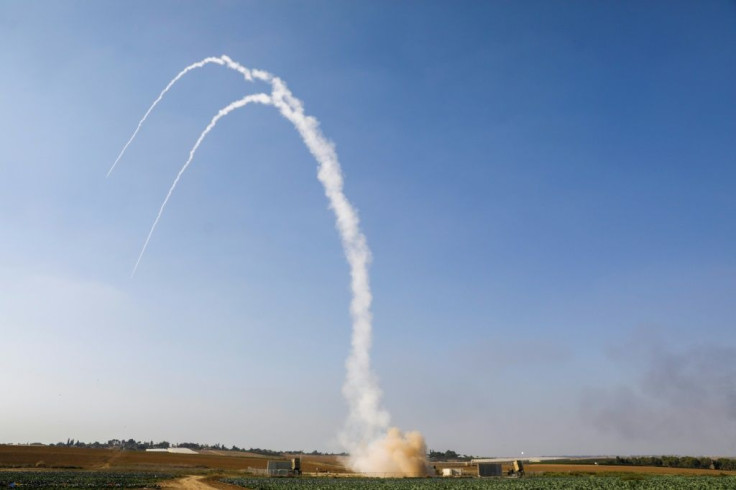 It is safe to say that if either the Iron Dome system or the Trophy system were to fail, the casualties in Israel would be much larger. Israel has gone on the offensive firing back at Gaza with precise continuous fire, and at this point of there have been 20 confirmed deaths.
Interestingly, the IDF said its tweets on the incoming rockets were being blocked by Twitter for being repetitive. "It is repetitive. But it is important," they tweeted.
The tweets are an important source of real-time information for Israelis about the rocket attacks, which were coming in at one every seven minutes.
The Israeli IDF took to Twitter on Wednesday to announce the success of its attacks on the Gaza Strip, almost taunting what they consider to be a terrorist groups on the other side. This is nothing new for the region though, as the IDF has a history of using social media to showcase their efforts.
This area is no stranger to conflict as the Hamas, which controls Gaza, has fought three wars with Israel. But at this time it is not Hamas that is engaged in conflict with the Israeli people, but a separate group called the Islamic Jihad. They have been attacking the southern area of Israel for months.
According to a report by MSN, a leader from the terrorist group reportedly said in an interview late Wednesday that his group was ready for a cease-fire if Israel accepted conditions including the cessation of targeted killings of Palestinian military leaders. It was also stated that if they were to reach an agreement he could even announce the cease-fire over the phone.
© Copyright IBTimes 2023. All rights reserved.