Steam Early Access Game 'Space Engineers' Reaches 1M Downloads In Just Less Than A Year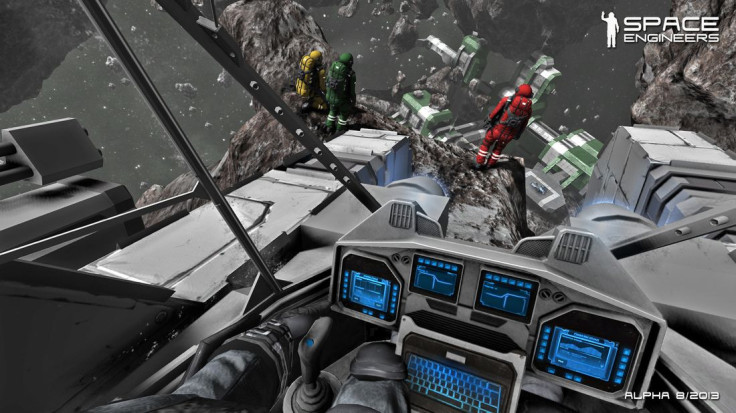 "Space Engineers," a space construction game developed by Keen Software House, has sold more than 1 million copies in just under a year since its release. The $20 game, which debuted Oct. 23, 2013 on the digital-distribution network Steam Early Access portal, reached more than 250,000 units sold during the first four months of availability -- and it's still just in its alpha phase.
"We feel twice as happy with this achievement since it came on our first year anniversary since 'Space Engineers' was launched to the public," Marek Rosa, founder and CEO of the Prague, Czech Republic, company said. "We want to devote this accomplishment to our fans, whose encouragement and active participation made this possible. It is a great thing to have such an amazing community like ours."
"Space Engineers" was named the fourth best Indie Game of 2013 by Mod DB, a website that focuses on video-game modification, or modding. The title is "a sandbox game about engineering, construction and maintenance of space works. Players build and pilot space ships and space stations of various sizes and utilization (civil and military), and perform asteroid mining to create the outer space world of their dreams," the developer said on its website. The game features both single- and multi-player modes as well as Creative and Survival modes. "There is nearly no end to what can be built, what can be played, and what can be explored," Keen said.
The title will remain in development for a while longer, while Keen focuses on adding new features, fixing bugs and the recent implementation of other improvements such as dedicated servers and the Modding API, which will allow modders to alter the game by writing C# scripts which have access to in-game objects.
This is just one of several games that has reached massive success while still technically being unfinished -- open-world survival horror game "DayZ" reached 172,500 copies during the first 24 hours of its launch, and sold 2 million copies as of May 2014 as a Steam Early Access alpha game. Survival game "Rust" launched in December as an alpha game, reaching 150,000 copies sold within 14 days, and 1 million copies sold during the first two months of availability. As of May 23, 2014, more than 1.6 million copies have been sold, pulling in more than $46.5 million in revenue.
Releasing games that aren't finished yet seems to be a growing trend for PC games, giving developers the ability to directly communicate with fans about what does and doesn't work in a newly developed title. However, these games still technically aren't completed, so players know they're still likely to encounter a number of glitches and errors.
© Copyright IBTimes 2023. All rights reserved.