Steve Bannon On China: US War With China Over South China Sea Likely In '5 To 10 Years'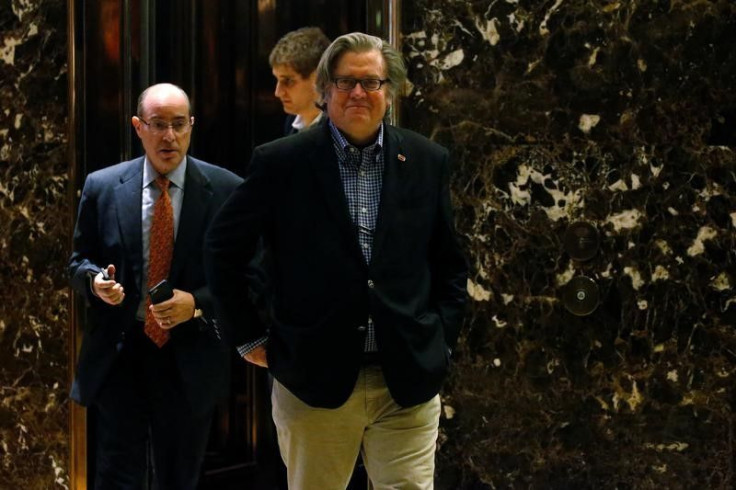 The United States will go to war with China in "five to 10 years" over the South China Sea dispute, according to Steve Bannon, who is President Donald Trump's chief political strategist.
These comments by Bannon were made last March, but they resurfaced Thursday at a time when Washington and Beijing's relations have soured after Trump questioned the "One China" policy and Secretary of State Rex Tillerson said China should be barred from islands in the contested region.
"We're going to war in the South China Sea in five to 10 years, aren't we? There's no doubt about that. They're taking their sandbars and making basically stationary aircraft carriers and putting missiles on those. They come here to the United States in front of our face — and you understand how important face is — and say it's an ancient territorial sea," Bannon said on a radio show hosted for Breitbart in March 2016.
China has been accused of showing its might by laying claims to almost all of South China Sea, from where about $5 trillion worth of maritime trade passes every year. Beijing also has been reportedly building runways and ports on islands in the contested waters to further its claim over the region. However, the country has consistently defended its actions, saying it does not intend to start a conflict and that its operations will actually add to the safety of the region.
Last month, Tillerson aggravated the already tense relations between the two countries by saying that China should not be allowed access to the islands in the South China Sea.
"We're going to have to send China a clear signal that, first, the island-building stops and, second, your access to those islands also is not going to be allowed," Tillerson said.
However, Chinese experts speculated at the time that Beijing is likely to retaliate if Washington bars China from accessing the South China Sea.
Apart from this, prior to his swearing-in ceremony Trump said that the U.S. does not necessarily have to abide by the "One China" policy — which has more or less formed the basis of diplomatic relations between the two countries since 1979. China, which was already upset with Trump's telephone call with Taiwanese President Tsai Ing-wen following the presidential win, reacted sharply over the then president-elect's comments.
"If Trump reneges on the one-China policy after taking office, the Chinese people will demand the government to take revenge. There is no room for bargaining. Sticking to [the one China] principle is not a capricious request by China upon US presidents, but an obligation of US presidents to maintain China-US relations and respect the existing order of the Asia-Pacific," the Global Times said in an editorial last month.
© Copyright IBTimes 2023. All rights reserved.