Sudan Declares 'State Of War,' Readies Troops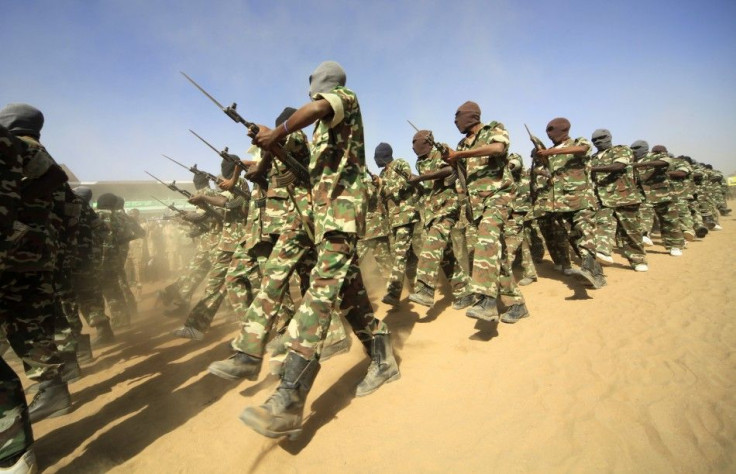 After troops from South Sudan seized the disputed, oil-rich border town of Heglig on Thursday, the country's northern neighbor declared a state of war, and vowed to retaliate.
The Sudanese government -- including the National Assembly and the Council of States -- moved to end all talks with South Sudan, including the African Union-sponsored negotiations currently underway in Addis Ababa, Ethiopia, the Sudan Vision reported.
Negotiations with South Sudan are now put on hold and the state is required to defend its borders Vice President Al-Haj Adam said on Thursday. The country is now in [a] state of war with Juba and will not negotiate.
How can we negotiate when the country is under attack? added Sudanese Undersecretary of the Ministry of Foreign Affairs Rahamatallah Osman during a press conference.
Osman also stated that Heglig is not disputed but rather the property of Sudan. Heglig's oil fields are a vital for Khartoum and account for over half of Sudan's domestic oil output. South Sudan has already shut down oil production in the region, according to AllAfrica.
On Thursday, Sudan also declared that the Sudanese Armed Forces, or SAF, are combat-ready and, according to Osman, prepared to strike if the South doesn't withdraw its troops immediately.
Sudan has also filed a complaint against South Sudan with the United Nations Secretary General on Wednesday, with Osman blaming Juba for breaking pre-established border agreements.
General Abdel Rahim Mohamed Hussein went as far to suggest that South Sudan is trying to overthrow the government in Khartoum by providing funding to the Sudanese Revolutionary Front, a Darfur-based rebel group that has carried its own attacks in Heglig and South Kordofan state.
In response, UN secretary-general Ban ki-Moon has urged both counties to immediately to cease hostilities, remove their forces from each other's territory and avoid further bloodshed, adding that the the immediate priority is to de-escalate the situation to avoid any further bloodshed.
It is critical that both sides avoid unilateral offensive actions and that Sudanese and South Sudanese leadership exercise maximum restraint, U.S. State Department spokesperson Victoria Nuland also urged.
South Sudan split from Sudan in July 2011 after decades of ethnic conflicts. The days leading up to the South's independence were marred with border violence that never fully relented. The clashes have escalated in recent months, with each side accusing the other of atrocities.
Among other charges, Sudan has been implicated in air-strikes against unarmed civilians in the Nuba Mountains, while South Sudan has been condemned for setting up artillery along its northern border. Additionally, the violence has manifested itself as ethnic clashes between rival tribes still loyal to the various blocs of the last two civil wars.
On the same day that Khartoum issued its wartime proclamation, the South Sudan's military -- the Sudan People's Liberation Army -- said that Sudanese forces had again attacked the border town of Teshwin, an act that will likely incite further retaliation.
Khartoum might be meaning a real war ... If you don't defend yourself you will be finished, so you should go and mobilize the people on [the] ground to be ready, James Wani Igga, the Speaker of the National Legislative Assembly of South Sudan, told parliament on Thursday.
We have to be vigilant to all the points as they are attacking us in all corners.
As of March, more than 100,000 people in the Southern Kordofan and Blue Nile states had been displaced by the conflict, and many refugees have fled into Ethiopia.
© Copyright IBTimes 2023. All rights reserved.