Super Bowl 2014: Will The New York-New Jersey Economy Win Big? NFL Says Yes, Economist Says No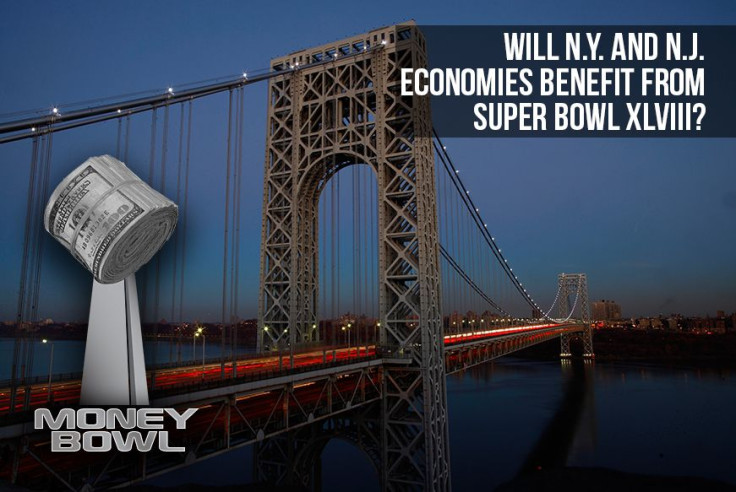 More than a week before the Seattle Seahawks and Denver Broncos were set to square off in New Jersey's MetLife Stadium for Super Bowl XLVIII, Rutt's Hutt was already seeing a boost in sales of its legendary fried hot dogs with homemade relish. The throwback rippers-and-beer joint had been discovered, by word of mouth, by NFL officials and Bowl workers who've descended on the area for a weeks-long prep for the Big Game.
John Karagiorgis, who helps operate the 80-year-old family-run business in Clifton, said they're expecting a 20 percent to 30 percent increase, weather permitting.
"Being a landmark in New York and a staple in this area, hopefully this will bring in additional customers," Karagiorgis told International Business Times, adding that his regulars have helped by talking the place up to out-of-towners. "Hopefully the weather is nice and ... permits people to leave their hotels."
Hundreds of area businesses like Rutt's Hutt want to cash in on the $550 million to $600 million benefit that the Super Bowl is estimated to bring to the New York-New Jersey area. But who came up with those numbers, and how? The answers: the New York/New Jersey Super Bowl XLVIII host committee, and, somewhat questionably.
According to Victor Matheson, an economics professor at Holy Cross University and co-author of the study "Super Bowl or Super (Hyper)Bole? Assessing the Economic Impact of America's Premier Sports Event," those figures may be inflated by as much as 96 percent. Matheson and Lake Forest College economic professor Robert Baade studied 30 Super Bowls from 1970 to 2000 to compile their report.
"The empirical evidence … tends to show an economic impact somewhere between one-tenth and 1/25th" of what the NFL projects, Matheson told IBTimes.
He points to politics as a big part of the equation.
"The NFL and other sports leagues like to publicize large economic-impact numbers because that is a carrot they can wave in front of reluctant taxpayers," he says, referring to the fact that taxpayers have to foot the bill for wear and tear on local infrastructure, overtime for police and extended hours for mass transit, among other things. "The NFL and the other leagues do fairly good jobs of measuring economic activity, but they do pretty poor jobs of measuring economic activity that doesn't factor in the 'substitution effect.'"
Which means, put simply, the money spent at NFL events in the run-up to the Super Bowl, such as autograph signings, concerts and the NFL Rush Zone for kids, would otherwise go to local establishments. In other words, it's a zero-sum game.
"An extra dollar going into the NFL's pocket is a dollar not spent on Broadway or Fifth Avenue," Matheson says. Even the expected boost to local hotels isn't money that flows into the communities. "It goes into profits for corporate headquarters," he notes, with big hotel chains like La Quinta, Red Roof Inn, Holiday Inn and Hyatt among the Jersey-side accommodations closest to this year's game venue.
While the NFL hasn't publicly broken down the $600 million number (calls placed to the host committee have not been returned), Matheson termed the figure a "mystery number" based on projections from past Super Bowls.
"It's like an estimate from the estimate from the estimate from the estimate," he said.
Last year's Super Bowl, held in New Orleans, produced a $480 million net economic gain -- $262.8 million in direct spending from tourists, media covering the game and NFL officials -- for that city's metropolitan area, according to a study from the University of New Orleans. But there were no public projections released before the game, so it's unclear exactly how New Orleans would have measured up to initial estimates. Calls placed to the 2013 New Orleans Super Bowl Host Committee were not returned.
As for the 2012 Super Bowl, held in Indianapolis, numbers from prior Bowls were used as a baseline for expected economic influx, but no specific figure was forecast for that year, according to John Dedman, spokesman for the Indiana Sports Corp., the group that staged the Super Bowl. But after the game, a report by Rockport Analytics, a market research firm that performs economic impact assessments, found that the Super Bowl stimulated $384 million in spending in Indianapolis. Conducted six months after Super Bowl XLVI, Rockport's study concluded that the game had a direct economic impact of $176 million. That economic impact number refers to business, such as hotels and restaurants, that interact with Super Bowl patrons. Examples of the Super Bowl's secondary economic impact would be from firms that provide legal services to companies involved in game-related functions or businesses that sell cleaning products to hotels.
"From an economic and fiscal standpoint, hosting Super Bowl XLVI was a huge success for Indianapolis," the analysis found. "Having executed many studies of this kind over the years, rarely has Rockport Analytics seen an event generate $384 million in spending, $324 million in GDP, and $46 million in state and local taxes in the span of 10 days. These figures represent a conservative estimate that was corrected for double counting, resident contribution, and spending leakages."
But Rockport's report was not confirmed by the NFL. "The NFL does not do a formal report on the front end or the back end," Dedman added.
The money story for Houston in 2004 wasn't quite as positive. When the city was in the running to host Super Bowl XXXVIII, a committee formed to raise support for the bid estimated that it would generate more than $330 million in revenue, according to CBS MoneyWatch. The bid was successful, but after the game, Houston's city controller office found that it resulted in only $129 million in direct spending in the two-week period around the Bowl.
But this year's Super Bowl is different than the 30 years' worth of big games studied by Matheson and Baade – particularly weather-wise and in terms of the area's extensive existing infrastructure. The 2014 Super Bowl is being played outdoors for the first time and is being hosted by the largest city in the game's history.
Winter isn't high tourist season in New York, so the Bowl will bring visitors who wouldn't otherwise be coming. And as for infrastructure, Matheson said, the New York-New Jersey area infrastructure should be able to handle the increased traffic, whereas cities like San Diego and New Orleans have a much tougher time managing the swell from the Super Bowl.
"New York-New Jersey is so big that it can probably accommodate a deluge of sports fans," he said. "You put a Super Bowl in Indianapolis and that shuts down the city."
Another factor in New Jersey's favor when it comes to the game's impact on the local economy is that taxpayers didn't foot the bill for MetLife Stadium; the stadium's $1.6 billion construction was financed entirely by private funds and opened in 2010. Other stadiums that held Super Bowls had sizable public financing.
"The New York-New Jersey residents got a great deal on that stadium," Matheson said.
Among those championing the economic benefit to the area is U.S. Rep. Carolyn Maloney, D-N.Y., who represents the Upper East Side of Manhattan and Queens. Maloney, who could not be reached by IBT, told CBS New York that the tourism industry employs one in seven New Yorkers.
"[T]hanks to the Super Bowl, we're seeing more hotel rooms booked and restaurant tables reserved and even more excitement than usual for this time of year," the congresswoman said. Across the river in Jersey, she added, about 10,000 temporary workers have been hired to prepare MetLife Stadium, including construction crews, food service workers and staffing for the week of festivities put on by the NFL.
But Matheson doubts people will flock to frigid New York unless they have tickets for the Super Bowl.
"Unless you're actively going to the game, the Super Bowl is better watched not in some hotel room in New York City … when for the same price you could buy yourself a nice, 50-inch TV." Indeed, retailers who sell those might just end up some of the biggest winners of this year's game.
FOR FREE to continue reading
✔️ Unlock the full content of International Business Times UK for free
offer available for a limited time only
✔️ Easily manage your Newsletters subscriptions and save your favourite articles
✔️ No payment method required
Already have an account? Log in
© Copyright IBTimes 2023. All rights reserved.