Supreme Court Ruling On Arizona Immigration Law Would Not Be End Of Legal Battle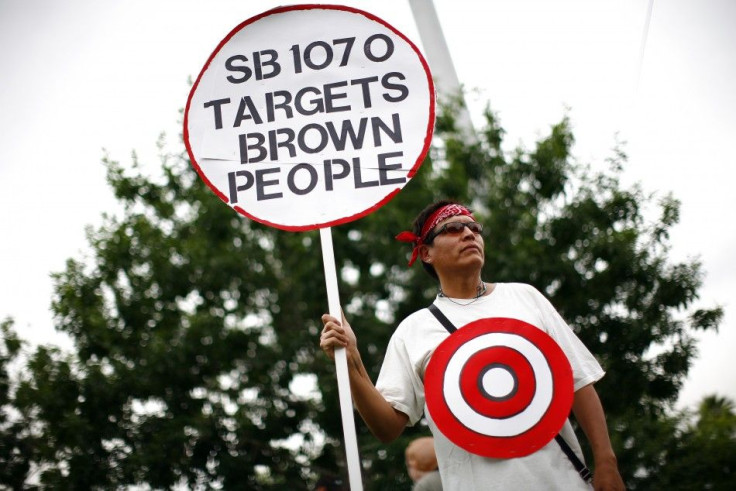 If the U.S. Supreme Court allows Arizona to go forward with its immigration law, the legal battle will likely continue once the enforcement regime begins on the ground and accusations of civil rights violations crop up.
There seem to be enough votes on the Supreme Court to uphold a central part of the law, known as S.B. 1070, that requires police to get the immigration status of anyone stopped or detained if there's reasonable suspicion that they are in the country illegally. Many of the conservative justices saw no difference between allowing police to ask about immigration status at their discretion and requiring police under the Arizona law to make the inquiry.
Hispanic and civil rights group say this papers please part of the law is an invitation to racial profiling. Clarissa Martinez, a director of immigration at the National Council of La Raza, called Arizona's anti-immigration law the biggest civil rights case that has come to the Supreme Court, at least in my generation.
The Supreme Court liberals expressed concern about the potential civil rights violations the law could pose once it's in effect.
Justice Sonia Sotomayor asked Arizona's lawyer Paul Clement, a top Republican attorney, what would happen to an individual if they're arrested in Arizona under the immigration law.
What I see as critical is the issue of how long, and when, is the officer going to exercise discretion to release the person, said Sotomayor, the first Hispanic on the nation's top bench.
This concern extended to U.S. citizens as well, offering a hypothetical scenario of someone without proper identification being arrested. Without a citizens database to check, an inquiry to the federal government could take time.
You're arrested. They make the call to this agency. You could sit there forever while they figure out if you're a citizen, Sotomayor said.
Fellow liberal Justice Stephen Breyer was unable to get Clement to guarantee that someone wouldn't be detained longer than normal under the Arizona law. Clement did say no one would be detained for longer than the Fourth Amendment's ban on unreasonable seizure allows.
Even Justice Samuel Alito, who's part of the court's conservative wing, inquired about what an Arizona officer would do to a U.S. citizen living in New Mexico suspected of being in the country illegally.
Yet civil rights played no part in the arguments. As the government's lawyer, U.S. Solicitor General Donald Verrilli, opened his case with the customary may it please the court, Chief Justice John Roberts stopped him.
Before you get into what the case is about, I'd like to clear up at the outset what it's not about. No part of your argument has to do with racial or ethnic profiling, does it, Roberts asked Verrilli.
That's correct, Verrilli replied.
And with that brief exchange, Verrilli launched into his case about why four provisions of the Arizona law unconstitutionally intrude on the federal government's domain over immigration.
Arizona, Revisited?
Should Arizona get past the government's preemption case, the immigration law will still be a magnet for lawsuits by groups opposed to S.B. 1070.
You are going to have very severe civil rights violations across the United States if Arizona's law and similar statutes take effect, said Doug Hauer, an attorney in the immigration practice of Boston law firm Mintz Levin. Over time, the court is just going to have to revisit this issue.
Currently, groups like the American Civil Liberties Union have sued Arizona and five other states with similar immigration enforcement statutes: Alabama, Utah, Indiana, South Carolina and Georgia. The suits claim these laws violate a host of constitutional rights, like freedom of speech, freedom from unreasonable seizures, and due process. Federal judges have put some provisions of these laws on hold.
Once in effect, these laws could be put through constitutional scrutiny again in what is known as an as applied challenge.
Several justices understood there are concerns about harassment and discrimination, said Omar Jadwat, a senior staff attorney at the ACLU's Immigrants Rights Project. This is very much a case about discrimination and racial profiling. I think some of the questions really got to that.
Civil Rights Concerns
Ben Winograd, a staff attorney at the Immigration Policy Center, said that the Supreme Court could rule in favor of parts of the Arizona law under the assumption that enforcement wouldn't violate civil rights.
It wouldn't surprise me if the court included some limiting language in its opinion recognizing possible constitutional violations that could result if the law does go into effect, Winograd said.
Mike Hethmon, general counsel for the Immigration Reform Law Institution, which supports Arizona-style statutes, said groups like the ACLU are expected to look for test cases to challenge these laws when they go into effect.
There are justices who are unhappy with S.B. 1070 as policy who would nonetheless support it, Hethmon said, with the understanding that these [civil rights] issues will be brought in appropriate cases.
© Copyright IBTimes 2023. All rights reserved.