Supreme Court Union Fee Restriction Ruling: A Step Forward For Right-To-Work Advocates, But Not A Complete Victory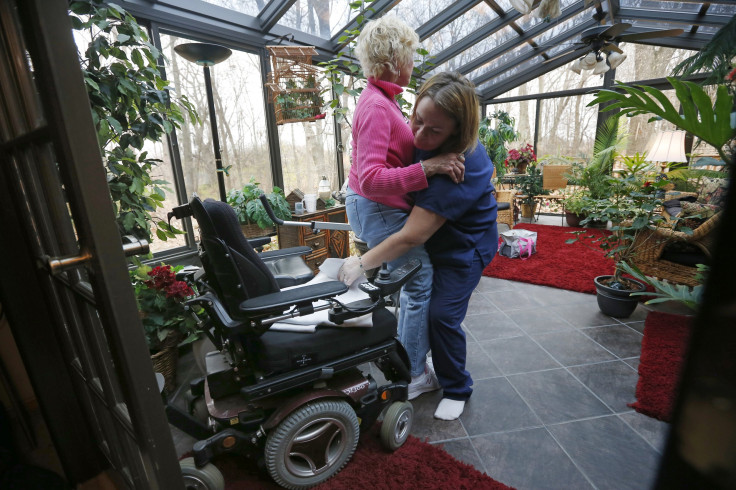 Monday's U.S. Supreme Court ruling in favor of Illinois home care workers that exempts them from paying public sector union dues could have been worse for the supporters of organized labor who say the decision is more of a challenge than a setback.
But anti-union activists who cheered the high court's decision that could cost the local health care workers' union millions of dollars in lost revenue are saying it shows the nation's high court is open to eventually restricting union activity among public-sector workers.
"The judges seemed to have spent as much time discussing whether this is questionable law as they did talking about the home care providers who filed this case," Patrick Semmens, vice president of the National Right to Work Legal Defense Foundation Inc., told International Business Times by phone. "They seem to be saying we need to address the anomaly of the government forcing workers to pay unions to get government jobs. It seems like this court is open to weighing that issue in the future."
Monday's ruling in Harris v. Quinn defines home health care workers as partially affiliated with the public sector and therefore not compelled to pay union dues like typical "full-fledged" public servants (pdf). Because these workers and their clients receive funds through Medicaid, states consider them public employees. The logic: without home health care workers, most of these care recipients would be in state-funded hospitals and other care institutions at a higher cost than treating them at home.
But advocates of right-to-work policies, which prevent unions from requiring dues from workers in union workplaces and allows employees to cross picket lines without retribution, says these home care workers are independent contractors and not affiliated with the state.
Mary Kay Henry, president of the Service Employees International Union, the umbrella group covering the local SEIU health care workers union in Indiana and Illinois, said her union is boosting efforts to recruit from the estimated 2.6 million home health care professionals in the U.S. who work without union representation or job security.
The SEIU says it bargains for about 400,000 of these workers nationwide and 28,000 in the state of Illinois. The SEIU's local affiliate could lose as much as $3.6 million a year (according to the Supreme Court decision) if home health care worker in Illinois decided to opt out of paying union dues. Dues are deducted from worker paychecks. Unions argue that the funds are necessary to improve wages and benefits for all union-represented workplaces.
Because nearly half of the country's 50 states have recently passed laws that allow private-sector employees to avoid joining unions or paying dues even if they benefit from union activity, private sector union representation has plummeted.
Union membership has declined precipitously in recent years, to 6.7 percent of the private sector workforce. Meanwhile, more than 1 in 3 public employees are union members, according to the Department of Labor's 2013 estimate. If right-to-work policy advocates have their way, Monday's ruling will help lower the number of unionized public workers.
Illinois Attorney General Lisa Madigan told the journalists in a conference call Monday afternoon that home care workers save the state $600 million a year because it's cheaper to care for the elderly and disabled in their own homes, where most would prefer to be anyway.
"In our experience, allowing home health care workers to have exclusive bargaining powers enhances their stability and improves health care working conditions," Madigan told journalists by phone. "Today's decision is a narrow one. It doesn't change the condition of Illinois home health care workers, and it allows the union to continue to be the exclusive representative of these workers."
This key point is the reason why Monday's ruling isn't the victory supporters of right-to-work policies that make union dues optional may think. Instead, it puts the impetus on individual home health care workers to decide whether they choose to stop contributing to the union that will continue to represent them.
Semmens points to other cases his foundation is supporting that could move forward using today's ruling as precedent, however, and eventually re-introduce the challenge to a 37-year-old court decision (Abood v. Detroit Board of Education) that gives public sector workers the same collective bargaining rights as employees in the private sector.
"We've got some other cases for home care providers and also child care providers," he said. "For example, we have a case in Minnesota right now where a group of people who run child-care businesses out of their own homes have been classified as government employees for the purpose of unionization."
David Zonderman, a professor who teaches labor history at the North Carolina State University, said Monday's ruling is in line with a Supreme Court that is averse to making broad-sweeping decisions on narrowly defined cases, which is why they stopped short of overturning the Abood precedent.
"Like many decisions on this court, the chief justice [John Roberts] is trying to find some middle ground," Zonderman said by phone Monday afternoon. "It was a classic 5-4 decision, with Justice [Anthony] Kennedy swinging to the conservative side. For this particular case, it was a clear win for the so-called right-to-work concept, but in a way organized labor dodged a bullet because the court didn't go as far as to overturn Abood."
But, like supporters of right-to-work policies, Zonderman says it's only a matter of time before another case will make it to the Supreme Court challenging once again the collective bargaining laws that determine whether public employees should be compelled to participate in collective bargaining by joining unions or paying dues to them.
If some future court ruling then decides to overturn Abood, "it would be a crippling blow to the public sector," Zonderman said.
© Copyright IBTimes 2023. All rights reserved.