Swine Flu In India Claims 8 Lives In Telangana, Andhra Pradesh; Bird Flu Alert In Other States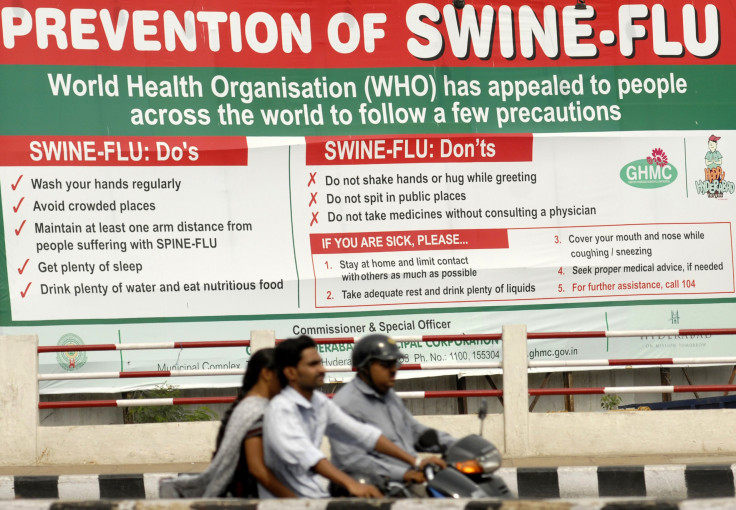 India's southern states of Telangana and Andhra Pradesh are dealing with swine flu, also known as the H1N1 virus, which has so far killed eight people in the two states. In the country's north, officials are attempting to contain a suspected case of avian flu in local birds.
Three people died in the newly-formed state of Telangana while five people in neighboring Andhra Pradesh succumbed to swine flu, IBN, a local news network reported. At least 11 people in the western city of Pune, near Mumbai, tested positive for swine flu while one of them is in critical condition, according to The Times of India, a local newspaper. Doctors have also warned that low temperatures during winter could cause the virus to last longer in the atmosphere.
Swine flu is a respiratory infection that weakens the immune system and attacks organs like the lungs, causing pneumonia. The flu can become fatal if the infection spreads to damage other organs. Early symptoms of the flu include fever, cough, headache, muscle and joint pain, and sore throat.
Meanwhile, an alert has been sounded for bird flu or avian flu in India's northern state of Punjab after some birds at the Sukhna lake in the state capital of Chandigarh tested positive for the flu while more than 300 crows have reportedly died under mysterious circumstances. Over the last two weeks, at least 22 geese in the lake have died while one of them tested positive for the virus. Following this, the city's administration obtained permission last week to cull about 110 of the birds.
To prevent the spread of bird flu, about 66 police personnel have been stationed at the lake, Hindustan Times, a local newspaper reported.
An official in Chandigarh who was involved in the culling of domesticated geese was admitted to a local hospital with symptoms similar to those of avian flu, and the man is currently being kept in an isolation ward, according to The Daily Mail. Following this, police officials have requested for doses of TamiFlu, a treatment for the virus, to officials deployed near the lake.
Following the reports, the state of Uttar Pradesh, which lies about 350 miles east of Chandigarh, has banned the import of poultry products from other states.
© Copyright IBTimes 2023. All rights reserved.
FOLLOW MORE IBT NEWS ON THE BELOW CHANNELS