SXSW 2015: McDonald's Looks To Wireless Charging, Tech Conveniences To Spur Turnaround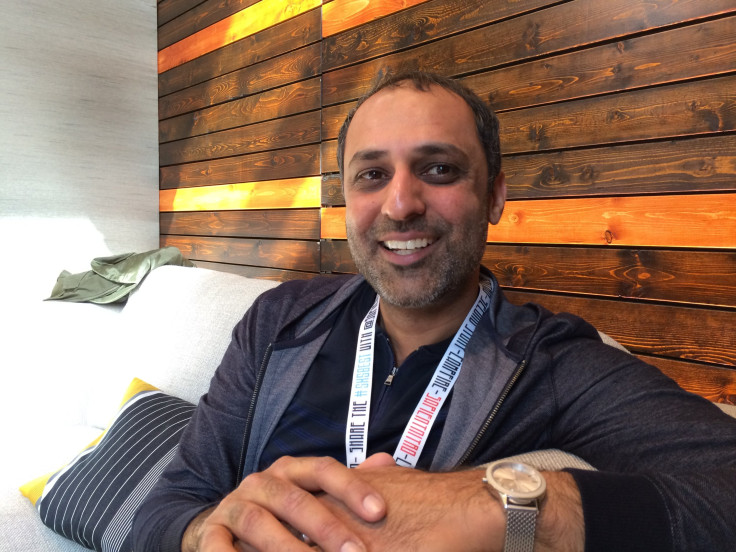 AUSTIN, Texas -- Wireless charging. Interactive music. Friendly baristas. Soft, yellow tones and wood grain. This is a vision of the McDonald's of the future. Except this future is already built inside a Hilton next to the Austin Convention Center for the South by Southwest exposition now under way. It's the McDonald's Corp.'s first official presence at the festival, evidence of a reimagining of the global restaurant chain, which has been battered by heightened competition around the globe and shifting tastes across the U.S.
Newly minted CEO Steve Easterbrook, who replaced ousted CEO Don Thompson in January, mingled with members of McDonald's growing global tech team and some of the chain's agency partners, as well as anyone coming through the door. In a sense, McDonald's presence at South by Southwest is no different than that of any startup here flogging a new product, brand or app -- or attempting to use this event to jump-start a change in perception among tech influencers.
The restaurant chain is here for two reasons: to convince the digerati this is a brand ready to embrace technology and to harvest ideas on how to reinvent the company. Leading the effort is McDonald's Chief Digital Officer Atif Rafiq, a longtime veteran of Amazon.com Inc. and Yahoo Inc., who dreamed up McDonald's presence here, including an outdoor pavilion with a Wi-Fries truck.
Rafiq says technology is very much at the center of McDonald's plans to reinvent itself. Since he joined in 2013, McDonald's has opened a Silicon Valley outpost and increased the global tech team from 10 to more than 200. We talked to him about how technology plays into McDonald's future.
International Business Times: Why is McDonald's here?
Atif Rafiq: Our current CEO visited last year, and we were just attendees. We looked at it and said, "We've got to be here so this crowd of folks know we're open for business and we're hungry for their ideas and we're going to give them a channel to take action on them."
IBTimes: You're a tech entrepreneur: What are you doing at McDonald's?
Rafiq: It's a pivotal moment in the journey of the company. We need to reinvigorate our brand, and there is a strong appetite and support for technology as a way to do that. If you think about the experience of the future of our customers, our ubiquity, to me, that's an awesome platform. It's just such a big platform; for me, it's the ability to innovate at this level of scale.
IBTimes: What are we seeing here that could end up in a future McDonald's?
Rafiq: You see power-charging tables over here. Because of our ubiquity, you could imagine people saying, "Oh, I need to power up, maybe I'll go to McDonald's." So that's an area that's strategic for us. You think about things like wireless power charging -- simply putting your phone on a mat. That's going to happen in the world sooner than you think. That's an area where we are doing a lot of work, and we will likely trial some things.
IBTimes: So this is about changing McDonald's through technology?
Rafiq: I think it's representative of themes that are important for our restaurants in the future. Power-charging is one. Music is another. The music that plays here is actually controlled by the audience of the room. On the iPad mini is a queue of songs where you could go and you can pick a song to add to the queue or vote up a song so it will appear higher in the list that's about to play, giving users control of the restaurant experience. If we want to do that, we should think about our music because music and food really go together.
IBTimes: How is doing this at McDonald's different from, say, Amazon?
Rafiq: McDonald's is not a technology company; it's a restaurant company. We are using technology to make the restaurant experience a whole lot better. The difference is trying to bring together all the pieces. In the physical world, you need to bring together the software, you need to bring together the physical space, the service model and how your people interact with customers in a restaurant. So it's different from that perspective. You can't just write some great code and put it out there and it goes viral and you have 100 million users. It's not Twitter. More pieces have to come together.
IBTimes: What other experiments do you have planned?
Rafiq: I'm responsible for global digital. That gives us a lot of room to maneuver. We can try things in one place, run tests in another. We can try things in different demographics -- urban versus suburban. There is a candy store of options for us to play with. It's not just about software: It's about how software drives everything in the physical world.
© Copyright IBTimes 2023. All rights reserved.
FOLLOW MORE IBT NEWS ON THE BELOW CHANNELS