Virtual Reality Is Happening: Oculus Rift Fans Will Have To Wait, But SXSW Gaming Expo 2015 Has Plenty Of Dizzying VR Demos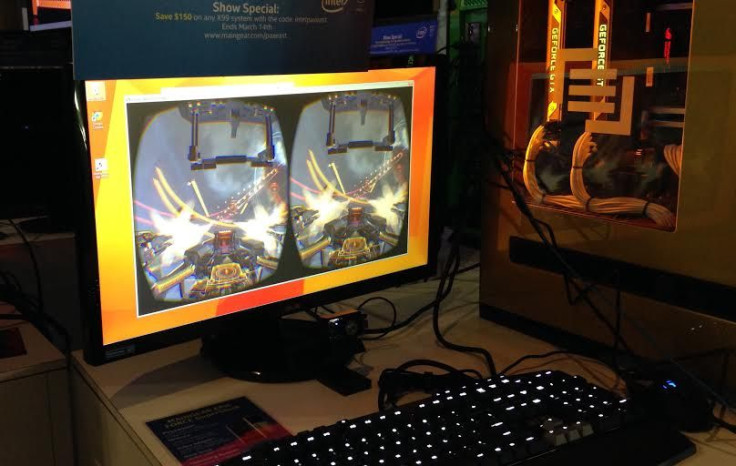 AUSTIN, Texas -- Computer scientists like Jaron Lanier popularized the concept of virtual reality more than 30 years ago, and gamers and technophiles have been waiting patiently for consumer-grade immersive multimedia environments ever since. But fans of Oculus VR, the industry forerunner, just learned they will have to wait a little bit longer.
"We don't have anything to announce -- let's just get that out of the way," Palmer Luckey, the company's 22-year-old founder, told a standing-room-only audience Friday at the South by Southwest Interactive festival. "Now is not the time or place."
The non-announcement came as something of a disappointment to the disparate crowd of (mostly male) VR enthusiasts who have been following Oculus' trajectory with bated breath since the company was acquired by Facebook Inc. for $2 billion a year ago. Luckey had previously said that a consumer version of the Oculus Rift headset would be available by the end of this year, but he would not re-commit to that date on Friday, citing changes to the company's "roadmap" as a result of the acquisition.
"We've expanded a lot of ambitions around the product and what we want it to do," he said. "Us partnering with Facebook is allowing us to do things that we wouldn't have been able to do otherwise."
Booming VR
Meanwhile, the burgeoning virtual-reality industry is not waiting around, nor are Oculus' competitors. SXSW's Gaming Expo, where developers and aspiring game moguls showcase emerging technologies, unleashed a procession of VR works-in-progress on Friday. Some featured games from third-party developers using the Oculus headset, others imagined fully competing products. While still in the incubator stage, they are all entering an area of home entertainment that is expected to explode over the next decade.
But that's provided some persistent kinks in the technology can be worked out. Luckey said one of the biggest hurdles facing VR is how to create a uniform input device that can be used across various types of VR environments. For instance, while a traditional game controller is sufficient for almost any 2-D environment, VR games have infinitely different needs. If you're driving, say, a virtual race car, you're going to want a steering wheel, but if you're running through a virtual maze, you might not need a handheld device at all. That makes a one-size-fits-all approach difficult for VR developers.
"I don't think anyone has nailed input," Luckey said.
New Inputs
Fove, a Japanese company exhibiting its new headset at the expo, has come up with an interesting solution. The company uses an eye-tracking head display that lets users interact with the environment just by looking at it. Think Tony Stark in the "Iron Man" movies.
"We can generally make VR how it should be, positioning things like depth of field," said Lochlainn Wilson, Fove's chief technology officer. "So what you're looking at is in crisp focus, but what you're not looking at gets nicely blurred."
He wasn't kidding. Strap on the Fove headset and get ready for an almost out-of-body experience, zapping 3-D alien ships with a simple glance as blurry horizons flood your field of vision. No hands, no mess. The experience calls to mind a famous scene in "Back to the Future II," in which a young boy in the then-far-off year of 2015 scoffs at the idea of using your hand to play a video game. ("That's like a baby's toy," he says of old-school video games.)
Fove isn't available for consumers yet, but if all goes well, it might be soon. The company plans to launch a crowdfunding campaign within the next several weeks, Wilson said.
Ground Control
And Fove is going to have company. Another VR company, Reality Abstraction Industries (RAI), is planning its own crowdfunding campaign later this month, hoping to raise money for a VR product called Ground Control, a dual analog, four-axis floor joystick. The system lets users navigate VR worlds with their feet and without the need for large spaces.
"We're about locomotion," said Aaron Switzer, RAI's president. "If you look at the market -- right now, if you want to move through an environment, your options are hand controllers or a treadmill. There is nothing in between that, so that's really what we're aiming at."
Using the Ground Control demo gives you the dreamlike sensation of floating through space. It's a fascinating and dizzying ride, although users prone to motion sickness might feel a bit queasy, which is not an uncommon VR experience.
Back at the SXSW "Geek Stage," where a panel of Oculus VR executives spoke about the future of virtual reality, Nate Mitchell, the company's vice president of product, was asked if the growing presence of VR competitors puts pressure on Oculus to release its eagerly awaited Rift sooner rather than later.
"I would just say we feel our own pressure, Mitchell said. "With the Rift, our team just wants to launch this thing as soon as we possibly can, but with no compromises."
I guess that's what you can do with Facebook money.
Christopher Zara is a senior writer who covers media and culture. News tips? Email me here. Follow me on Twitter @christopherzara
FOR FREE to continue reading
✔️ Unlock the full content of International Business Times UK for free
offer available for a limited time only
✔️ Easily manage your Newsletters subscriptions and save your favourite articles
✔️ No payment method required
Already have an account?
Log in
© Copyright IBTimes 2023. All rights reserved.