Syria Civil War: Largest City, Aleppo, Sees Clashes For First Time
'Gateway to Europe' taken by Free Syria Army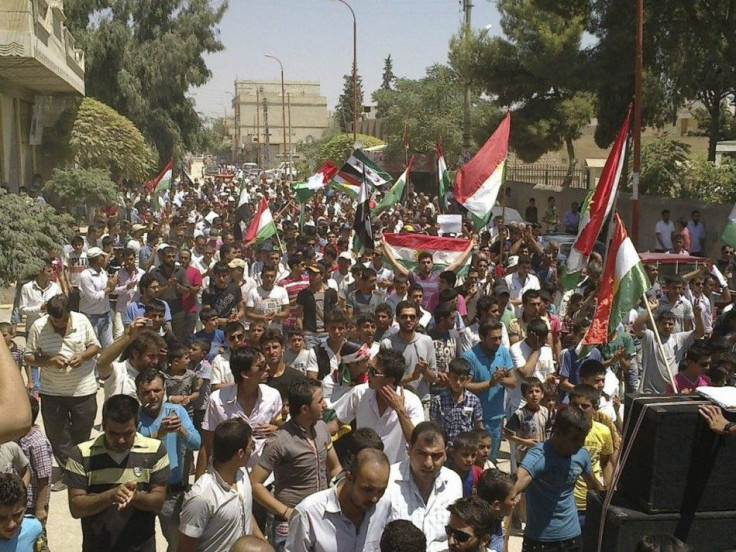 Machine guns rattled overnight in Syria's largest city, Aleppo, 220 miles north of Damascus, which itself is seeing an escalation of fighting. Opposition watchers say at least 286 people were killed since Friday.
Aleppo had been largely unscathed in the country's 17-month uprising against President Bashar al Assad, whose whereabouts are unknown. The escalation of violence in the country's commercial center, as well as more defections of high-ranking military brass and Assad's apparent flight into hiding, indicates that events are coming to a head.
Now, intense clashes are occurring in the Salah al Din, Sakhour and Haydariyah districts of this historical city, according to the Facebook site of the UK-based Syrian Observatory for Human Rights.
The most intense fighting has been taking place since Friday afternoon in Salah al Din, a major modern district in the city, according to activists on the ground.
Last night was very bad, activist Mohammed Saeed told the Associated Press. There were huge explosions, and the gunfire didn't stop for several hours.
The Free Syrian Army, widely believed to be backed by Gulf Arab states with the help of the CIA and support by Turkey, had dozens of rebels in the city, according to local observers who spoke to CBS. The support may be one reason why rebels have been able to take ground in key positions in the country.
The rebels are starting to crack the code on how to take out tanks, Joseph Holliday, a former United States Army intelligence officer who tracks the Free Syrian Army for the Institute for the Study of War in Washington, told the New York Times in a report published Saturday.
FSA commanders are based across the border in Turkey, according to numerous media reports. Aleppo is close to the Turkish border.
Residents of the district were seen fleeing their homes out of fear of military bombardment. Aleppo's metropolitan area is home to 2.1 million residents.
The outbreak of clashes between rebels and the Syrian army in Aleppo came after the UN Security Council voted Friday to extend the stay of UN observers for 30 more days. After that, the observers are scheduled to pull out if they cannot perform their duty of verifying the progress of the peace plan worked out with the help of the Arab League.
In Damascus, where violence flared up in the past week, the military hit back hard on Friday to take back the southern district of Midan. Assaad al Achi, a member of the Syrian National Council, told Al Jazeera on Saturday that rebels retreated from Midan to protect civilian lives.
Meanwhile, an FSA commander confirmed Saturday that rebels have taken one of three key border crossings -- the one into Turkey that is closet to Aleppo. The taking of the so-called gateway to Europe shows that the Syrian government is losing its control of important areas of the country.
© Copyright IBTimes 2023. All rights reserved.
FOLLOW MORE IBT NEWS ON THE BELOW CHANNELS